In a story that brings back memories of Samsung's Galaxy Note 7 fiasco, a Florida man named Jason Colon reportedly noticed his AirPods emitting smoke before the right earbud allegedly caught fire amid a tiny explosion. Originally brought to light via WFLA in Tampa, Colon was in the midst of his regular workout routine at a nearby gym when he first noticed "white smoke billowing out."
Naturally, Colon immediately appreciated that something was amiss. Acting quickly and wisely, Colon removed his AirPods and placed them down on a piece of equipment so that he could go and get help from gym employees. Upon his subsequent return, Colon observed that the right earbud was now just a shell of its former self.
"It was already popped," Colon told WFLA. "I didn't see it happen, but I mean, it was already fried. You can see where it looks like there was flame damage."
Apple is said to be investigating the incident, but the good news, of course, is that Colon managed to get his AirPods out before it self-destructed.
"I don't know what would have happened to my ear," Colon said, "but I mean since it hangs down, it could have been an earlobe, my earlobe could have got burnt."
A photo of the AirPods post-explosion can be seen below.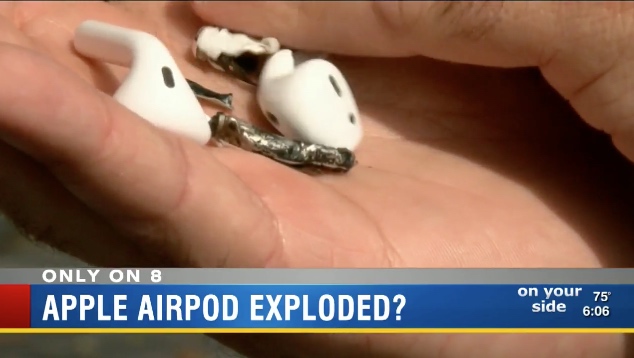 At this point, the circumstances leading up to the incident still remain hazy. Presumably, Apple's investigation will help shed some light on the matter. That aside, we can only hope that this is the only instance we ever hear of AirPods exploding. While it's one thing to have your smartphone catch fire while charging, having a device explode while inside of your ear represents a much scarier and dangerous scenario.