Apple's streaming service Apple TV+, for better or worse, is a fraction of the size of pretty much all of its rivals and has remained a much more boutique offering since 2019. That said, size doesn't really have anything to do with the amount of quality content on the platform available to choose from — quality, fortunately, being where Apple especially shines.
I've been an Apple TV+ subscriber from day one, in addition to covering the iPhone maker's streaming service from its November 2019 launch. In this guide, I'll take a closer look at 21 Apple shows available to stream that are as good as anything you'll find on Netflix, HBO Max, Disney Plus, and the like. They range from high-profile standouts to underrated gems.
19 must-watch Apple TV+ shows
For the purposes of this guide, I've also grouped these Apple shows into four content buckets: Crime/thrillers, dramas, documentaries, and feel-good series.
Crime/thrillers
For our first category of the must-watch Apple shows, the following three titles include a pulse-pounding military action drama, an Israeli spy thriller, and a crime series developed by Dennis Lehane that was adapted from an autobiographical novel.
Echo 3: Let's just say when I saw that Mark Boal — who's known for writing Zero Dark Thirty and The Hurt Locker — was attached to this first Apple show, I was in.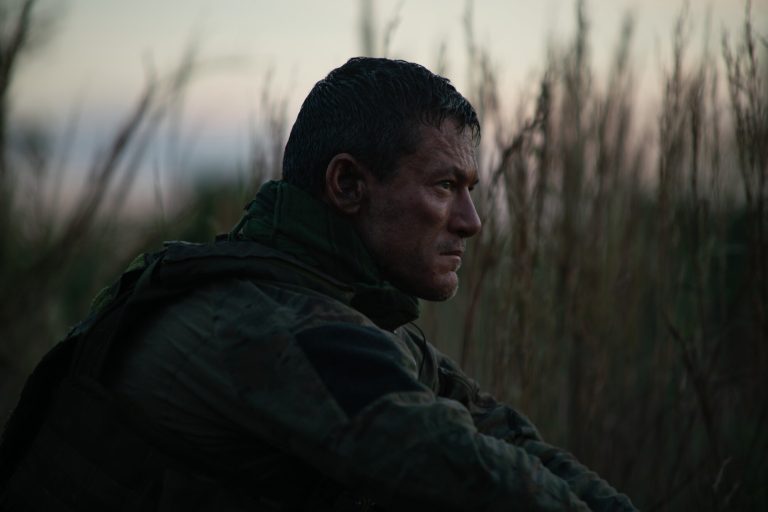 The trailer below quickly sealed the deal. Echo 3 is a 10-episode series with a straightforward plot (An American woman is kidnapped in South America, and her brother and husband — both elite US soldiers — grab their guns and saddle up to go get her out), plus great cinematography and action sequences.
Stars include Luke Evans, Michiel Huisman, and Jessica Ann Collins. It's based on the award-winning series When Heroes Fly, created by Omri Givon and inspired by the eponymous novel by Amir Gutfreund. I was a little disappointed by the anticlimactic ending — I don't want to say any more about it than that — but I still would recommend putting this one on your watch list all the same.
Black Bird: Fans of this next Apple drama include Stephen King, who's raved about the 6-episode Black Bird, saying that it's nothing short of "brilliant and riveting." From the streamer's official synopsis:
"Inspired by actual events, when high school football hero and decorated policeman's son Jimmy Keene (Taron Egerton) is sentenced to 10 years in a minimum-security prison, he is given the choice of a lifetime — enter a maximum-security prison for the criminally insane and befriend suspected serial killer Larry Hall (Paul Walter Hauser), or stay where he is and serve his full sentence with no possibility of parole."
Stars include, in addition to Egerton and Hauser, Ray Liotta and Greg Kinnear. Speaking of Liotta, this Apple series marks the final TV role for the veteran actor, who died in his sleep in May of 2022. As for the show itself, it has near-perfect critics' and audience scores on Rotten Tomatoes as of this writing (98% and 95%, respectively).
Hijack: This 7-episode Apple thriller that unfolds in real time stars Idris Elba as a corporate negotiator who gets caught up in a hostage crisis.
He's one of the passengers on a plane that gets hijacked during its seven-hour flight to London, and he becomes a reluctant hero as authorities on the ground are scrambling for answers. He has to step up and try to use every skill in his arsenal in order to save the lives of his fellow passengers. On the ground, meanwhile, Zahra Gahfoor (played by Archie Panjabi) is a counterterrorism officer who becomes a critical part of the investigation. "Not since the days of Jack Bauer's 24 have I felt such anticipation for a series," raved one viewer in a Google review, after enjoying some of the early episodes.
Tehran: In this Apple spy thriller (which is coming back soon for a third season), Niv Sultan portrays Tamar Rabinyan — an Iranian-born Mossad agent who, in Season 1, sneaks into Iran to try and leave an Iranian nuclear facility vulnerable to an Israeli Air Force bombing run. In Season 2, Glenn Close joined the cast as a new handler of sorts for Tamar inside Iran.
In my opinion, quality spy shows aren't always easy to come by — making Tehran a rare gem, indeed. Too often, it feels like filmmakers or TV showrunners fall back on tired tropes and lazy assumptions about the cloak-and-dagger world of espionage. In Tehran, the protagonists are messy, flawed, and prone to mistakes — but also so compelling as to keep you on the edge of your seat from start to finish.
Season 3, by the way, will see the addition of Hugh Laurie to the cast — he'll play a South African nuclear inspector. Overall, a 10/10 series from Apple.
Feel-good Apple TV+ shows
Looking for something less action-heavy and more along the lines of comfort TV? This category has you covered.
The Big Door Prize: In this Apple TV+ adaptation of M.O. Walsh's 2020 novel The Big Door Prize, a new machine shows up one day in the grocery store of a Louisiana town — specifically, a machine that looks like a phone booth and can tell anyone what the rest of their life has in store for them. More specifically, what their life's potential is.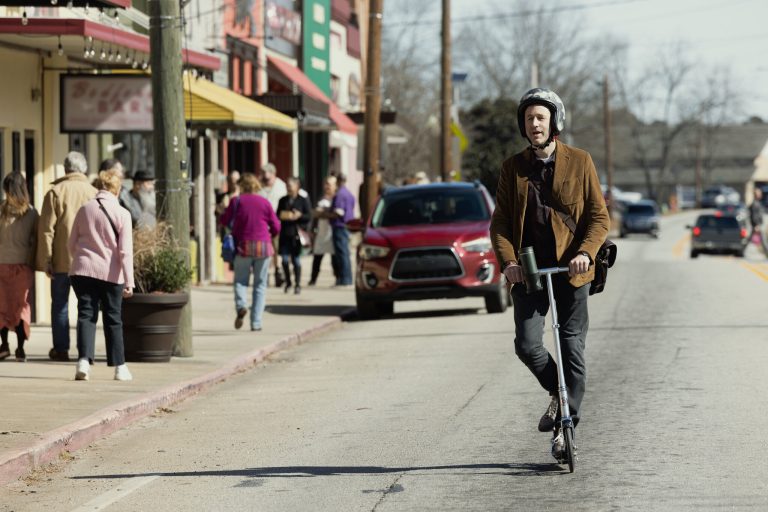 The 10-episode half-hour series stars Chris O'Dowd as Dusty, who's initially skeptical of the machine — though his wife Cass (Gabrielle Dennis), gets quickly swept up in the magic of it, and in the machine's implied guarantee that there's something bigger "out there" for her.
She and Dusty have, like so many of the show's small-town residents, lived a safe and uncomplicated life. The machine changes all that, forcing a reconciliation of the comfortable present with dreams deferred and with the promise of a better future. This is a thick, warm blanket of a show, the kind that streamers, in my opinion, don't offer enough of.
Acapulco: TV doesn't get much more feel-good than Apple's Spanish- and English-language comedy Acapulco, which is awash in bright splashes of color, is set largely in and around a beautiful resort, and is built around the earnest, lovelorn character of a young man named Maximo.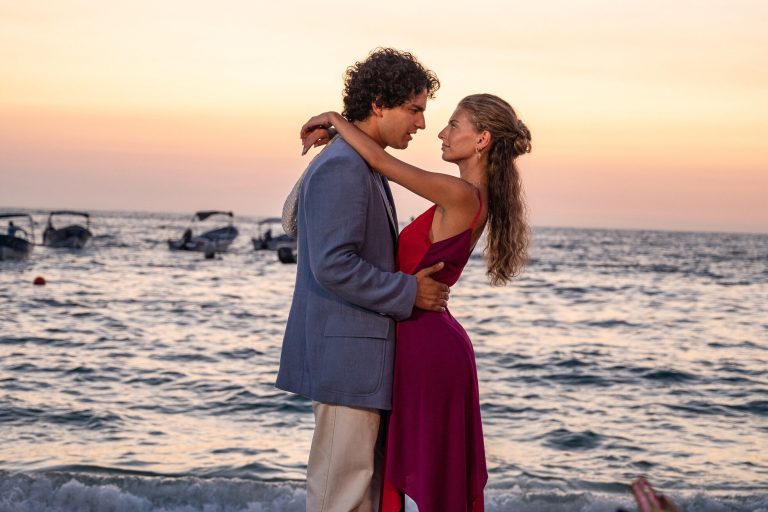 The co-creators include Eduardo Cisneros, Jason Shuman, and Austin Winsberg — the latter of whom is also the creator of Zoey's Extraordinary Playlist, a TV veteran who is clearly hardcore about making sure you feel good after spending time with any of his shows. Long story short, we follow two versions of Maximo throughout this series: Both the young man who gets a job at the Las Colinas resort in Acapulco, and the much older and now fabulously wealthy version of Maximo who's recounting his story to his nephew, How I Met Your Mother-style.
There's a reason this show still has a 100% score on Rotten Tomatoes. Pretty much all of the characters are so likable that you come to enjoy spending time with them all, for different reasons. They grow, make you laugh, and make you want to go ahead and book a relaxing getaway to Mexico ASAP. And by you, I mean me.
I also love the little touches throughout, like the man and woman at the resort who sing Spanish-language versions of different hit songs from the 80s. I couldn't be happier that Apple continues to invest in this series, which is a definite must-watch for the Ted Lasso fans among you.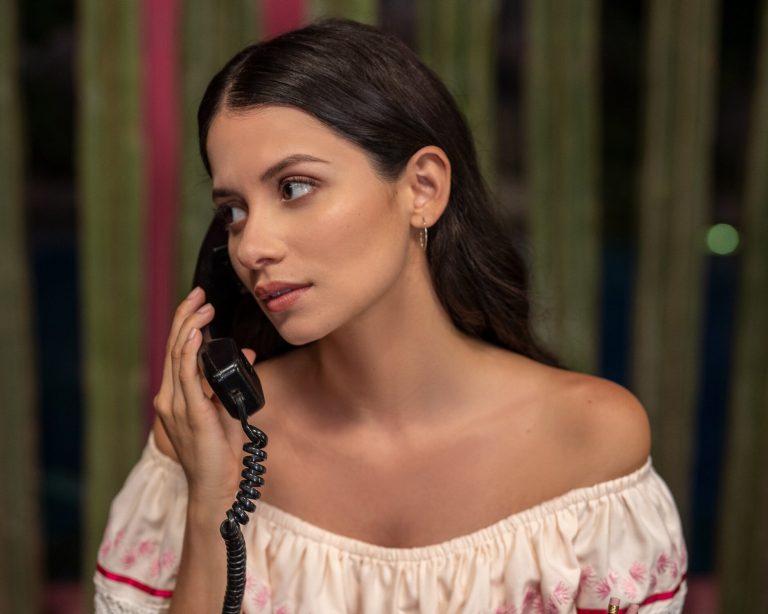 Ted Lasso: These next two Apple shows share similar creative DNA. Bill Lawrence is the co-creator behind both, which are each built around flawed but ridiculously likable protagonists.
In Ted Lasso, the title character is an aw-shucks, small-time coach from Kansas who gets a job in England coaching a Premier League football team. Like with so many Lawrence shows, however, that setting is just the packaging for something timeless and much more approachable at the core. You don't have to be a sports fan at all, in other words, to appreciate this series about learning how to find and embrace your better self.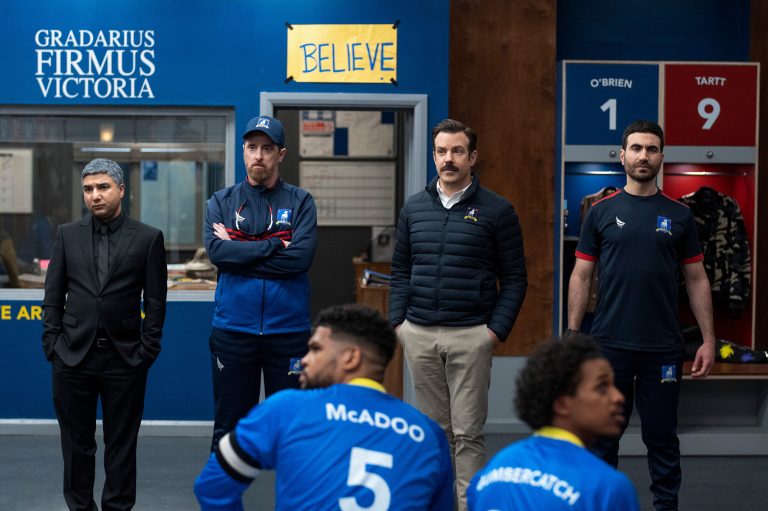 The show got even more interesting last season, when the irrepressible optimism and feel-good spirit of Season 1 were complemented by a focus on mental health (with the addition of a team therapist). Characters like Coach Lasso, whose marriage has fallen apart, were fleshed out even more — and Season 3 found him confronted by the challenge of leading the team out of their malaise.
Season 3 also brought us everything from a hotshot new AFC Richmond player to the return of Ted's panic attacks; a secret that one of the Richmond players is hiding; and individual members of the whole enterprise — Jamie, Keeley, Rebecca, and so many others — continuing to navigate their own special sets of circumstances while figuring out how to maybe come out a little better on the other side.
From my review of the new season:
"At the end of the day, there's always a little bit of arrogance involved in writing about any kind of art — not that it won't stop the hot-take machine from weighing in on the highly anticipated new season of the show. Does Ted Lasso stick the landing? You'll have to figure that out for yourself, of course, but I can only offer — again — that if you've enjoyed the ride thus far, I think the thing you'll be the most disappointed by here is that the show that encouraged us to be a goldfish — and to be curious, not judgmental — is coming to an end."
Shrinking: Lawrence is also a co-creator of Shrinking, which stars Jason Segel as Jimmy Laird — a Lasso-ian kind of therapist, struggling with grief and passionate about making a difference in the lives of his patients.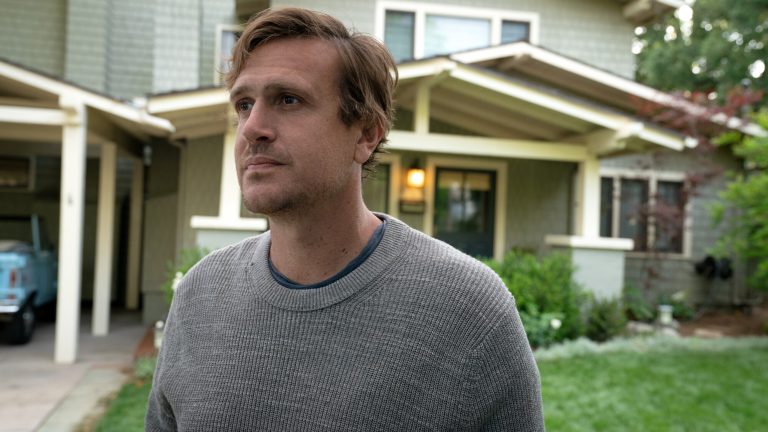 At work, Jimmy's colleagues include fellow therapists Paul (Harrison Ford) and Gabby (Jessica Williams), the latter of whom steals practically every scene she's in, and is so likable I wish her character was real. I dare you, by the way, to not sing along with her as she's belting out Absolutely (Story of a Girl)), that earworm from the band Nine Days, while she's driving her car.
When we meet Jimmy, it's been a year since his wife Tia was killed in a car accident. Compounding Jimmy's grief is the fact that he and his wife were fighting during their last interaction. As he's reeled from the tragedy, meanwhile, his neighbor Liz has stepped in to act as a kind of surrogate mother figure for Jimmy's daughter Alice, who's had to grieve while also dealing with the loneliness that's come from her dad basically checking out since the tragedy.
Watching all of the characters navigate grief while also embracing joy has been an absolute treat, and it's no wonder Apple TV+ has already renewed the show for a Season 2. Shrinking is at its best when it avoids fortune cookie pablum and presents grief as the long dark tunnel that it is. And how no one is meant to navigate their way through it passively, or alone.
Mythic Quest: From Apple's official description of the show: "Mythic Quest follows a group of video game developers tasked with building worlds, molding heroes, and creating legends, but the most hard-fought battles don't occur in the game — they happen in the office. In season three, as Ian and Poppy navigate the gaming world and their partnership at the newly formed GrimPop Studios, Dana is forced to play mediator to her bosses' incessant bickering."
Little America: This show is an anthology series about the lives of real-life immigrants who all have different experiences in pursuit of the American Dream. As an aside, Episode 3 of Little America Season 2 (titled The 9th Caller) is one of the best single episodes of TV I've seen in a long time — make sure a box of Kleenex is nearby while you watch. Apple has also extended the show beyond TV, via a Little America podcast.
Dramas
This final category includes some of the best dramas that you'll find on any streamer, a few of which made many critics' Best TV of 2022 lists.
Silo: Sci-fi fans don't need to be reminded of this, but Apple stormed out of the gate with the first truly great sci-fi series of 2023 in the form of Silo — a 10-episode adaptation of Hugh Howey's series of novels.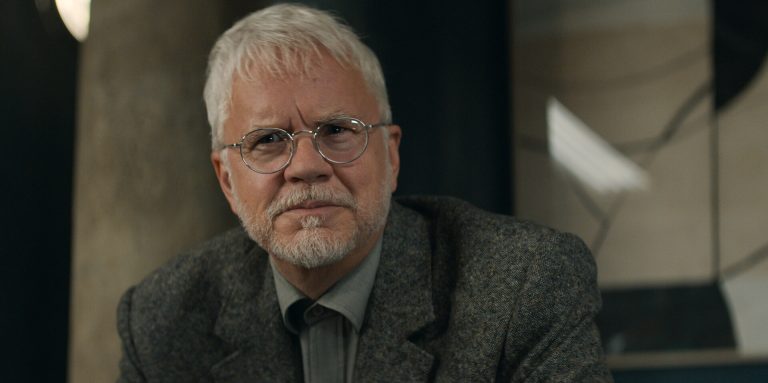 The show, starring Rebecca Ferguson, tells the story of the last 10,000 people left on Earth who live deep underground in a "silo" that protects them from the toxic and deadly world above. Continues the Apple TV+ description: "However, no one knows when or why the silo was built, and any who try to find out face fatal consequences.
"Ferguson stars as Juliette, an engineer, who seeks answers about a loved one's murder and tumbles onto a mystery that goes far deeper than she could have ever imagined, leading her to discover that if the lies don't kill you, the truth will."
Severance: From director and executive producer Ben Stiller and creator Dan Erickson, Severance tells the story of a team at the fictional Lumon Industries, whose employees have undergone a "severance" procedure that surgically divides their memories between their work and personal lives.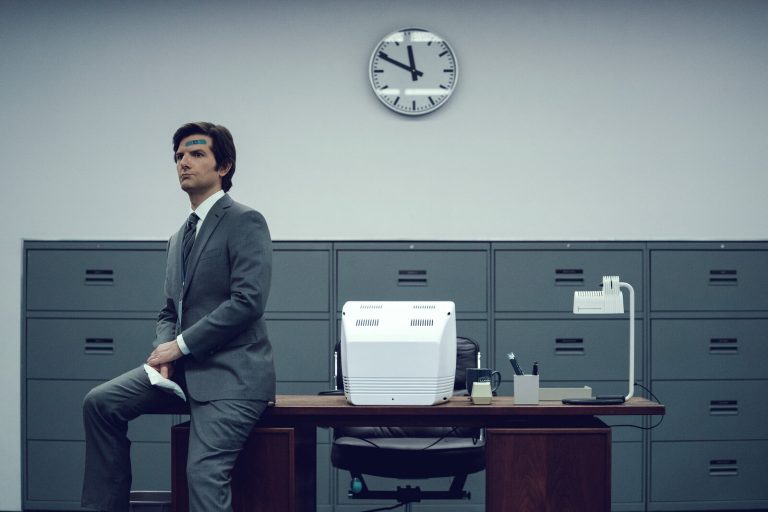 I'll be honest with you: I have no idea how to properly describe this series, because it's like nothing I've ever seen before. Most of the action takes place in a drab, completely unremarkable-looking office complex. The employees have undergone the "severance" process, whereby their work selves are cut off, consciously, from their "outies" (their versions that exist in the outside world).
It's super creepy, and there's an air of menace and tension throughout that will keep you hooked and wanting to know what Lumon is up to. Special consideration must also be given to Patricia Arquette, who can send a chill down your spine with her delivery of the most innocuous lines.
There's a reason this dystopian drama, starring Adam Scott, has a near-perfect critics' score on Rotten Tomatoes. Strap yourself in for a wild ride.
For All Mankind: One of the OG Apple TV+ shows, For All Mankind debuted as part of Apple's launch slate in November 2019 and offers a fascinating alternative history of the space race.
It comes from Golden Globe nominee and Emmy Award winner Ronald D. Moore, as well as Emmy nominees Ben Nedivi and Matt Wolpert. Per Apple: "The series presents an aspirational world where NASA astronauts, engineers, and their families find themselves in the center of extraordinary events seen through the prism of an alternate history timeline — a world in which the USSR beats the US to the moon.
"The propulsive third season of the alternate reality series … takes viewers to a new decade, moving into the early '90s with a high-octane race to a new planetary frontier: Mars. The Red Planet becomes the new front in the Space Race not only for the US and the Soviet Union, but also an unexpected new entrant with a lot to prove and even more at stake."
Pachinko: A breathtaking artistic achievement, this adaptation of the blockbuster novel from Min Jin Lee interweaves the stories of multiple generations of a Korean-Japanese family into one unforgettable whole. From Apple:
"Pachinko chronicles the hopes and dreams of a Korean immigrant family across four generations as they leave their homeland in an indomitable quest to survive and thrive. Starting in South Korea in the early 1900s, the story is told through the eyes of a remarkable matriarch, Sunja, who triumphs against all odds."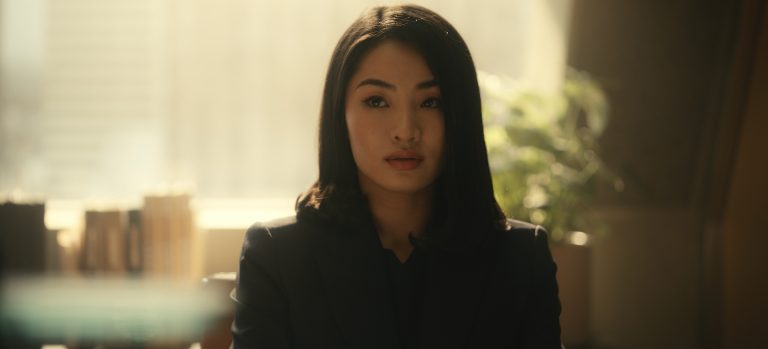 The series was created by Soo Hugh, and its cast includes Academy Award-winning actress Youn Yuh-jung as the older Sunja, Lee Min-ho as Hansu, Jin Ha as Solomon, and Kim Min-ha as the teenage version of Sunja. Apple renewed the show for a second season in 2022. "Words cannot express my joy in being able to continue telling the extraordinary story of this indomitable family," Hugh said about the renewal.
A personal note: The scene in Episode 4 of Pachinko, in which Solomon dances in the rain to a cover band playing The Cure's In Between Days, is one of my favorite TV moments of 2022.
Bad Sisters: In this critically acclaimed dark comedy featuring an ensemble cast that includes Sharon Horgan, per Apple, the Garvey sisters "are bound together by the premature death of their parents and a promise to always protect one another."
Continues Apple:
"When their brother-in-law winds up dead, his life insurers launch an investigation to prove malicious intent — and set their sights on the sisters, all of whom had ample reason to kill him."
The cast includes Horgan, Anne-Marie Duff, Eva Birthistle, Sarah Greene, and Eve Hewson, along with Claes Bang. I must say, I also spent a good chunk of the time watching this show admiring its beauty. A round of applause to whoever included and shot all the gorgeous vistas of the Irish coast, villages, and cities throughout the show.
Slow Horses: This spy drama led by Gary Oldman offers a refreshing change of pace. The spooks here aren't beautiful or handsome, nor are they rakish or debonair a la James Bond. Rather, they're the washed-up, sad-sack intelligence misfits shunted out to MI5's administrative Siberia called Slough House, from which comes their pejorative moniker — the Slow Horses.
The degree to which the cast is also stacked with top-notch British acting talent — including Oldman, but also Kristen Scott Thomas, Jack Lowden, and Jonathan Pryce, among others — should also provide an indication of the quality on offer here. And we'd be remiss if we didn't also point out that the series is based on the Slow Horses series of spy novels from writer Mick Herron, who follows in the best tradition of spy novelists like Ian Fleming and John le Carre.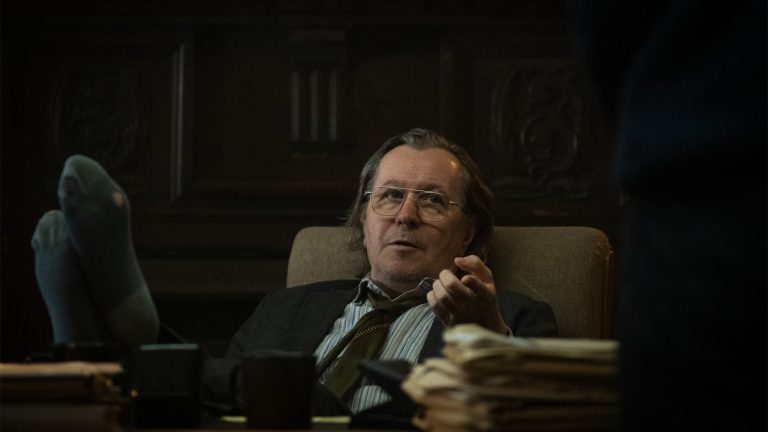 Invasion: As I'm writing these words, Apple has just unveiled the trailer for the second season of its alien invasion sci-fi series Invasion, which is coming on August 23. From Simon Kinberg and David Weil, the drama presents how an alien takeover of the planet might look from the perspective of different characters around the world — including, for example, from the vantage points of a scientist as well as a soldier.
From Apple: "The action-packed second season of "Invasion" picks up just months later with the aliens escalating their attacks in an all-out war against the humans. The trailer gives a suspenseful sneak peek into the new season, as aliens and destruction abound, answers are relentlessly pursued and the fight for the world's survival continues."
Drops of God: This new 8-episode drama from Legendary Entertainment, adapted from the bestselling Japanese manga series of the same name, is the kind of drama that I signed up to Apple TV+ for.
Too many streaming services feel like a lot of what they're doing is just checking boxes when it comes to their slate of content. Cringey reality dating show? Check. Dumb, ridiculously expensive action-thriller that critics will hate and fans will love? You bet. Quirky comedy? The more, the merrier. It takes all kinds to make the streaming world go 'round.
Drops of God, on the other hand, is a show that debuted with a perfect 100% score on Rotten Tomatoes precisely because it aspires to be something more fundamental than a checked box. It's cinematic, gorgeous, bewildering, and the kind of show that stands as proof positive of that old bit of wisdom — about how "beautiful things don't ask for attention."
The story is set in the rarefied world of gastronomy and fine wines and concerns two potential inheritors of a late wine legend's extraordinary wine collection, valued at $148 million. One of them is the late man's daughter in Paris, Camille, who hasn't seen her father since her parents separated when she was nine. The other is his protege, the brilliant young oenologist Issei Tomine.
The inheritance, including ownership of the man's empire, will go to the winner of three wine-related challenges. The real winner, though, is you and me — the viewers of this work of art that's as exquisite as a bottle of Château Lafite.
Documentaries
The Reluctant Traveler: This travelogue hosted by actor Eugene Levy is basically the antithesis of Anthony Bourdain's No Reservations.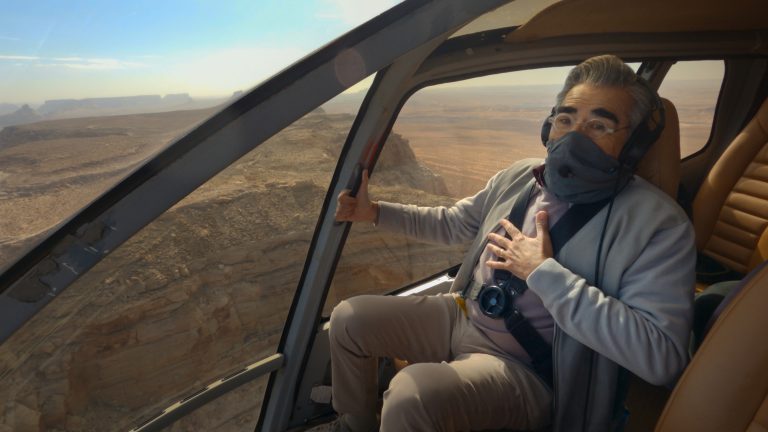 Where the latter was an urbane, profane, frequently mesmerizing writer with a masterful command of prose who was in love with the world, Levy is a 76-year-old fussbudget who prefers his creature comforts in lieu of traveling the globe — and who especially prefers luxe hotels and fine meals over venturing out to mingle with the locals.
So, of course, that's exactly what Apple gives Levy a show to do. To visit a series of exotic and far-flung locales, enjoy swanky accommodations, but also to carpe the diem.
This show was a delightful surprise for me, as much for the astonishing visuals as for its reminder that you're never too old to get out of your comfort zone a little.
Wanted: The Escape of Carlos Ghosn: At one time, just a few years ago, Carlos Ghosn was regarded as the best automotive CEO in the world.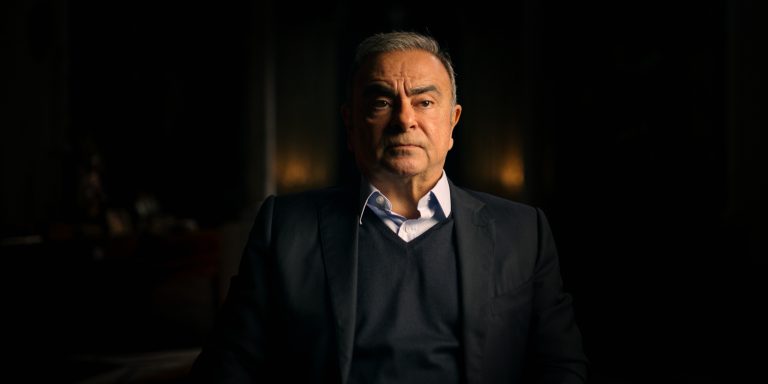 Tough, hard as nails, and a cost-cutter who seemed to wear a permanent scowl, Ghosn became known as "Mr. Fixit" for saving Nissan from near-bankruptcy thanks to the auto industry's most aggressive downsizing campaign in history. His leadership roles over the years at Nissan, Michelin, and Renault also made him, as you might imagine, fabulously wealthy.
This 4-part Apple TV+ docuseries, which unfolds like a Hollywood thriller, is about the sequence of events that led him to be suspected of financial impropriety, which in turn led to his arrest and incarceration in Japan — and, then, to his wild escape from prison that riveted the world. I don't want to say any more than that for fear of spoiling the twists, but trust me: Once this docuseries gets going, you won't be able to pull yourself away.
Real Madrid: Until The End: Per Apple, this three-part series introduced by David Beckham "steps onto the field and, for the first time ever, goes behind the scenes with the iconic football club for a look at their astonishing 2021–2022 season, filled with dramatic come-from-behind victories and no shortage of on-field heroics from both veterans and newcomers alike.
"Fueled by their fervent fans, they defy the odds and skeptics on their way to one of the most memorable finishes in football history, culminating in a record 14th Champions League title."
The Winners
Now, having detailed the best of the best Apple shows in each of those categories above, we'll wrap up this Apple TV+ show guide by breaking things down even more. Put simply, if you're pressed for time and are only looking for one of those Apple shows in each category, in our opinion, these are absolutely hands-down the series that you cannot miss.
Best Apple feel-good show: Ted Lasso
Best Apple drama: Pachinko (but Drops of God is a very, very close second)
Best Apple documentary: Real Madrid: Until the End
Best Apple crime/thriller series: Tehran
For a higher-level overview of Apple's streamer, also check out our guide covering all things Apple TV+ that dives into more detail about the service's pricing, supported devices, and much more.