Early on Friday morning, there were some interesting changes to Apple's official Twitter account. Though the account was first created back in September of 2011, it was never anything more than an empty account that Apple curiously left empty. In fact, Apple didn't even bother to upload an official photo to the account, instead opting to use Twitter's generic egg icon as its avatar.
DON'T MISS: This is why it's so great that the iPhone 7 is killing off the headphone jack
But just a few hours ago, tech outlets began noticing that Apple's Twitter account had been verified and now featured an official Apple logo as its avatar. The account hasn't published any tweets just yet, but the timing of Apple's Twitter revival is certainly interesting given that Apple's iPhone 7 unveiling is only four days away.
As to any theories regarding what Apple may have in mind with its newfound discovery of Twitter, some are speculating that Apple may live-tweet its upcoming media event.
My guess as well: they'll live tweet the event. https://t.co/XBbhk3ptZM

— Mark Gurman (@markgurman) September 2, 2016
While such a thought would have seemed ludicrous even two years ago, Apple over its last few special media events has become markedly more press and social media friendly. That said, the notion of Apple live-tweeting its iPhone 7 unveiling isn't as preposterous as it may seem at first glance.
Bolstering speculation that Apple may use its official Twitter account during the company's special media event next week, you'll note that the background on Apple's revamped Twitter page is the same image used on the media invitations it sent out earlier this week.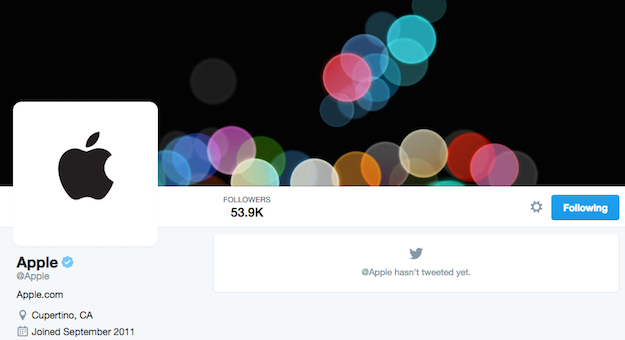 By way of contrast, here's what Apple's Twitter page looked like up until early Friday morning.