If you're looking for a pretty basic, run-of-the-mill multi-cooker, there are definitely a few great deals on Amazon right now. The Instant Pot Duo Plus has a huge discount, for example. But what if you could a similar device that also has built-in air frying and so much more? Amazon has so many amazing Ninja Black Friday deals for 2022.
You're not going to believe how deep these discounts are! That includes the best prices of the year on Ninja air fryers, Ninja blenders, Ninja CREAMi ice cream makers, and of course Ninja Foodi multi-cookers.
---
Featured deals in this article:
---
The best-selling Ninja Foodi OL601 multi-use pressure cooker is all anyone can talk about right now during Black Friday. It's a 14-in-1 multi-use pressure cooker that can do it all. It even has a built-in air fryer!
This best-selling model is normally $330, but it's on sale for just $249.99 right now for Black Friday 2022. And that's just the tip of the iceberg.
Ninja CREAMi deals for Black Friday
Summer is long gone, but there's never a bad time for ice cream. With that in mind, it shouldn't come as a surprise that the Ninja CREAMi is one of the most popular Black Friday deals of 2022.
The Ninja CREAMi can make ice cream, milkshakes, gelato, smoothies, and so much more. It has seven different one-touch programs that make common functions easy. I personally use it all the time and I can't imagine being without it.
Anyone with a Ninja CREAMi ice cream maker will tell how amazing it is. They might even say it's the best $200 they've ever spent. But you won't spend $200 on it, because this awesome Ninja device is down to $129.99 for Black Friday.
Ninja Foodi OL601 deal for Black Friday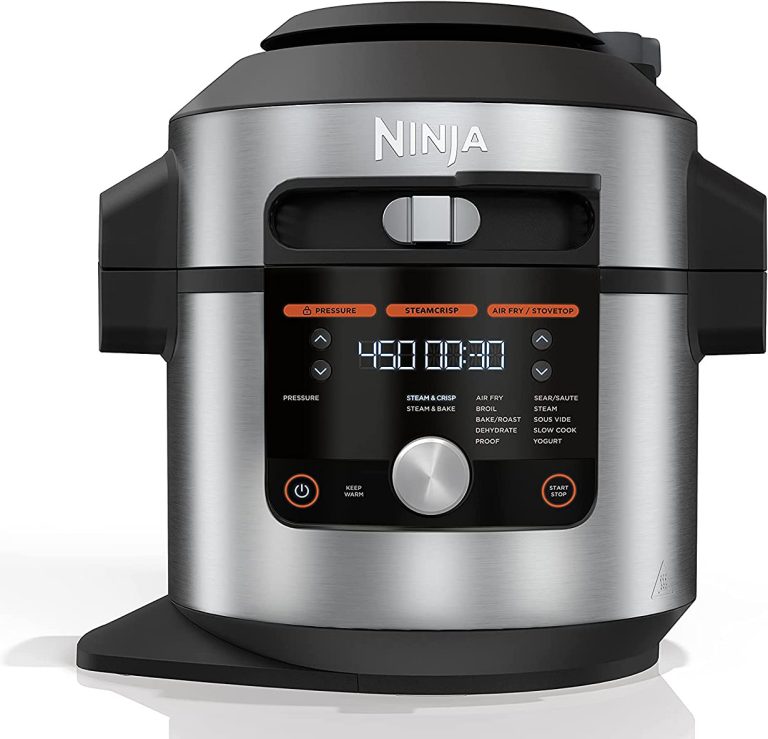 Everyone knows that Instant Pots are awesome. And everyone also knows that they're often on sale at Amazon with great discounts. Tons of best-sellers are discounted for Black Friday, like the Instant Pot Duo Plus. As great as those deals are, however, you may first want to consider another pair of sales on products from Instant Brands' top rival.
The insanely popular Ninja Foodi OL601 was a fan-favorite model with so many 5-star ratings on Amazon. It has a 5-quart capacity plus 14 different cooking modes. But the big news is that it has something you'll never find on the Instant Pot model we mentioned earlier.
On top of all the standard cooking modes you'd expect like pressure cooking, slow cooking, and steaming, Ninja's Foodi OL601 has a built-in air fryer!
The Ninja Foodi OL601 is a fantastic multi-cooker with a built-in air fryer. It has more capacity and so many more features than the older model it replaces. And if you hurry, you can snag this amazing 14-in-1 Ninja air fryer oven and multi-cooker for just $249.99 instead of $330!
You really can't go wrong with this Ninja Black Friday deal. Actually, that's not true… you can go wrong by taking too long and missing out.
Ninja blender deals
Ninja blenders are insanely popular, and there are multiple deals available during this year's Black Friday sale. My favorite is definitely the Ninja SS201 Power Blender & Processor.
This diverse model can handle food prep, shakes, smoothies, and more. It features a 1400-watt motor that is so durable, it might even outlast you. The SS201 also touts six Auto-iQ presets to make your life as easy as possible.
With a retail price of $140, the Ninja SS201 is already a great value. But for Amazon's big sale, it's down to just $79.99!
There are two other Ninja blender models on sale right now as well:
Black Friday Ninja air fryer deals
There are plenty more Ninja deals for Black Friday this year, and we're going to showcase the best ones.
First and foremost, the Ninja Air Fryer AF101 is the most searched-for air fryer on the internet right now. It's an awesome, compact 4-quart model that fits well on any countertop. People love it so much — 25,000 5-star Amazon reviews can't be wrong! Thankfully, it's included in Amazon's Ninja Black Friday deals for 2022.
If you want an awesome Ninja air fryer but you have a big family, the AF101 probably isn't for you. The good news is that there's an even better deal on the newer, larger model!
Instead of the AF101, check out the Ninja Air Fryer XL AF150. This model has 5.5 quarts of space and all the features you might want. It retails for $150, but it's only $99.99 for Black Friday 2022.
And last but not least, the mother lode. Pick up the Ninja SP201 Digital Air Fry Pro Countertop 8-in-1 Oven that normally costs $230 and you'll only pay $169.99. That's definitely one of the best Ninja Black Friday deals we've ever seen.
---
More Black Friday 2022 coverage
If you're looking for all the best deals for Black Friday 2022, you'll find them in our extensive coverage.
The shopping experts at BGR have combed through all the biggest Black Friday sales online. We have hand-picked all the best deals with the deepest discounts on popular items like Crest Whitestrips, Rapsodo MLM, Beats headphones, MyQ smart garage door opener, Fitbit trackers, DNA tests, Nintendo Switch consoles and games . The team here at BGR has more than 4 decades of combined experience finding all the best bargains for our readers. With that in mind, you can rest assured that this is your one-stop shop for all of your Black Friday deal-hunting needs.
Below, you'll find all of BGR's best Black Friday 2022 deals roundups. Be sure to browse through them all if you want to see the very best sales that are available this year.
Go here to see this month's best deals online!