tvOS 17 is Apple's newest Apple TV and HomePod operating system. After two years of minor updates, the Cupertino firm finally gave keynote time for this operating system and announced several new features. Here's what we know about the company's biggest update yet for the Apple TV software, tvOS 17.
Features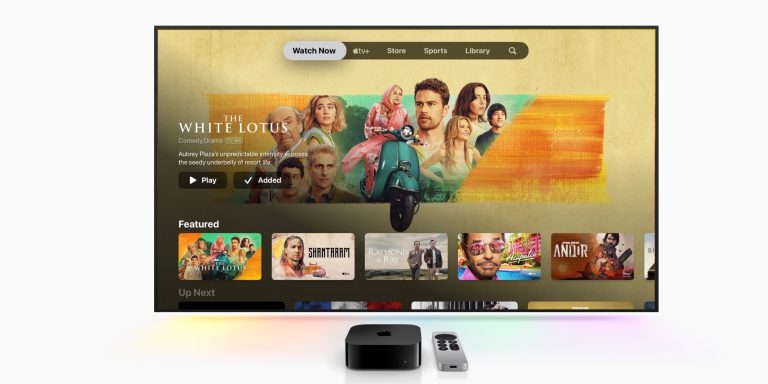 tvOS 17 focuses on a new FaceTime experience while tweaking the Control Center and improving the general usage of the Apple TV.
FaceTime, video conferencing, and more
For the first time, the Apple TV hardware integrates with the iPhone camera with the Continuity Camera feature on tvOS 17. With that, Apple added the FaceTime app to the set-top box.
With FaceTime on Apple TV 4K, users can initiate calls directly from Apple TV, start them on iPhone or iPad, and hand them off to Apple TV. It uses Continuity Camera support to connect to the user's iPhone or iPad wirelessly and leverages the device's camera and microphone to bring participants together on the TV. It also works with Center Stage, so everyone keeps in the room framed on the screen.
Later this year, video conferencing apps like Webex by Cisco and Zoom will launch on tvOS, bringing their communications capabilities to Apple TV 4K. Developers can use Continuity Camera APIs on Apple TV 4K to integrate the iPhone or iPad camera and microphone into their tvOS app.
In addition, Apple Music Sing also integrates with Continuity Camera so Apple TV users can see themselves onscreen and add "entertaining filters" while singing. Despite that, Apple Music on Apple TV doesn't seem to be adding credit to songs, which is available for iOS 17. The iPhone operating system also brings a new cover for when music is playing on Apple Music, but it also doesn't seem to be the case with the Apple TV, as the player remains the same.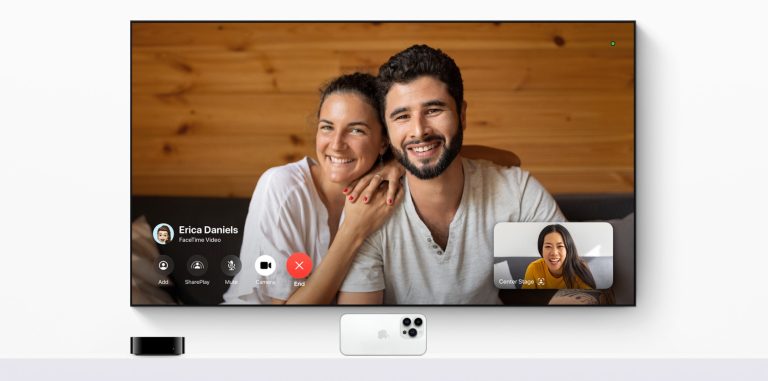 Revamped Control Center and Profile updates
While iOS 17 didn't get a revamped Control Center as it was rumored, the Apple TV with tvOS 17 did. The new Control Center focuses on making things easier for the Apple TV. From there, you can see the system status, the current time, and the active profile. It also makes connecting Bluetooth devices or checking your Home accessories easier. Bringing the new UI to multiple platforms, a new Control Center interface is also available in watchOS 10.
With fast Profile switching, users just need to wake up the Apple TV with the remote app on the iPhone's Control Center, and it will automatically switch to that person's profile, ensuring they have access to their recently watched shows and personalized recommendations.
To improve that experience, customized Settings for Profiles are now saved for each user's profile with tvOS 17, including their system language and paired AirPods.
Find My Siri Remote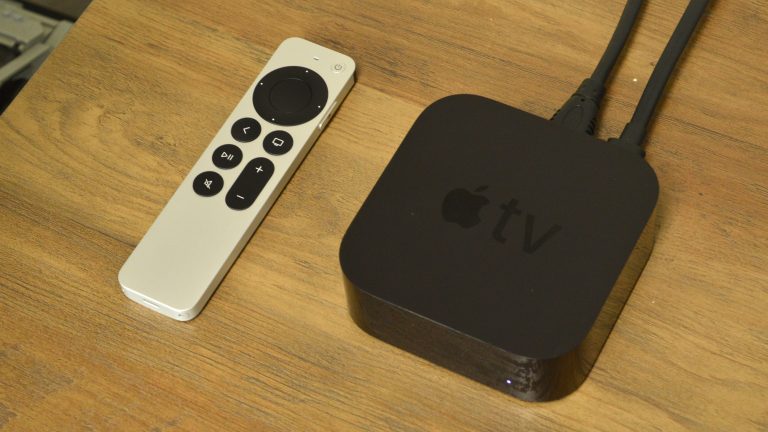 Apple still hasn't added the U1 chip to the Siri Remote, but second-generation models or later can be found through the Find My app. This works similarly to finding an AirPods. With the iPhone connecting to the Siri Remote by Bluetooth, a proximity sensor can help you discover how close you are to the Apple TV accessory.
To work, you need to update your Siri Remote to version 10M4782 or 10M4784 for the 2nd-gen and 3rd-gen remotes, respectively.
More features available for Apple TV users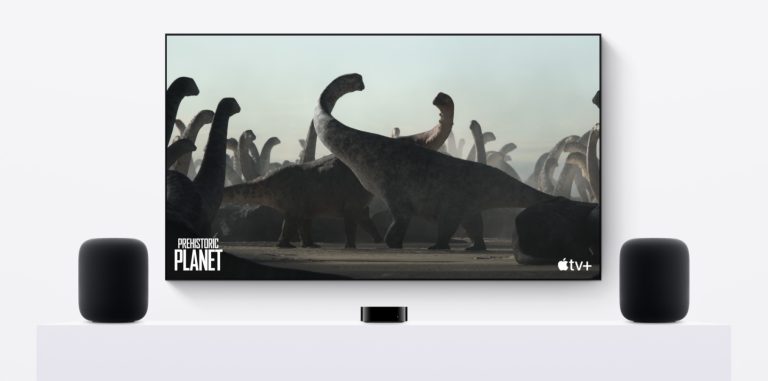 Dolby Vision 8.1 support offers Apple TV 4K users a more cinematic visual experience with dynamic metadata over a broader range of movies and TV shows.
Apple Fitness+ enhancements include Custom Plans, a new way for Fitness+ users to receive a custom workout. By building a plan, you can choose the following:
The weekly schedule or when you're going to exercise;
The total time of workout per day;
The length of the plan (I chose five weeks);
The activity type, the trainers you like the most, and the music you want to listen to.
Apple fitness service also adds Stacks, which allows users to select multiple workouts and meditations to seamlessly do back-to-back. Audio Focus gives users the ability to prioritize the volume of the music or the trainers' voices.
Third-party VPN apps support: It enables developers to create VPN apps for Apple TV. This can benefit enterprise and education users wanting to access content on their private networks, allowing Apple TV to be a great office and conference room solution in even more places.
tvOS 17.1 features
Apple released tvOS 17.1 for Apple TV and HomePod Software Version 17.1 for HomePod models. The main feature available is the expansion of the Enhanced Dialogue feature to all HomePods, as long as they're a pair. Here's what you need to know about this feature:
Enhance Dialogue: It lets Apple TV users hear more clearly what is being said over the effects, action, and music in a movie or TV show on Apple TV 4K paired with HomePod by separating the dialogue from the background noise and bringing it forward to the center channel.
tvOS 17.2 beta features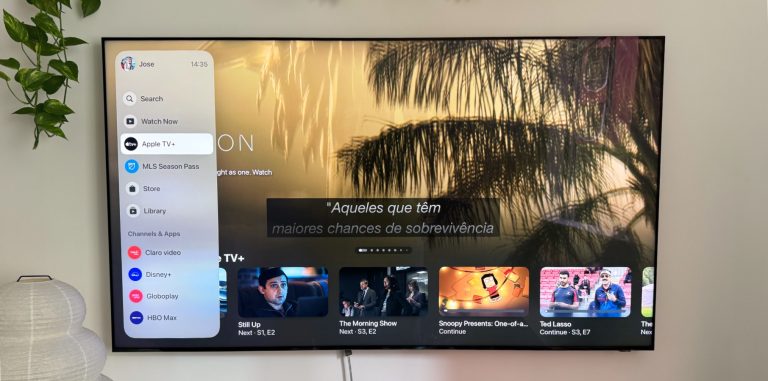 Apple is currently testing tvOS 17.2. This operating system update brings a few interesting features:
Revamped Apple TV app: Apple has a new sidebar menu showing everything related to Apple, such as TV+, MLS Season Pass, Store, and Library, in addition to the user's channels and apps. What's interesting with this change is that you can now quickly access channels and apps. Previously, you could find TV shows and movies from third-party apps, but this is the first time Apple has made it so much easier to discover everything users are watching on other platforms;
Apple Music Collaborative Playlists support: Users can discover collaborative playlists with this new software update;
Audio Focus: On an Apple Fitness+ workout, the user can decide whether the main focus will be on the trainer's voice or on the playing song;
3D movie support: Apple is testing 3D movie support for the upcoming Apple Vision Pro. The label was spotted on the iTunes Movie Store for tvOS 17.2 beta.
tvOS 17 code reveals unreleased iPhone models
During the beta test of tvOS 17, X user @aaronp613 discovered references to six unreleased iPhone models on this operating system beta code. According to him, four of these iPhones were added in tvOS 17 beta 1 and removed in beta 5, which is why he discovered them. Two other models were added with beta 5, and they are really intriguing, as there are no rumors regarding these two additional models.
From the models discovered, iPhone15,4 and iPhone15,5 are likely the standard and Plus versions of the iPhone 15 running the A16 Bionic chip, while iPhone16,1 and iPhone16,2 refer to the Pro and Pro Max iterations with the A17 Pro processor.
Currently, the only iPhone models with an A15 Bionic chip are the iPhone SE 3, all iPhone 13 models, and the regular iPhone 14 versions. That said, we have six iPhones using the same processor. As Apple doesn't sell the iPhone 13 Pro models anymore, this could mean the company could be planning to release a USB-C version of at least two iPhones with the A15 Bionic chip. That said, Apple hasn't updated older iPhones with a USB-C port, so it remains unclear which were these other two iPhone models.
HomePod Software Version 17 features
Over the tvOS 16 cycle, Apple added several new features for HomePod owners. The new operating system for the company's smart speakers, which is a variation of tvOS, has one notable function, which requires an Apple TV 4K and a pair of HomePods. Here it is:
Enhance Dialogue: It lets Apple TV users hear more clearly what is being said over the effects, action, and music in a movie or TV show on Apple TV 4K paired with two HomePods by separating the dialogue from the background noise and bringing it forward to the center channel.
With the new systems available, Apple announced other features:
Siri support for AirPlay allows you to start an AirPlay session from your iPhone or iPad directly on your HomePod using just your voice so that you can play an even wider range of third-party music services on your HomePod.
New call controls enable you to mute or unmute a call on HomePod.
tvOS 17 release date
After unveiling tvOS 17 at the WWDC 2023 keynote, Apple released the first beta of this operating system to developers. A public beta has been available since July 12, and the general release since September 18. Apple confirmed this information after the iPhone 15 event.
tvOS 17 beta and public beta
Both developer and public beta versions are already available for Apple TV. Unlike the iOS 17 beta, anyone can enroll in the program. On the Apple TV, follow these steps:
Open Settings
Tap System, then Software Updates
Select Get Beta Updates, agree with the terms, and select tvOS 17 Beta Developer or tvOS 17 Public Beta
Update your TV to the latest version available
Where's the beta of HomePod Software version 17? How to download it?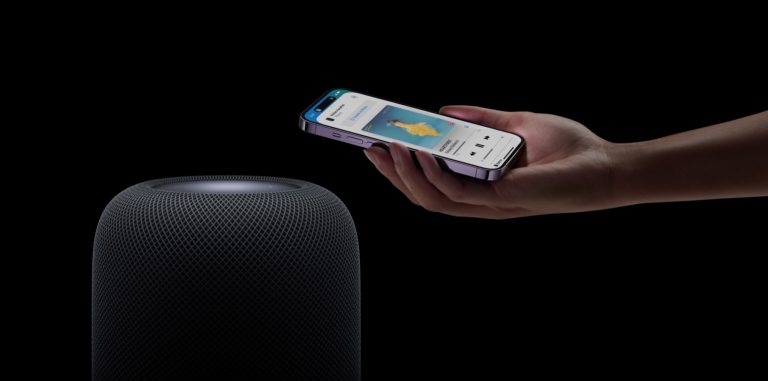 While HomePod Software version beta builds are usually distributed by Apple, with iOS 16, the company started letting anyone enrolled with the Apple Beta Software Program try the new operating system on the HomePod mini.
On July 12, Apple released the public beta of HomePod Software version 17, alongside the versions for iOS 17, iPadOS 17, macOS Sonoma, watchOS 10, and tvOS 17. This public beta is available for HomePod 2 and mini models. Here's how to install it.
Open the Home app on your iPhone or iPad running iOS 17 or iPadOS 17.
Tap the "…" button in the upper right corner of the screen.
Tap Home Settings.
Choose the Software Update option.
Go to the HomePod Beta Updates menu.
Switch on the toggles for the HomePods you want to install the beta software on.
Compatible Apple TV models
Since Apple introduced tvOS, the company has supported all Apple TV models, starting with the 2015 HD version. The same is true for tvOS 17.
These are the set-top boxes and smart speakers that support tvOS 17:
Apple TV HD (2015)
Apple TV 4K (1st gen)
Apple TV 4K (2nd gen)
Apple TV 4K (3rd gen)
Compatible HomePod models
Since Apple introduced the HomePod Software Version, the company has supported all HomePod models, starting with the 2018 model. The same is worth for tvOS 17's variation HomePod Software Version 17. These are the compatible models:
HomePod 2018 or newer
HomePod mini (2020)