With tvOS 17 and HomePod Software Version 17 now available to public beta testers, I could finally test one of the best new features coming to Apple TV 4K and HomePod: Enhance Dialogue.
This function lets Apple TV users hear what is being said over the effects, actions, and music in a movie or TV show on Apple TV 4K paired with HomePod 2 more clearly by separating dialogue from background noise and moving it to the center channel.
tvOS 17's Enhance Dialogue is available on all streaming services that use Apple's built-in Now Playing interface. On the section to select Audio language, there are two toggles: "Enhance Dialogue" and "Reduce Loud Sounds."
While I think a pair of HomePod 2 speakers is a perfect combo for any Apple TV 4K owner, it's sometimes challenging to understand the actors' voices when there's a lot of action or background music due to the powerful bass of the HomePod.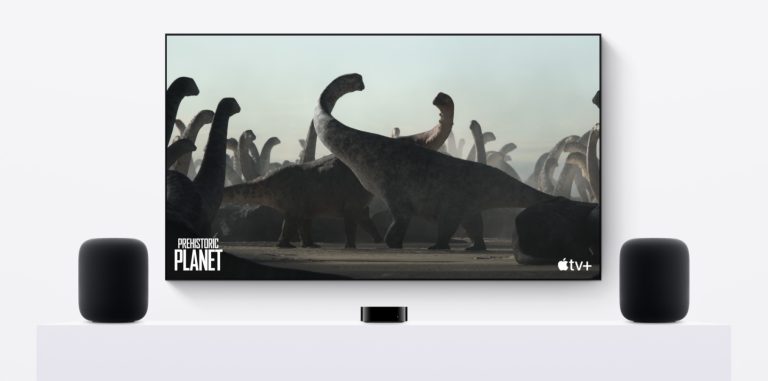 Enhance Dialogue does exactly what the name suggests. Once you turn it on, voices are amplified. What makes this feature so great is that it doesn't soften background music or other sound effects. Instead, it boosts dialogue while keeping the other sounds steady.
Watching the latest episode of Foundation season 2 was a notable improvement, thanks to this feature. In addition, since so many people have been complaining about some show and movie audio mixing, I feel like Apple picked the perfect time to debut this tvOS 17 feature.
Also, Disney+, Hulu, and Max owners running the beta versions of tvOS 17 and HomePod can already experience this feature without having to wait for the developers of these apps to update them since they are all using Apple's Now Playing interface.
Although this is the real highlight for Apple TV and HomePod users, tvOS 17 brings even more additions, such as a revamped Control Center, Find My Remote capabilities, Fast Profile Switching, a FaceTime app, improvements to Apple Music Sing, and more.
BGR will keep you posted about the latest tvOS 17 features as we near the official release this fall.