With the biggest sale of 2022 now in full swing, there are obviously countless Black Friday TV deals out there. But you should definitely check out some of the Black Friday projector deals for 2022 before you commit to a new TV.
You might end up spending way less money on a much bigger screen!
---
Featured deals in this article:
---
Some of the TV deals happening right now are terrific, of course. Two of our favorites are on LG OLED TVs, which continue to impress us more than any other TV on the market.
You definitely can't go wrong with an LG C1 Series OLED TV while every size is on sale at the lowest price ever. Or, if you want the newer version, you can also save big on the LG C2 evo Series OLED TV.
Those deals are impressive indeed. But don't forget about the amazing home theater projectors out there!
Impressive 4K TV deals for Black Friday
Yes, there are obviously some outstanding 4K TV deals right now at Amazon. Examples include:
If you're shopping for a tiny model to go in your kitchen or a guest bedroom, a TV is obviously the way to go. But anyone looking to upgrade a TV in your living, basement, or home theater should think about going with a projector instead.
Why get locked into a certain size when home theater projectors are so versatile? They offer way more value than you'll ever get out of a TV. And there are so many Black Friday projector deals on Amazon right now that you should definitely check out.
Best home theater projector deals for Black Friday 2022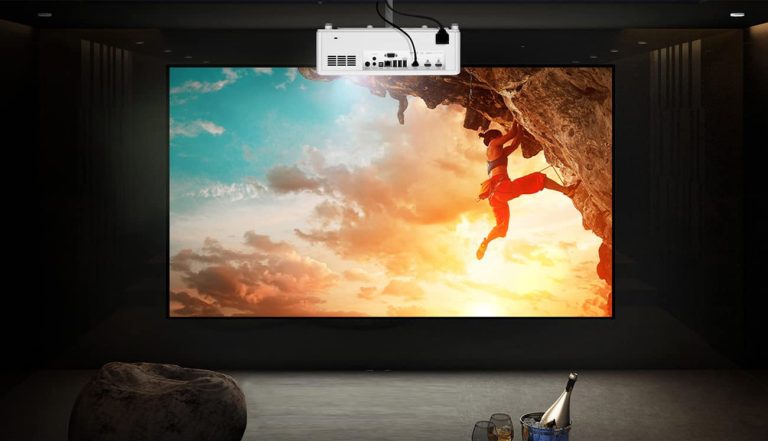 For Black Friday 2022, there are some seriously impressive home theater projector deals. Whether you want an ultra-high-end model or just something for fun in the basement, these holiday sales cover all the bases.
Starting with one of our favorite new models of 2022, the Hisense PX1 ultra short throw triple-laser projector is on sale at a new all-time low price.
We've been testing this model for a while now, and it has really blown us away. The brightness and clarity are stunning, and you'll be surprised at how vivid the colors are. And if you pair it with a high-quality ALR projector screen, it's also shockingly clear in lit rooms.
The only possible complaint you can have is that it's a bit pricey at $3,300. For Black Friday 2022, however, this fantastic home theater projector is on sale at the lowest price yet. You'll save $1,300 if you get one right now!
Another hot brand in the home theater projector space is Optoma, which has several great deals available for Black Friday 2022.
Prices start at just $679 for the Optoma HD28HDR projector, which is great for any dark room. It also handles gaming almost as well as it handles movies, so it makes a great gift for any gamer in your life.
If you want to upgrade to a UST laser projector but you still want to stick with the Optoma brand, there are two great options.
First, the Optoma CinemaX D2 projector has a nice big $500 discount for Black Friday. That slashes the price from $2,500 to $1,999.99. Or, save $400 on the upgraded Optoma CinemaX D2 Smart projector and get it for $2,299.99.
And finally, there's a great compact model on sale from Epson.
The Epson EpiqVision Mini EF12 projector is a wonderfully compact model. It's a laser projector with Wi-Fi support and apps. That means you can stream movies and TV shows without connecting a smartphone, laptop, or streaming stick.
And for Black Friday 2022, it's on sale for $799.99 instead of $1,000!
At that price, it's sure to be one of the most popular home theater projector deals of the season.
Cheap Black Friday projector deals in 2022
If you're looking for cheaper alternatives to the projector deals above, we have a few good options for you.
Prices start at just $194.99 for the YABER Pro V7 portable home theater projector. It used to retail for $600, so this is a truly massive discount. In fact, it's such a great deal that it's hard to believe it's not a mistake!
Of course, a small portable projector like that isn't going to replace a 4K TV.
If you're looking for a true TV replacement, check out the JMGO O1 Ultra Short Throw Projector. It seriously might blow your mind.
Most ultra-short-throw projectors cost well into the thousands. The new JMGO O1 doesn't cost anywhere near that much. It retails for $900 and if you get one between November 25-29, it's only $779.99.
That's an amazing price for an ultra-short throw model!
This isn't a super-high-end projector, but it's still impressive for a model that's so affordable. We've tested the JMGO O1 ourselves and it's surprisingly clear for such an affordable unit. It's also nice and compact. Plus, it can project a huge 100-inch picture from less than 1 foot away from your wall or screen.
Don't forget a projector screen
Of note, you'll probably want a good projector screen to go with any of these models. Believe it or not, you can get a 120-inch screen today for under $19!
The P-Jing anti-crease 120-inch projector screen is currently on sale at its lowest price of 2022. Check out all the 5-star reviews and you'll immediately understand why this model is such a great value.
---
More Black Friday 2022 coverage
If you're looking for all the best deals for Black Friday 2022, you'll find them in our extensive coverage.
The shopping experts at BGR have combed through all the biggest Black Friday sales online. We have hand-picked all the best deals with the deepest discounts on popular items such as Anova sous vide or Chromebooks or deals under $50. You can even save big on Vitamix blenders. The team here at BGR has more than 4 decades of combined experience finding all the best bargains for our readers. With that in mind, you can rest assured that this is your one-stop shop for all of your Black Friday deal-hunting needs.
Below, you'll find all of BGR's best Black Friday 2022 deals roundups. Be sure to browse through them all if you want to see the very best sales that are available this year.
---
Go here to see this month's best deals online!