There are plenty of home entertainment deals to be found in this year's big Black Friday sales. But there are only a few deals you should check out if you want the best of the best. These are by far our favorite Black Friday surround sound system deals of 2022.
You'll find an extremely rare $100 discount on the Enclave CineHome II Wireless 5.1 Home Theater Surround Sound System. This unbelievable setup features sound quality that will blow you away. Then, there are multiple deals on Platin wireless surround sound systems with prices starting at just $499. They'll transform any room into your own theater!
---
Featured deals in this article:
---
If you want a terrific Black Friday 2022 deal on a compact soundbar, there are some good options. There's the Sonos Beam, of course, and Bose TV Soundbar has a very rare deal, too. Both are incredible and pack killer sound quality into compact enclosures.
If you want something that's a big step up, the Bose 300 soundbar has a rare discount for Black Friday. But if you want a home theater sound system that is truly the best of the best, you need a real surround sound system.
And there are only a few deals in particular that you need to check out.
Best Black Friday surround sound deals of 2022
To start things off, there are two Platin surround sound system deals for Black Friday 2022. They both slash incredible speaker systems to their lowest prices of the year.
First, the Platin Monaco 5.1 wireless surround sound speaker system is on sale for $899. Regularly priced at $1,099, this system has received glowing reviews from every reputable reviewer.
We covered the updated version recently in our Christmas gift guide. Long story short, it seriously blew our minds — and the Monaco 5.1 setup is about the same aside from a few small details.
If you don't want to spend quite that much, the Platin Milan 5.1 system is down to just $499 instead of $899. That is a crazy price for such an impressive home theater setup. It features WiSA support for crystal-clear wireless sound, just like the Monaco 5.1. And you won't believe how easy it is to set up.
Enclave Black Friday deal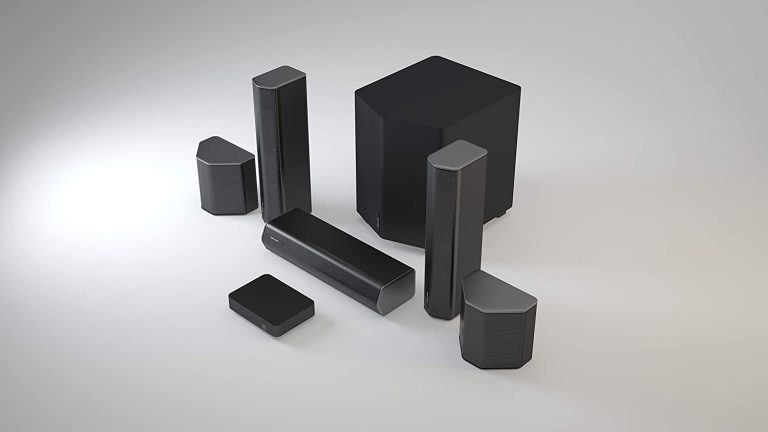 If you're an audiophile, odds are pretty good that you're already familiar with Enclave Audio. It's among the best when it comes to home theater sound systems, delivering ultra-premium sound quality at surprisingly reasonable prices.
The company's surround sound systems go up to $1,600, but you can easily spend five times that much on comparable systems from premium rivals. And right now, we have even more good news: You won't need to spend anywhere near $1,600 to score an incredible Enclave Audio system right now.
The Enclave CineHome II Wireless 5.1 Home Theater Surround Sound System is a true 5.1 surround sound system that produced jaw-dropping audio quality that's unlike anything you've heard before.
It's completely wireless so setup is a breeze, and you won't sacrifice anything compared to going with a wired system. Just plug each speaker into a wall outlet for power, and you're basically done.
Enclave's CineHome II delivers mind-blowing sound that's full and rich, with deep bass from the included sub that will shake you out of your seat without any distortion, even when you crank up the volume.
How good is it?
This is one of many systems we've tested ourselves, and we can't believe how good the sound quality is.
This system completely transforms the movie-watching experience, making it more immersive than you can even imagine. We've tested plenty of other surround sound systems, but we haven't come across anything that compares to this system unless you're willing to spend thousands of dollars.
And if you have a soundbar in your home theater or living room right now and you're wondering whether true surround sound is worth it, trust us… it's worth it.
The Enclave CineHome II system is worth every penny and then some at its regular price of $1,100. Grab one right now while it's on sale for Black Friday 2022, however, and you'll only pay $998.98. This is by far our favorite Black Friday surround sound deal!
---
More Black Friday 2022 coverage
If you're looking for all the best deals for Black Friday 2022, you'll find them in our extensive coverage.
The shopping experts at BGR have combed through all the biggest Black Friday sales online. We have hand-picked all the best deals with the deepest discounts on popular items. The team here at BGR has more than 4 decades of combined experience finding all the best bargains for our readers. With that in mind, you can rest assured that this is your one-stop shop for all of your Black Friday deal-hunting needs.
Below, you'll find all of BGR's best Black Friday 2022 deals roundups. Be sure to browse through them all if you want to see the very best sales that are available this year.
---
Go here to see this month's best deals online!