Self-emptying features are as revolutionary for robot vacuums as the invention of the autonomous vacuum itself. But some models with the awesome new self-emptying feature can cost $1,000 or even more.
Thankfully, top brands like Shark and iRobot also offer auto-empty models for much less than that. Especially right now with all of Amazon's impressive Shark vacuum Prime Day deals.
In addition to robot vacuums, Shark is also running some terrific deals on upright vacuums and cordless stick vacuums. Prime members will enjoy savings of up to 50% off the best models that Shark makes.
Plus, there's even a deep discount on the beloved Shark S3501 Steam Pocket Mop ($53.99) and the Shark WD201 HydroVac wet/dry vacuum ($259.99) that has been a best-seller in recent months.
Shark auto-empty robot vacuums
Like so many other robot vacuum owners out there, I have become spoiled. It's not enough anymore that I have an awesome little robot to do all the vacuuming around my house for me. In fact, sometimes I actually get annoyed at the little autonomous device that once brought me so much joy.
Why? Because I have a dog that sheds constantly, which means I have to empty my robot vacuum's dirt collection bin every single time it runs. Oh, the humanity!
No, it's not actually a huge deal. But it's also not a problem I have to deal with anymore. That's because I got myself a new robot vacuum model with a brilliant feature called self-emptying.
As the name of the feature suggests, it's an awesome capability that lets your robot vacuum empty itself when it's done cleaning. It uses a special dock that doubles as a charging base, and it sucks all the dust, dirt, and pet hair right out of the robot vacuum.
That means instead of having to empty it every time it runs, you only have to empty your robot vacuum about once a month!
Shark robot vacuum deals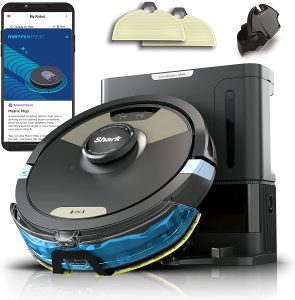 Some robot vacuums with the self-emptying feature sell for $1,000 or even more if you want a top-of-the-line model.
For Prime Day 2023, however, you can actually pick up the $700 Shark AV2610WA AI Ultra 2in1 Robot Vacuum & Mop for $379.99. That's an all-time low price, and it's a massive 46% discount on this model.
The AV2610WA is the best of the best from Shark, and this is the best deal you're going to see all year long.
That's a phenomenal price for a model that holds 60 days' worth of dirt and dust in the base. But if that's still too pricey for you, don't worry because there are a few cheaper models that are also on sale.
The Shark AV911S EZ Robot Vacuum retails for $500, and it has an auto-empty dock with a 30-day capacity. This model is on sale for $249.99 during Prime Day.
Or, you can upgrade to the newer Shark AV2511AE AI Ultra Robot Vacuum with "Matrix Clean" and enough space in the dock for 60 days of dirt. It retails for $600, but right now it's on sale for $299.99.
Also, if you don't care about auto-empty, the Shark ION AV753 Robot Vacuum is on sale for just $129.99 instead of $230. That's the lowest price we've ever seen on any Shark robot vacuum Prime Day deal.
Cordless vacuums, upright vacuums, and mops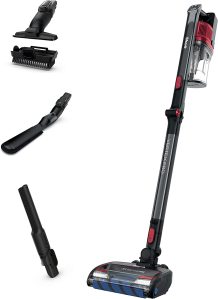 Needless to say, there are more Prime Day deals from Shark than just robot vacuums. Cordless stick vacuums and upright vacuums are on sale, too. Plus, as I mentioned earlier, the Shark S3501 Steam Pocket Mop with tens of thousands of 5-star reviews is down to just $53.99 right now. And let's not forget the Shark WD201 HydroVac wet/dry vacuum that has been selling like crazy.
Here are all the best cordless stick vacuums, upright vacuums, and mops on sale from Shark for Prime Day 2023:
More Prime Day 2023 coverage
Amazon Prime Day 2023 includes hundreds of thousands of deals that are exclusively available to shoppers who subscribe to Amazon Prime. If you're not already a Prime member, you can sign up for a free 30-day Amazon Prime trial and shop all of these great Prime Day deals for free.
Here's some more coverage from BGR that you should check out to see all the best Prime Day 2023 deals: