There are obviously been countless Black Friday and Cyber Monday TV deals out there this year. But you should definitely check out some of the Cyber Monday projector deals in 2022 before you commit to a new TV. You might end up spending way less money on a much bigger screen!
TV deals are always off the charts around this time of year. For example, you can snag a TCL 40-inch Class 3-Series HD LED Smart Android TV for just $219. Or, if you're looking for something bigger, the Samsung 75-inch Q80A QLED 4K TV has a massive $1,210 discount right now. That's unbelievable for a 4K smart TV this popular! Those deals are impressive indeed. But don't forget about the amazing home theater projectors out there!
---
Featured products in this article: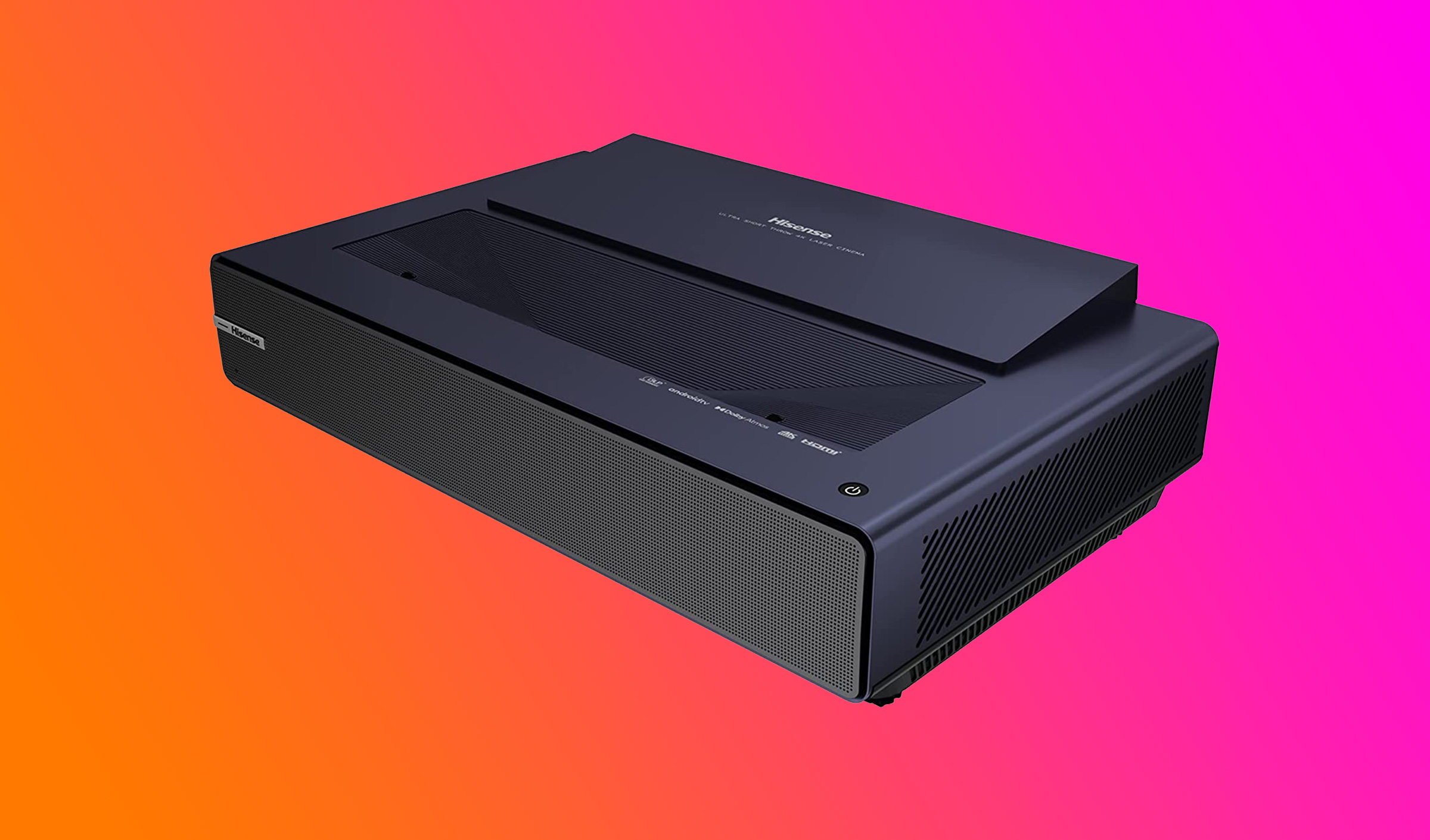 Hisense PX1 Triple-Laser Ultra-Short Throw 4K Home Theater Projector Was $3,299, Now $1,999 Available from Best Buy

---
Impressive 4K TV deals for Cyber Monday
Yes, there are of course some outstanding 4K TV deals right now at Amazon. Examples include:
If you're shopping for a tiny model to go in your kitchen or a guest bedroom, a TV is obviously the way to go. But anyone looking to upgrade a TV in your living, basement, or home theater should think about going with a projector instead.
Why get locked into a certain size when home theater projectors are so versatile? They offer way more value than you'll ever get out of a TV. And there are so many Cyber Monday projector deals on Amazon right now that you should definitely check out.
Cyber Monday projector deals 2022
Prices start at just $360 for the ASUS ZenBeam Latte L1 Portable LED MiniSmart Wi-Fi Projector. It used to retail for $450, so this is a great discount. In fact, it's such a great deal that it's hard to believe it's not a mistake! But you can also get the ASUS ZenBeam E2 Mini LED Portable Wireless Projector on sale as well. It's down to just $240.
Of course, a small portable projector like that isn't going to replace a 4K TV.
If you're looking for a true TV replacement, check out the JMGO O1 Ultra Short Throw Projector. It seriously might blow your mind.
Most ultra-short-throw projectors cost well into the thousands. The new JMGO O1 doesn't cost anywhere near that much. It retails for $900 and if you get one between November 25-29, it's only $649.99. That's an amazing Cyber Monday projector deal!
This isn't a super-high-end projector, but it's still remarkably impressive for a model that's so affordable. We've tested the JMGO O1 ourselves and it's shockingly clear for such an affordable unit. It's also nice and compact. Plus, it can project a huge 100-inch picture from less than 1 foot away from your wall or screen!
Other great home theater projector deals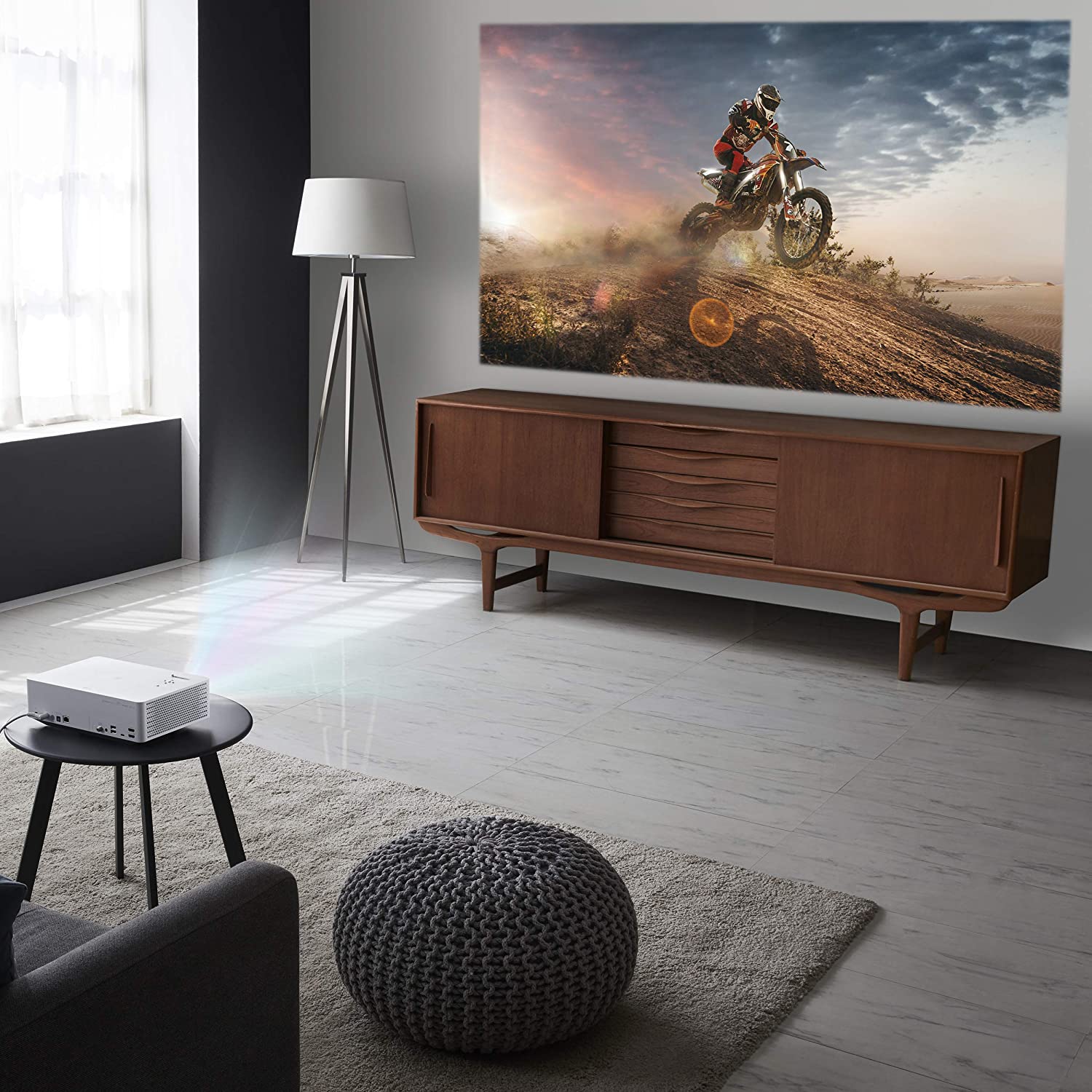 If you really want the best of the best, we've got a tremendous upgrade for you. The
LG Electronics HU715QW Ultra Short Throw 4K UHD (3840 x 2160) Laser Smart Homer Theater CineBeam Projector is a top-notch option. This projector is an absolute beast, capable of beaming an image up to 120 inches in size despite being positioned right next to your wall. You'll get 2,500 lumens of brightness, webOS 6.0 and Apple AirPlay 2 and HomeKit compatibility. All the bells and whistles you can think of and this deal is jut as good. It's only $2,399 instead of nearly $2,900.
You can also opt for the LG HU70LA DLP 140″ 4K UHD Smart Home Theater CineBeam Projector, which delivers 1,500 lumens of brightness and has Alexa built in. It works for screens up to 140″. With LG ThinIQ AI, you'll love how easy it is to utilize. It's just $1,199.99, down $600.
For more affordable options, the CLOKOWE 10000L 1080P HD 5G WiFi Bluetooth Projector is only $212.49 instead of $500 and the Living Enrichment Mini Projector is only $90.74 instead of $110.
Don't forget a projector screen
Of note, you'll probably want a good projector screen to go with any of these models. Believe it or not, you can get a 120-inch screen today for just $18.75! The P-Jing anti-crease 120-inch projector screen is currently on sale at its lowest price ever. Don't miss this deal.
---
More Cyber Monday 2022 deals
The Cyber Monday deals we covered in this article are fantastic. But we've barely scratched the surface because there are hundreds of thousands of great deals out there this year.
If you're looking for all the best deals for Cyber Monday 2022, you'll find them in BGR's extensive coverage. We've rounded up all the hottest products on sale ahead of the holidays this year. Plus, you'll find all the deepest discounts from top retailers, including Best Buy, Walmart, and Amazon.
Check out the following Cyber Monday roundups and you won't miss any of the most popular deals of the season!
---
Go here to see this month's best deals online!