Fans of Netflix's The Witcher have been dreading next week, when the streamer drops the 8-episode third season of the fantasy series that represents star Henry Cavill's final appearance in the title role. We've gone into detail previously about the challenges facing this important Netflix franchise, so it will be quite interesting to gauge the critical and viewer reactions to the new season — one of several big new Netflix releases hitting the streaming giant next week.
Our latest week-ahead snapshot of some of the biggest and best releases coming to the streamer over the next several days can be found below. And in addition to the new recommendations of what to watch below, don't forget to also check out some of our other recent Netflix coverage highlights, including:
Henry Cavill's final season of The Witcher is nigh
First up as part of our look ahead at the big new upcoming Netflix releases — no question, The Witcher Season 3 is hands-down the biggest title next week. Not just in terms of this being a high-profile release, but this season of the splashy adaptation of Andrzej Sapkowski's source material (releasing on June 29) will include a controversial goodbye of sorts.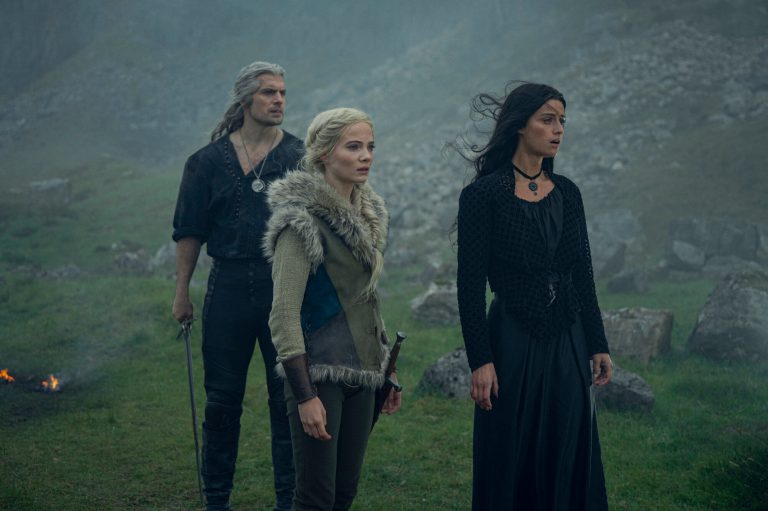 Cavill has carried the white-haired mantle of Geralt of Rivia on his shoulders for what will be three seasons, a role that is passing to Liam Hemsworth starting in Season 4. Unconfirmed reports point to his dissatisfaction with choices that the show's creative team has made.
Meanwhile, this is also the season that will reportedly feature the most horrifying of the series' monsters to date — this one, derived from the melted corpses of women and girls. And as if all that wasn't enough, this season also unites the core trio of Geralt, Ciri, and Yennefer for the first time.
"For years, Geralt has claimed neutrality, shunned politics and publicly asserted that witchers don't have emotions — all to make his life as a killer easier to navigate," show creator Lauren Schmidt Hissrich said in a Netflix promotional interview about the new season. The new season, by the way, is inspired by the second installment in Sapkowski's Witcher book series, Time of Contempt.
Continues Hissrich: "We've seen him battle monsters and monstrous humans; we've watched as he's hardened himself in order to survive. This season, he can no longer do that."
One for the Succession/Sarah Snook fans
Sarah Snook, meanwhile, has gone from her iconic portrayal of Shiv Roy and utterly dominating that boardroom showdown in the series finale of HBO's Succession to, now, a Netflix psychological horror thriller in which she plays a fertility doctor confronted by a ghost from the past.
Trading dynastic drama from an altogether different kind of tension, Netflix on June 28 will release Run Rabbit Run, from director Daina Reid, in which Snook portrays a fertility doctor terrified by her young daughter's inexplicable memories of a past identity. The movie is all about the "dark side of motherhood" (Netflix's words, not mine), as well as the secrets we keep from each other — particularly from the people we love.
Run Rabbit Run was filmed on-location in Snook's native Australia and joins Netflix's growing slate of content from the country, including the crime-drama film The Stranger and the dramedy Wellmania.
Other Netflix releases coming next week
As for what else is coming to the streamer over the next several days, for those of you in need of streaming entertainment beyond the high fantasy of a Netflix release like The Witcher or a psychological thriller along the lines of Run Rabbit Run, the latest weekly slate of Netflix releases also includes a variety of other releases — a few more of which you'll find highlighted below.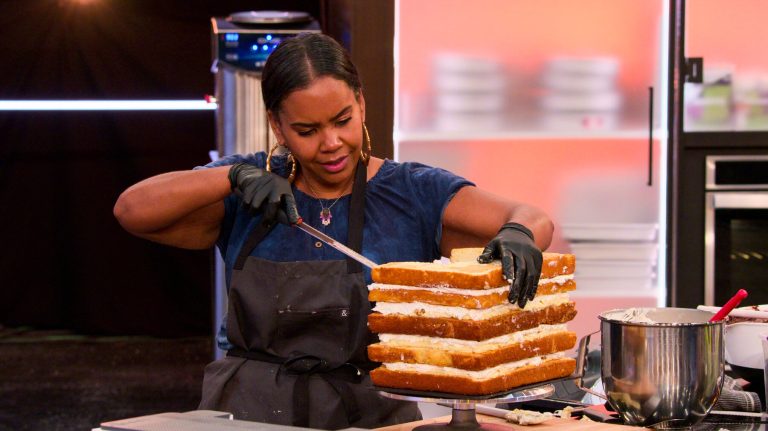 Is It Cake, Too? The sophomore season of one of the dumbest and most addictive of Netflix's burgeoning reality slate, the 8-episode Season 2 of Netflix's Is It Cake? will make you hungry while at the same time questioning your life choices once you sit down to watch.
In case you haven't checked out the series yet — yes, the entire formula is right there in the title. Bakers compete by creating cakes that look like hyper-realistic objects. A panel of judges then puts on their thinking caps to determine which objects are real, and which ones can be nom-nommed. Release date: June 30.
Muscles & Mayhem: An Unauthorized Story of American Gladiators: I'm always up for a solid Netflix documentary, something the streamer has given us plenty of already this year, so you better believe this limited docuseries is on my watch list.
This Netflix release takes us back to the campy bodybuilding era of the late 80s and early 90s, and specifically to the then-hit game show American Gladiators. This docuseries, from Napoleon Dynamite director Jared Hess, looks back at the American Gladiators phenomenon from how it began to its biggest stars and all the chaos that accompanied its almost 10-year run.
The show, according to Netflix, was the first of its kind — a competition that pitted everyday people from across the US against beefy "gladiators," eventually becoming the #1 syndicated TV program in the world. Release date: June 28.
The Imitation Game: This next one isn't an original Netflix release, but Benedict Cumberbatch's portrayal of Alan Turing in 2014's The Imitation Game is so first-rate — and this World War II-era story from director Morten Tyldum such a nail-biter — that we've no choice but to include it here ahead of its arrival on Netflix.
If you missed the movie for whatever reason during its theatrical run years ago, the story basically focuses on the work of the codebreakers at Bletchley Park to crack the German war machine's supposedly unbreakable Enigma machine. Cumberbatch gives a brilliant performance as Turing, the now-celebrated mathematician and computer scientist who developed insights that would come to be known as "artificial intelligence" — and who came up with a brilliant solution that led to the German military's codes finally being deciphered, turning the tide of WWII.
To learn more about Turing, this New York Times profile of him is an excellent read.
Nimona: Finally, the coming week will also see Netflix release Nimona, an animated film based on the New York Times best-selling graphic novel by ND Stevenson.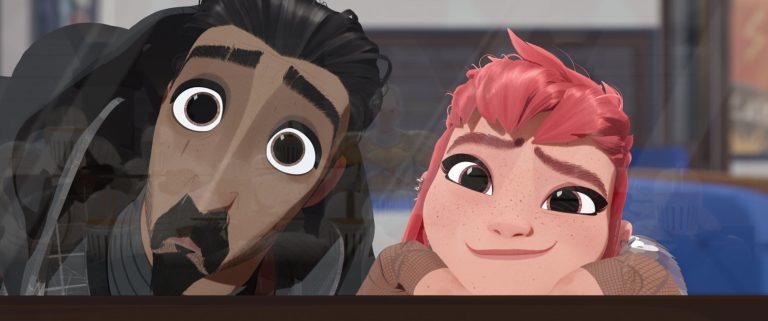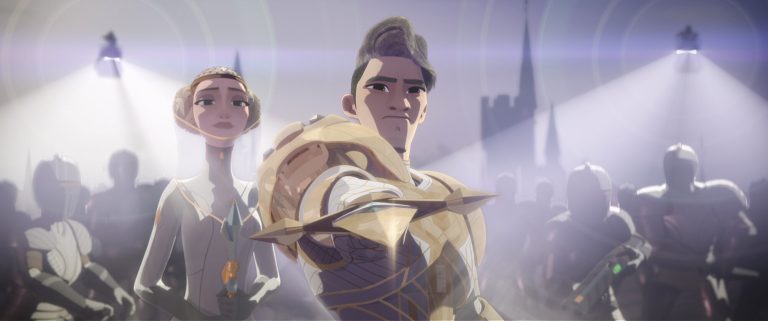 It tells the story of Ballister Boldheart — a knight, voiced by Riz Ahmed, in a futuristic medieval world who's framed for a crime he didn't commit. The only one who can help prove his innocence? That would be Nimona (voiced by Chloe Grace Moretz), a mischievous teen who's also the very shapeshifting creature that the knight is sworn to destroy.
"With the entire kingdom out to get him, Nimona's the best (or technically the only) sidekick Ballister can hope for," Netflix explains. "And as the lines between heroes, villains, and monsters start to blur, the two of them set out to wreak serious havoc — for Ballister to clear his name once and for all, and for Nimona to just wreak serious havoc." Release date: June 30.