Netflix is the home of everything from trashy, dumb reality shows — I'm looking at you, Love is Blind and Too Hot to Handle — to prestige dramas like The Crown, international standouts like Squid Game, and so much more. Lately, though, I've found myself drawn especially to the streaming giant's gritty crime sagas, Netflix series that are often springboards for some of the best storytelling and make for particularly engrossing franchises.
Below, I'm going to share five of my favorite Netflix crime series and why I think you should watch them. They include everything from big, established titles to hidden gems and international fare. Without further ado:
Narcos: Mexico
Seasons: 3
Actors include: Diego Luna, Michael Peña, and José María Yazpik
There are two different but connected Narcos franchises available to stream on Netflix. This one, set in Mexico, is in my opinion the superior watch. It's partly because the original Narcos series tracks the rise and fall of Pablo Escobar, the larger-than-life and sometimes cartoonishly evil Colombian drug lord whose story you might or might not be interested in.
The follow-up Netflix series, however, told a much more interesting (to me) story about an entrepreneurial-minded drug kingpin named Miguel Ángel Félix Gallardo. He somehow convinced the many feuding cartels to band together and that wars are bad for business. The action, the storytelling, even the Narcos: Mexico Season 3 narration from actress Luisa Rubino, who plays a fictional newspaper reporter — all of it combines to give viewers a tour de force of a crime series, wherein we're shown a slight twist on Lord Acton's famous dictum. The one about the corruptibility of absolute power.
When you add money and bricks of cocaine to that mix, what you also get alongside that corruption is a war without end.
Peaky Blinders
Seasons: 6
Actors include: Cillian Murphy, Paul Anderson, and Tom Hardy
Those of you, like me, who've already raced through all six seasons of this series about the flap cap-wearing gangsters from Small Heath will understand how I feel — that Cillian Murphy is so good, so steely, so memorable, and menacing as Tommy Shelby that it'll be hard for me not to see at least a trace of Tommy from now on, in every project that Murphy does.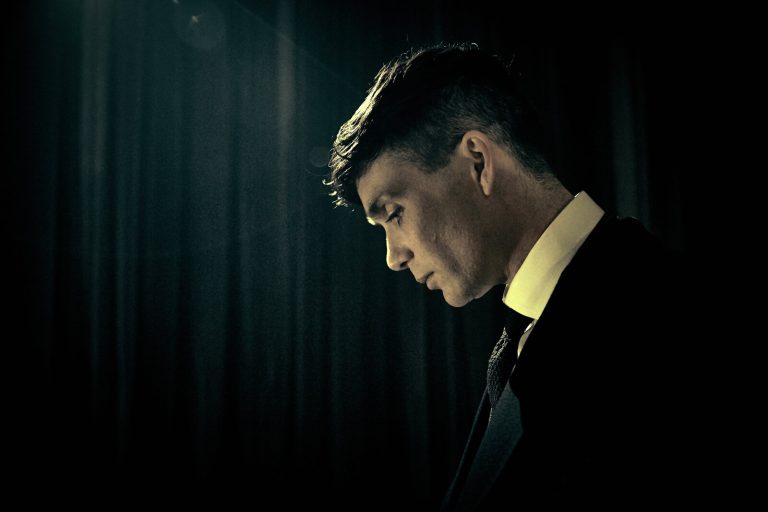 If there's such a thing as a perfect TV show, Peaky Blinders is one. The character of Tommy Shelby offered Murphy a chance to turn in arguably the finest work of his career, bringing to life this World War I veteran-turned-gangster-turned-businessman, one who wants to go straight but is constantly pulled back to the dark side. Cillian loses himself completely in the role and makes you feel like you're actually watching Tommy, with his buzzed haircut, stylish suits, and the hardscrabble edge to his accent. The writing is fantastic and has generated a slew of memes and beloved catchphrases, many of which aren't fit to repeat here.
Crime thrillers don't get more stylish or addictive than this Netflix series, the theme song of which heralds: "On a gathering storm / comes a tall handsome man / In a dusty black coat / with a red right hand."
Snabba Cash
Seasons: 2
Actors include: Evin Ahmad, Dada Fungula Bozela, and Alexander Abdallah
Sometimes, the best crime series aren't about villains in the classical sense — but, rather, men or women who have pure intentions and step over the line to the dark side, in a kind of Hail Mary attempt to get them from Point A to Point B in life.
The title of this Netflix series is Swedish for "easy money," which should tell you all you need to know about the animating force behind the story. At its center is a wannabe entrepreneur named Leya, who has all the grit, determination, and know-how in the world — minus the privilege and good luck that makes this show's swaggering business titan who she idolizes able to deliver cringey proclamations like I am the system.
In the Sweden of Snabba Cash, life is a hustle that never ends, and entrepreneurs are always after the big score, quick cash, and the bling and baubles of success. From hungry startup founders to ruthless dope dealers, everyone here is after the same thing: That one elusive win, whether it's squeezing out rivals, taking a startup public, or gobbling up territory. Whatever it takes to win.
Sky High: The Series
Seasons: 1
Actors include: Asia Ortega, Luis Tosar, and Alvaro Rico
From the official Netflix description of this Spanish-language crime series (which is based on the 2020 Netflix film of the same name, about a smash-and-grab gang of thieves): "A phone call in the middle of the night will change Sole's destiny: Ángel, her husband and leader of a gang of gangsters has died. Turned overnight into a young widow with a son to take care of and many troubled businesses to run, Sole is not willing to return to the tutelage of her father Rogelio, one of the biggest dealers of stolen objects in Madrid."
Preferring to make her own way, Sole sets out to find new allies who can, among other things, help her carry out robberies as ambitious as those from the old days. This Netflix series is recommended for fans of Netflix's The Night Agent, and of Netflix movies like Code Name: Emperor and Triple Frontier.
Suburra: Blood on Rome
Seasons: 3
Actors include: Alessandro Borghi, Giacomo Ferrara, and Filippo Nigro
HBO's Gomorrah will go down as the greatest TV mafia drama of all time, and while Netflix doesn't have any series that can top it, I'll just say — if, like me, you were a fan of Gomorrah's sprawling, bloody saga that unfolded in Naples, then you definitely need to give Netflix's Suburra a try. It's not as good, but it comes somewhat close.
This series — the title of which basically means slum — is set in Rome and sucks you into a similarly sprawling nexus of criminal gangs, dirty politicians, and the church wielding its influence over all of them. Per Netflix, Suburra is "a crime thriller set in Rome that describes how the Church, the state, organized crime, local gangs and real estate developers collide and blur the lines between the legal and the illicit in their quest for power. At the heart of the story three young men with different backgrounds, ambitions and passions will have to forge alliances to achieve their deepest desire."