It feels like it's been a few years now, at least, since Pixar has really knocked it out of the park with one of its new releases, most of which end up merely reminding those of us still fans of the animation studio how much we miss its glory days. While we wait for Pixar to recapture its old magic, though, Netflix caught me by surprise with the release of Nimona — a sweet, endearing, and absolutely top-notch animated film that's been met with pretty much universal acclaim since it hit the streaming giant.
Moreover, I hope someone from Pixar actually checks it out, not only because the film has a near-perfect 94% audience score on Rotten Tomatoes, based on more than 1,000 user ratings so far, but also because Nimona is as good as the best movies I've ever seen from the studio that gave us Wall-E, Toy Story, and Finding Nemo.
Nimona tells the story of Ballister Boldheart — a knight, voiced by Riz Ahmed, in a futuristic, medieval world who's framed for a crime he didn't commit. The only one who can help prove his innocence? That would be the titular Nimona (voiced by Chloe Grace Moretz), a mischievous teen who's also the very shapeshifting creature that the knight is sworn to destroy.
"With the entire kingdom out to get him, Nimona's the best (or technically the only) sidekick Ballister can hope for," Netflix explains. "And as the lines between heroes, villains, and monsters start to blur, the two of them set out to wreak serious havoc — for Ballister to clear his name once and for all, and for Nimona to just wreak serious havoc."
The story and characters are based on the New York Times best-selling graphic novel by ND Stevenson, and can I just say: Thank goodness Nimona is a Netflix movie and not a series, because if it had been presented in the form of the latter, we all know the streamer would have killed it early (am I right, Warrior Nun fans?)
At any rate, go watch it — and do take a moment to also admire the breathtaking artwork throughout: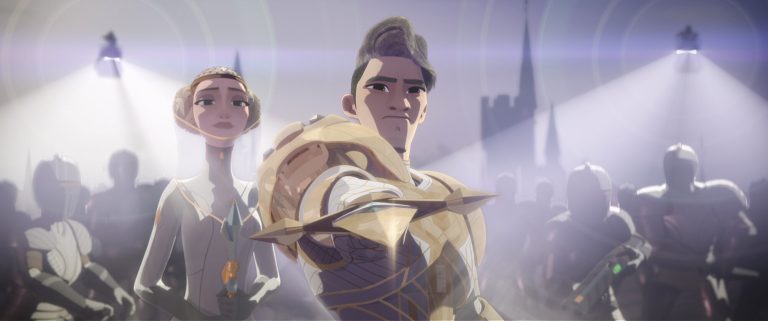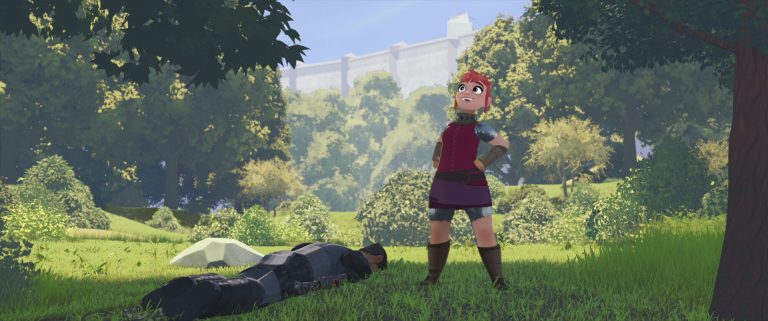 One fun side note that's also worth mentioning: It's so perfect that Moretz provides the voice of Nimona, because Stevenson, when creating the character, was actually inspired by Moretz's portrayal of Hit Girl in the 2010 comedy Kick-Ass.
"There's a surprise at every turn with this story," Nimona screenwriter Robert L. Baird said in an interview with Netflix. "Not only does it have deeply resonant themes, but Nimona is also an incredibly unique character and this very untraditional antihero."