Netflix has spent millions of dollars marketing its films over the past several years, putting forward Best Picture Oscar contenders every year for almost a decade now — and the streaming giant still keeps coming up short (as it did again this year when Everything, Everywhere, All At Once took him the award). Meanwhile, if you scrolled through the list of the Top 10 Netflix movies inside the app the same day as I'm writing these words, you would have seen just two of those 10 are actual, well, Netflix movies (and they're both part of the same franchise: Murder Mystery, and Murder Mystery 2.
The others, like Shark Tale and Over the Hedge, are third-party titles that are crushing it for whatever reason on the streaming giant right now.
Does Netflix have a film problem? What's going on here? This certainly deserves a multi-faceted conversation, but one of the many issues I have with the film side of Netflix's content library is that too much of the content is either bad (Spiderhead), brain-dead (Me Time), more suited for critics than viewers (Don't Look Up), or "good" but not the kind of thing I'd ever want to watch again (All Quite on the Western Front).
Three sure-fire crowd-pleasers
Maybe, like me, you don't feel particularly well-served by the glut of less-than-ideal movies that Netflix is flooded with right now. Nevertheless, there are some gems here and there to enjoy — if, that is, you know where to look.
Here are my recommendations for some of the best feel-good movies to enjoy on Netflix right now.
Enola Holmes 2: I absolutely loved this sequel to the 2020 original Netflix movie. In the new film, Enola (played once again by Millie Bobby Brown) hangs out her shingle and launches her own detective agency.
One day, the little bell over her door tinkles — and a young girl who works at a match factory walks in, asking for Enola's help in finding her missing sister. And with that, as Enola loves to dramatically declare, "the game is afoot."
Early on in the movie, Enola tells the audience that there's really just one rule to being a good detective: You must pull on every loose thread. Luckily for us, there are no such imperfections or loose threads in Enola Holmes 2 — none, anyway, major enough to distract from this being anything other than a delightful romp of a movie.
The Adam Project: Shawn Levy is the man with the golden touch. He's the executive producer of Stranger Things, and he's also worked on the upcoming Netflix series All the Light We Cannot See in addition to movies like Deadpool 3 and The Adam Project. In the latter, a time-traveling pilot, played by Ryan Reynolds, accidentally crash-lands in 2022 — and he teams up with his 12-year-old self on a mission to save the future.
"What hooked me in was the idea of — what if you could make your peace with your own history?" director Shawn Levy said in an interview with Netflix about the movie.
"What if you could, as an adult, go back and make peace with your younger self, and make your peace with the parents we failed to understand when we were growing up? What if you could go back and reconnect with your parents with the benefit of a lifetime of wisdom and perspective? Because more often than not, when we think back to our parents, there are stories we tell ourselves. Either they were perfect or they were the villain in my backstory. But generally, neither is true."
Hustle: This one has all the ingredients for a Netflix winner. For starters, it's got Adam Sandler, the OG Netflix star (whose latest movie, Murder Mystery 2, just hit the streamer as of part of the latest wave of Netflix releases). Sandler plays a down-on-his-luck basketball scout. He finds a player in Spain who seems to have all the makings of a phenom. And, together, they set out to make their way into the NBA. Long-shot odds, a story with heart, great action on the court — what's not to like?
More feel-good Netflix movies to check out
If those aren't enough, meanwhile, we've also got plenty of other recommendations of feel-good Netflix movies from a bit deeper into the streamer's library. This selection includes everything from drama to documentary releases, as well as family-friendly animated fare.
The Swimmers: Netflix movies don't get more inspiring than this one. In The Swimmers, we follow two sisters who flee war-torn Syria and make their way to the 2016 Rio Olympics.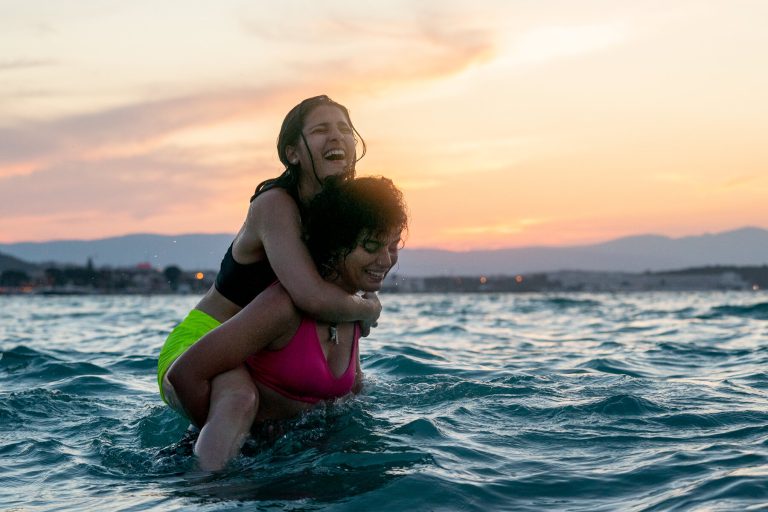 "The Swimmers is a film about female emancipation that shows how inner strength rises out of suffering," director Sally El Hosaini explains in a statement provided by Netflix. "It explores the power of ambition and freedom.
"Female ambition is so often a dirty word, but I wanted to celebrate it. I saw an opportunity to make complex heroes out of the type of modern, liberal Arab women who exist, but rarely appear on our screens. The type of Arab women I know, who Yusra and Sara are, who I am. That's why this story resonated so deeply with me."
Stutz: Actor Jonah Hill decided that his psychiatrist Phil Stutz has done such wonders for Hill's mental health, that he decided to bring a camera into their sessions — so that viewers can benefit, too, from the therapist's unique and visual model of therapy. "My life has gotten immeasurably better as a result of working with you," Hill tells Stutz at one point. "If it worked for me, maybe it will work for other people."
The Sea Beast: From the streamer's official description of this 2022 animated film, "When a young girl stows away on the ship of a legendary sea monster hunter, they launch an epic journey into uncharted waters — and make history to boot."
The Magician's Elephant: This next Netflix movie is an adaptation of Newbery Award-winning author Kate DiCamillo's classic novel The Magician's Elephant, directed by Wendy Rogers and written by Toy Story 4's Martin Hynes. The story: A young boy named Peter sets out to find his long-lost sister and comes across a fortune teller in the market square. He asks if his sister is still alive and gets a surprising response: Follow a mysterious elephant, which leads to Peter needing to also attempt a trio of impossible tasks.
Dog Gone: Rob Lowe, who's currently starring in one of the biggest Netflix shows in the US right now (the newly released Unstable), also leads the cast in this Netflix movie about man's best friend — specifically, about a family's search for their missing golden retriever mix named Gonker. Did you cry during Marley & Me? Then keep a box of Kleenex handy for this one, too.
Klaus: This Christmas-themed movie marked the directorial debut of Despicable Me creator Sergio Pablos and also bears the distinction of being Netflix's first animated feature. In it, "a selfish postman and a reclusive toymaker form an unlikely friendship, delivering joy to a cold, dark town that desperately needs it." In an interview with BGR, Pablos elaborated about the film:
"I thought that would be the biggest trap to fall into, to make it way too corny of a film. So, it's — how do I avoid that while still making it heartfelt? And that's when I found the angle of making Santa not my main character but maybe a symbol for altruism … And the more I played with the dynamics and the irony — what if the actions of Santa came about through the actions of the worst human being I could conceive — the heart, emotion, and comedy was there."
The Mitchells vs. The Machines: I can't rave enough about how much fun I had watching this animated gem. As a matter of fact, this might be one of the top animated films I've ever seen. The humor, the writing, the visuals — all of it combined to produce the kind of feel-good winner I rarely come across on Netflix. As soon as I finish writing this, I think I'm actually going to put it back into my Netflix queue to watch again.
The official synopsis: "Young Katie Mitchell embarks on a road trip with her proud parents, younger brother, and beloved dog to start her first year at film school. But their plans to bond as a family soon get interrupted when the world's electronic devices come to life to stage an uprising. With help from two friendly robots, the Mitchells must now come together to save one another — and the planet — from the new technological revolution."