For a while now, the row of Top 10 Netflix movies inside the app that identifies the most popular films on the streaming giant in the US has been noticeable as much for what it lacks as for what it includes. Which is to say: I can't remember the last time this daily ranking has included more than a single Netflix original film, mixed in with what's mostly a random assortment of third-party titles.
As far as the latter, that's still mostly what people are watching when it comes to Netflix movies — meaning, for example, titles like The Bourne Legacy and Shark Tale are among the most-watched in the US currently. Netflix's own original movies, however, are finally getting some love again, in the form of not one but two originals that are currently dominating in the US. They include Chupa, at #1, while Murder Mystery 2 is currently the second-most-watched movie in the US.
#1 Netflix movie in the US – Chupa
If you're looking for recommendations of Netflix movies to watch right now, you can check out our snapshot of some of the best feel-good titles available to stream. Alternatively, you can take your cue from what's currently dominating Netflix, including the just-released Chupa — in which a young boy befriends a chupacabra he finds hiding in his grandfather's shed.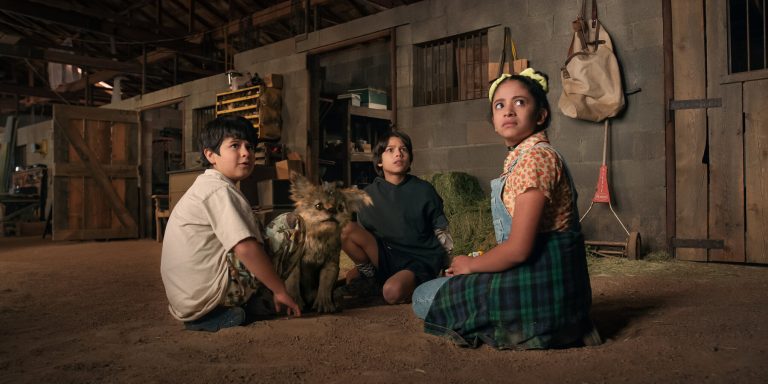 Directed by Jonás Cuarón, here's the official synopsis for Chupa:
"Shy 13-year-old Alex (Evan Whitten) flies from Kansas City to Mexico to meet his extended family for the first time. There he meets his grandfather and former lucha libre champion Chava (Demián Bichir), energetic, wrestling-obsessed cousin Memo (Nickolas Verdugo), and fearless, hip cousin Luna (Ashley Ciarra). But just as Alex begins to get his bearings, he discovers a mythical creature living under his grandfather's shed: a young chupacabra cub, which he recognizes from stories of the feared, full-grown chupacabra, fabled to feed on farmers' livestock."
The movie has an E.T. kind of feel to it, especially when Alex learns that a determined scientist (played by Christian Slater) is hunting the misunderstood creature and wants to harness its powers. What follows, for Alex, is the adventure of a lifetime, as he sets out to protect his new friend from danger and learns that the burdens of life don't have to be carried alone.
#2 Netflix movie in the US – Murder Mystery 2
Sitting at #2 on the list of the most-watched Netflix movies in the US right now, meanwhile, is the sequel to the streamer's 2019 crime caper Murder Mystery, in which Adam Sandler and Jennifer Aniston reprise their roles as husband-and-wife team of Nick and Audrey Spitz.
From the official logline for Murder Mystery 2: "Now full-time detectives struggling to get their private eye agency off the ground, Nick and Audrey Spitz find themselves at the center of an international abduction when their friend the Maharaja is kidnapped at his own lavish wedding."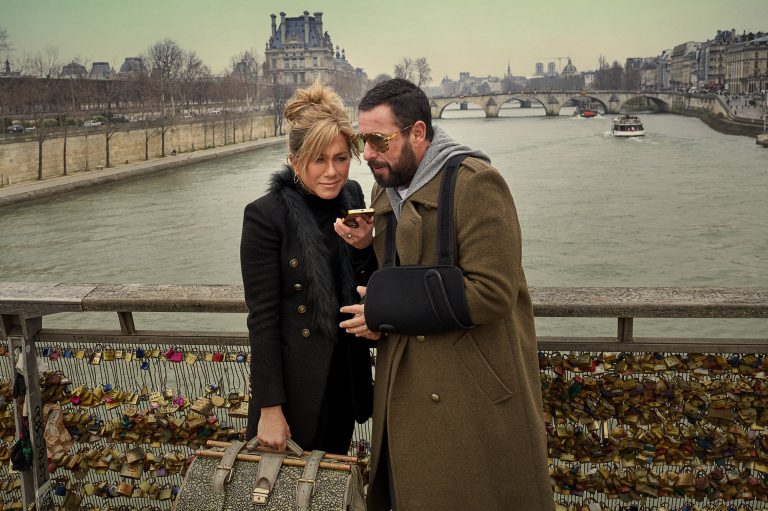 In addition to Sandler and Aniston, the cast here also includes Mark Strong, Melanie Laurent, and Jodie Turner-Smith, among others. Moreover, not only is this one of the most-watched Netflix movies in the US at the moment. It's also the top-ranked Netflix film in the world right now.
For the 7-day period that ended on April 2, Murder Mystery 2 racked up 64.4 million hours viewed worldwide. On a global basis, nothing else even came close — not even the original Murder Mystery movie, which only managed to pull in 24.6 million hours viewed for the week (making it #2 in the world for the moment).
Hours watched, by the way, doesn't necessarily translate to viewer satisfaction. For what it's worth, Murder Mystery 2 currently has "rotten" critics' and audience scores on Rotten Tomatoes — 44% and 49%, respectively.