Over this week, we heard an impressive amount of rumors about the upcoming iPhone 15 USB-C cable. Most came from two different sources on X (former Twitter): Kosutami and Majin Bu.
Those new USB-C cables for the iPhone 15 are rumored to be braided and longer than the predecessor, with 1.5m long. If this turns out to be accurate, these cables will be easier to use when plugged near your mattress or even on public transportation.
In addition, they could even be more stylish, as rumors believe they will have matching colors with the standard iPhone 15 models – similar to what Apple does with the 24-inch iMac.
That said, even though these USB-C cables are rumored to be longer and more resistant, they still will have USB-C 2.0 specs, which means they won't be as fast to charge and will have slower data transfer speeds (up to 480 Mbps) but won't require a proprietary Made For iPhone certification to work.
While this could seem almost too good to be true, you might be wondering, where's the catch? Well, if you want the fastest charging speed and best data transfer in the market, Apple will likely charge more for an additional Thunderbolt 4 cable and a new power brick.
These cables are perfect for those who want data transfer speeds of up to 40 Gbps, but, basically, rumors so far believe they will be exclusive to the iPhone 15 Pro models – so even if you buy them, your standard iPhone 15 might not support it.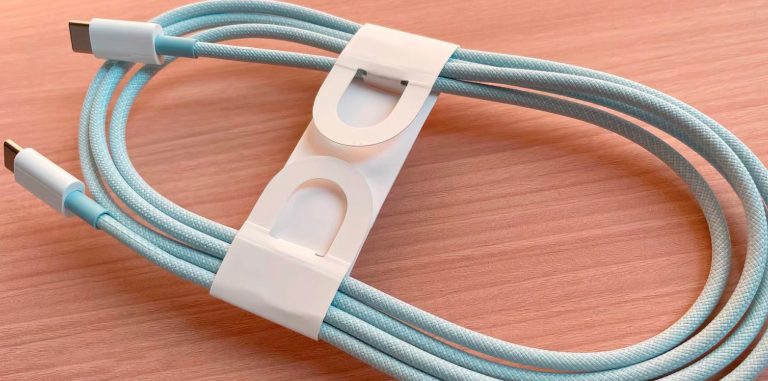 That said, even though they will be compatible with high-end phones, it doesn't mean Apple will give this tech right out of the box. BGR's Chris Smith was precise on why Cupertino won't likely provide these cables for free:
See Apple's USB-C braided Thunderbolt 4 cable at this link? It measures 1.8 meters (5.91 feet) and retails for $129. You'll need to pay an extra $30 if you want a 3-meter (9.84 feet) cable.

That's why Apple won't get you free USB-C Thunderbolt 4 cables with the iPhone 15 models. Just like it doesn't do it with the two iPad Pro models that support 40 Gbps transfer speeds.
Finally, I'm still a bit skeptical about this 1.5m cable, as I don't know how Apple will fit this larger cable in the current box design, so it might come with the usual meter size we're used to.
If you plan to use a shiny 2TB iPhone 15 Pro Max to record your vlog or spatial photos, you'll likely have to spend over $2,000 and then $129 more to get Thunderbolt 4 cable specs.
Luckily, we'll learn more about the iPhone 15 – and its very rumored USB-C cable – in less than three weeks, when Apple is expected to hold a special event. BGR will bring all the details as soon as we learn more about them.