Korean dramas like Squid Game and Extraordinary Attorney Woo have drawn some of the biggest audience numbers in Netflix history, and the streaming giant continues to waste no time in adding new titles in this genre for subscribers to enjoy. Netflix just gave a second season pickup to the reality competition series Physical: 100, for example, while other new additions include the rom-com King the Land (coming on June 17) and the high-octane Bloodhounds, which is streaming right now.
The latter, in fact, also just so happens to be one of the biggest Netflix series in the world at the moment. Since its release last week, the 8-episode Bloodhounds has rocketed to the #2 spot on one of Netflix's four weekly global Top 10 charts (the Top 10 non-English TV shows ranking). Even more impressive is the fact that the show was able to rack up 27.9 million hours viewed worldwide … after only three days of availability on Netflix.
To put that performance into perspective, Bloodhounds earned enough of an audience to make it equivalent to the #4 English-language show — pulling in a viewership total this week behind only Manifest Season 4, Never Have I Ever Season 4, and Fubar.
What it's about: The show is set in 2020, smack dab in the middle of the Covid pandemic in Seoul. As if a global pandemic wasn't enough for people to deal with, loan sharks have emerged in the city — and they prey on small business owners struggling to keep their enterprises alive. Two young ex-marines turned competitive boxers, meanwhile, show up to give these ruthless companies a run for their money.
Based on a popular webtoon by Jeong Chan, Bloodhounds is perfect for the kind of Netflix subscriber like me who's open to enjoying international content like K-dramas but would prefer something other than the romances and historical dramas that are especially prevalent within the genre. Epic fight scenes and pulse-pounding action, among other things, make this one a must-watch.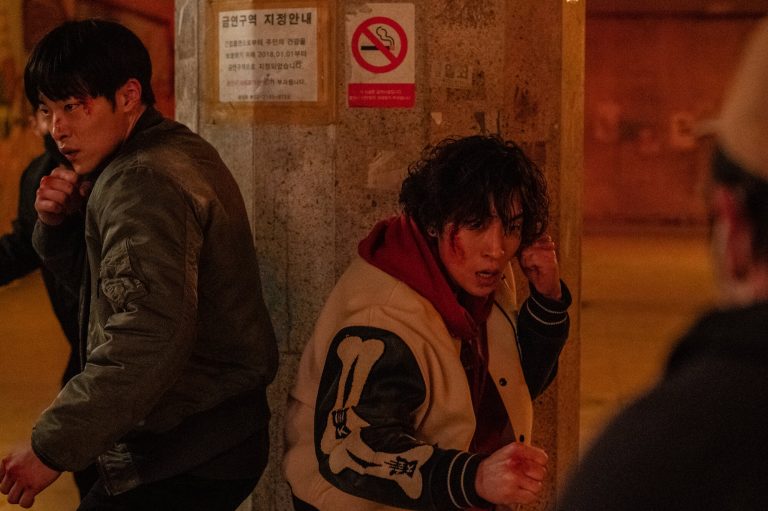 The two friends' brotherhood, Netflix explains in a summary of Bloodhounds, "is taken up a notch when scheming loan sharks from Smile Capital trick Gun-woo's mother into debt and trash her café, spurring Woo-jin to help avenge her.
"With the help of President Choi (Huh Joon-ho), a retired legend in the moneylending industry, Gun-woo and Woo-jin take their boxing chops into the real world to take down Smile Capital's cruel head honcho, Kim Myeong-gil (Park Sung-woong), and his ruthless runners."