Last month, I wrote a hands-on with iOS 17's Apple Fitness+ Custom Plans feature. At the time, I have just started my five-week custom plan. As I have completed it, I want to share my thoughts on this iOS 17 feature, which will be available to all users late next month.
As I previously said, I'm a hardcore treadmill Apple Fitness+ aficionado, and I wanted to discover if this feature would improve my workouts and general well-being. Long story short, I really appreciated that the service would choose my 30-minute treadmill workouts instead of me, but besides that, I didn't feel like accomplishing much.
Although it's nice that you can build a plan by choosing the weekly schedule, the total time of workout per day, the length of the plan, and the activity type combined with trainers and music you want to listen to, the big miss here is that the app doesn't give you any motivation to finish your custom plan.
For example, from a total of 17 practices, I made 11, which gave a total of 6 hours and 20 minutes of exercise and 5.324 total active calories in five weeks. Apple awarded me with a silver medal, and that was it. I could choose between accepting my custom plan was done or repeating it.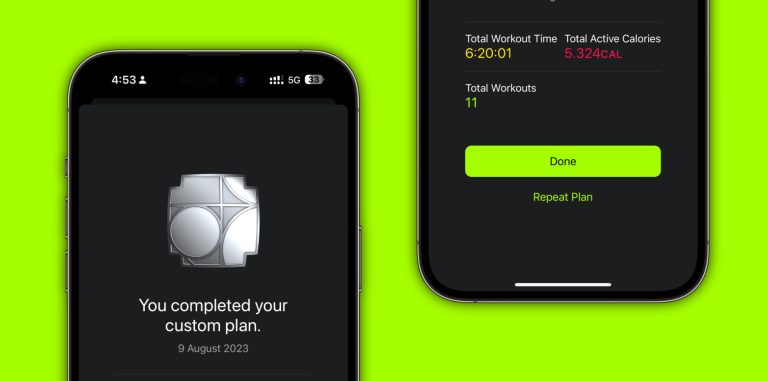 Weirdly, the custom plan only acknowledges Apple Fitness+ workouts, so there were days that I went for an outdoor run, and the program didn't add that I engaged in another activity, which looking in retrospect, makes me feel like I didn't work out as much as I had.
Also, I first complained that Apple sent weird notifications about having a workout planned for that day just past midnight, but, over time, I discovered that the Fitness app would send a new message around 6 PM to tell me that I could still complete my planned workout if I wanted to.
That said, I still believe that Apple Fitness+ custom plans lack soul, as it doesn't encourage you to work out or tell you how this custom plan journey is going. As I said:
I also don't get any insights from these workouts. Besides knowing that I completed all my treadmill exercises over these past two weeks, what did I actually accomplish? Fitness+ could say, "Hey, you're doing great," "You're making great progress," "You only need X more workouts to finish this plan," etc. But it doesn't say anything.
I started this custom plan to understand this feature, as I already work out without it. I can see someone beginning to work out for the first time might drop the plan because they won't get any encouragement, proof of their progress, or insight on the exercises.
As I have said in the past, I don't think Apple is doing a great job with its Activity Rings or how it engages users to exercise. For that, I always recommend Gentler Streak, which tells me how working out affects my well-being.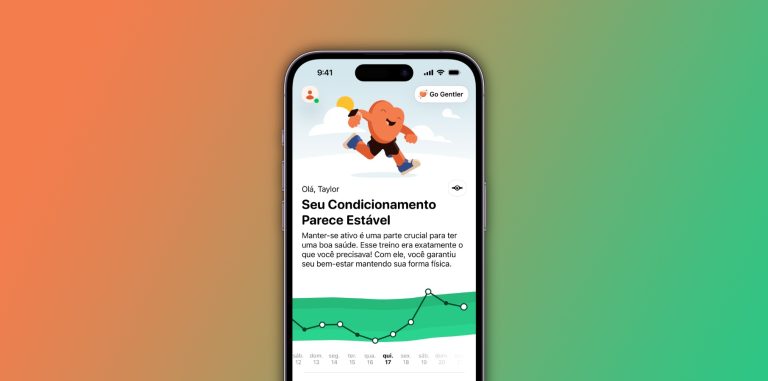 I still have big hopes for Apple Fitness+, and custom plans are just the beginning
In April, Bloomberg reported that Apple was working on a coaching service codenamed Quartz. It's reportedly being designed to "keep users motivated to exercise, improve eating habits and help them sleep better, according to people with knowledge of the project. The idea is to use AI and data from an Apple Watch to make suggestions and create coaching programs tailored to specific users."
This report looks a lot like most of the features Apple introduced with iOS 17 and watchOS 10, such as State of Mind and this Custom Plans feature combined with sleep data, but the company hasn't yet integrated them.
That said, I believe Custom Plans is just another step toward a more expansive Apple Fitness+ Plus subscription.
Eventually, I'll try to create more custom plans by maybe mixing different workout types and see if I change my mind about this feature. It could also be helpful for those who have a personal trainer, so the motivation comes from them and not the app.
Let's see how this feature evolves after Apple releases it to all users.