With iOS 17, Apple is taking a more prominent approach to mental health awareness. The company is adding ways to understand your feelings and to take action. On a new page related to Health, Apple says, "The more informed you are, the more empowered you are to take action."
One of the new iOS 17 features on the Health app is called State of Mind. There, you can log your mood at a specific moment of the day as well as how you feel overall. The scale goes from Very Unpleasant to Very Pleasant. The company says that logging your emotions and daily moods can help you "identify patterns and reflect on what impacts your state of mind."
In addition, you can add context when you log in to help you understand which factors are affecting you the most.
Once you have enough data, Apple will show how the State of Mind info can relate to other activities, such as working out, drinking water, sleeping, and more, with mental health trend charts.
In addition, iOS 17 adds access to assessments and resources often used by clinicians to answer a set of questions about how you're feeling, then see your current risk for depression or anxiety. This can help you understand if you should talk to a doctor, and you'll have a PDF of the results that you can share.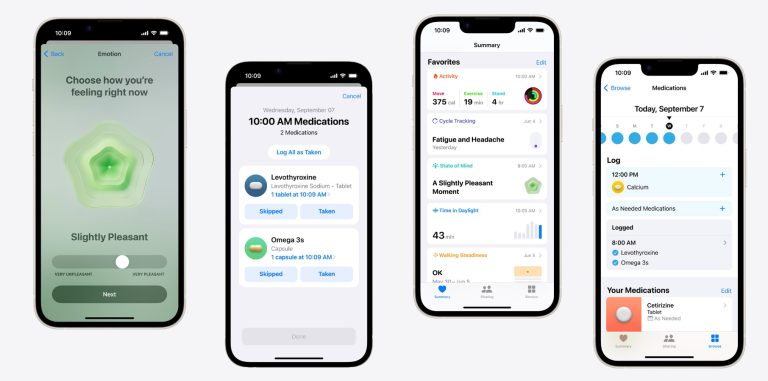 Another improvement for mental health is a tweak to the Medications app. With iOS 17, you can receive reminders to log medications, vitamins, and supplements on your Apple Watch, iPhone, and iPad. Charts and highlights in the Health app show more detailed information about when and how consistently you take your medications.
A new Daylight measurement is also one of the best features Apple is adding in favor of mental health awareness. Although it will take a few months to land on everyone's Apple Watch Series 6 or newer, the company is basically using the Watch's ambient light sensor to show how much time in daylight you spend through your day. Apple focuses on the importance of this measurement for children, but taking a sun bath every day for a few minutes is important to anyone – and I'm glad Apple is now offering this data.
Still talking about children, we know they use tech devices more often. To avoid the risk of myopia, iPhone and iPad models with TrueDepth cameras will be able to remind people to move their devices a few inches/centimeters away with the Screen Distance feature.
Last but not least, a bit later than iOS 17 release, Apple will bring a Journal app, combining everything the user has done throughout the day. The company explains, "Using on-device machine learning, your iPhone creates personalized suggestions of moments for you to remember and write about based on your photos, music, workouts, and more."
These are some mental health measures Apple is taking with iOS 17. BGR will let you know once they're available to all users.