One of the biggest charging network competitors to Tesla is finally starting to go live. In January, Mercedes-Benz announced plans to build out its own EV charging network in the United States. In August, it said that its first charging hub in the country would open in October 2023.
Well, it's a little late, but it's here! In a press release, Mercedes-Benz announced that it has officially opened its first EV charging hub in Atlanta, Georgia. The company's first charging hub is, predictably, located at its headquarters in the United States.
Franz Reiner, Chairman of the Board of Management of Mercedes-Benz Mobility AG, said in a statement that the company's goal is to "pave the way for greater EV adoption here in North America and around the world."
"The Mercedes-Benz Charging Network expands global charging options for customers of all EV brands to promote clean, electric mobility. In North America, our strategy is clear: focusing on where EV drivers are and where they are going to enhance the North American EV charging map while setting new standards for quality and customer experience. These efforts will pave the way for greater EV adoption here in North America and around the world."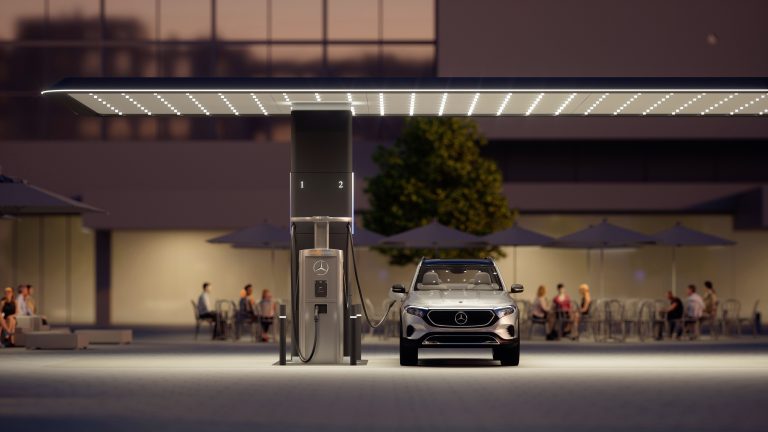 While today is the first, it isn't the only EV charging hub that Mercedes-Benz has planned in the country. The company also said that it will be opening more of its hubs by the end of the year, including locations at Buc-ee's travel centers in Texas, Florida, Alabama, and Georgia. Charging stations at Simon Mall locations (the biggest mall chain in the country) are set to begin opening in the "first half of 2024."
The company says that its joint venture with MN8 Energy will result in 400 charging hubs — a grand total of 2,500 chargers — by 2030. Of course, the company will still be far behind Tesla who will command over 12,000 chargers in North America by 2025, but it still represents one of the most ambitious charging networks planned in the U.S.