If slow-burn Netflix revenge dramas are your thing, the vengeance doesn't get more all-encompassing or life-destroying than the sort that's carried out by Dong-eun, the character played by Song Hye-kyo in Netflix's hit Korean series The Glory. A series, by the way, that it's almost time to revisit, with Part 2 finally arriving on Netflix on Friday.
In fact, one look at Dong-eun's smile in the image attached to the trailer below should tell you all you need to know about what's coming next in the series' new batch of episodes. Hers is the sinister mask of someone who is hell-bent on breaking enemies, extracting whatever pound of flesh she desires, and righting wrongs by bringing hell down on her now much older high school tormenters.
The Glory Part 2 Netflix trailer
"Once this revenge is over, will you finally find happiness?"
If you're caught up with the 8 episodes from Part 1 of The Glory, the answer to that question which we hear spoken in the latest trailer should be pretty obvious. Her happiness notwithstanding, though, when Part 2 of the show debuts on the streaming giant, it will finally bring Dong-eun's elaborate revenge scheme full circle.
The Glory Part 1 spent a total of five weeks on Netflix's global Top 10 list following its debut at the end of December. In addition to the participation of Song, The Glory is also a noteworthy Netflix Korean drama because of its screenwriter, Kim Eun-sook, whose body of work includes a series regarded as one of the genre's best of all time: Guardian: The Lonely and Great God.
Moreover, The Glory quickly garnered a near-perfect 96% audience score on Rotten Tomatoes after its debut. From Netflix's description of the series:
Song Hye-kyo, one of Korea's top female leads, plays Moon Dong-eun, who is seeking revenge on the bullies who destroyed her childhood. Taking on a very different character from her previous outings in Now, We Are Breaking Up, Encounter and That Winter, the Wind Blows, Song portrays a rage-filled woman keen to inflict the ultimate comeuppance on those who tormented her — as well as those who didn't lift a finger to help.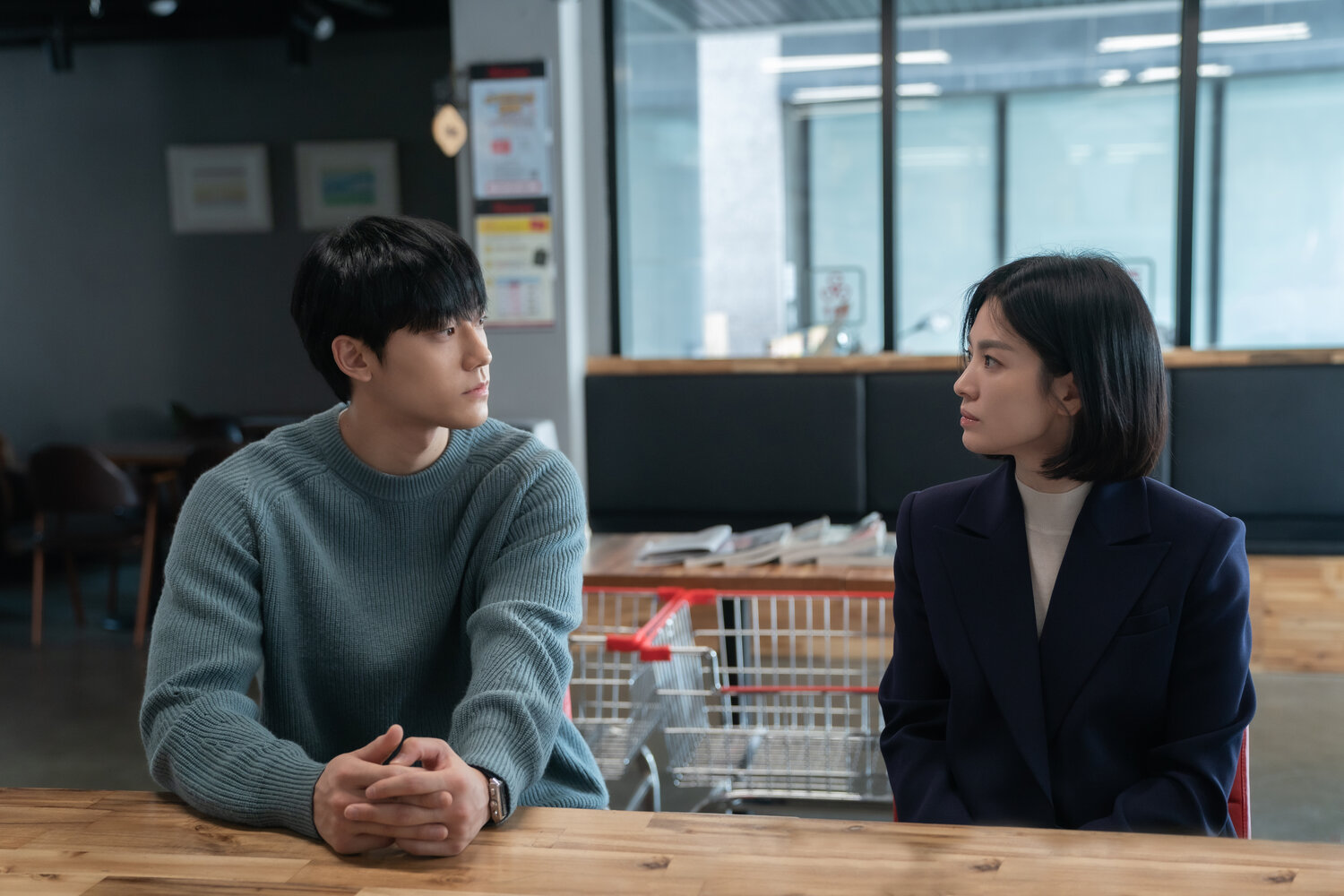 What makes this Korean drama unusual
As for the 41-year-old Song, she remains one of the most popular and successful Korean actresses working today. In addition to giving a masterful performance in the series, we should also point out that — like the 2021 Netflix Korean crime drama My Name, which stars Han So-hee — The Glory is a rare Netflix Korean series with a female lead that isn't largely a romance. Dong-eun eventually escapes the abuse, but she still lives with scars both literal and metaphorical.
Among the other reasons why The Glory has been especially grabbing attention is that it's split into two parts — something else you don't often see with Korean dramas. Usually, they last for just one season, with 16 or so episodes, and then that's it.
To get a sense of just how big the show is, Song graced the cover of Elle Korea's February issue, and in that issue she talks about the show and shares some behind-the-scenes tidbits. Like her feelings on shooting her character's nude scene (something very unusual for the normally chaste world of Korean dramas), as well as some general backstory on her character.
"I wanted to give viewers an impression that this character was someone who was broken and needed protection," Song explains in the Elle interview about the nude scene, in which she takes off her clothes in front of her character's love interest to reveal scars all over her body.
More Korean Netflix series
So far in 2023, The Glory has proven one of the most high-profile and attention-grabbing Korean Netflix series, the release of which has come at the vanguard of what will be another jam-packed year for similar content from the streamer.
Netflix series like The Glory are especially hot commodities for Netflix, which touted earlier this year the fact that 60 percent of its entire user base watched Korean-language titles in 2022. As for Netflix's 2023 slate of Korean content, it includes almost three dozen titles ranging from returning fan favorites to new dramas, reality series, movies, and more — representing, in fact, Netflix's biggest-ever lineup of Korean films and series to date.
Other new series besides The Glory include Crash Course in Romance, which racked up almost 26 million hours viewed around the world for the 7-day period that ended on March 5 — making it the #3 non-English Netflix TV series globally.