When it comes to deciding what you want to stream next on a service like Netflix, the staggering amount of content on offer can be both a blessing and a source of frustration. With an endless amount of Netflix series and movies to watch — including both original and licensed titles — you'll never want for lack of selection. The issue is finding the proverbial needle in the haystack, something that the huge selection of content makes a challenge.
Inevitably, that means there's plenty of quality fare on the streamer, both series and movies, that can slip through the cracks and escape people's attention. Some of those titles, though, are exactly what we're going to spend some time walking through in this post.
12 underrated Netflix series to check out
First up, on the TV side of the app, we've got 12 hidden-gem Netflix TV series to check out, many of which are international releases that didn't necessarily make a huge splash with American audiences. Below, you'll find everything from docuseries to dramas, comedies, and much more.
Ragnarok
Seasons: 2
Stars include: David Stakston, Herman Tømmeraas, and Theresa Frostad Eggesbø
Summary: In this series' fictional Norwegian town, the gods Thor and Loki are reincarnated as two brothers who learn how to use their power and strengths to battle the forces of evil (which are presented here in the form of environment-destroying corporate titans).
Season 3 of Ragnarok will arrive on Netflix on August 24. Additionally, the show currently has a strong 86% audience score on Rotten Tomatoes, with the review site's critics' consensus summary adding that "its intimate scale grounds Norse folklore in an approachable way that ought to appeal to young adult viewers."
Ragnarok doesn't ever get mentioned when people talk about the best shows on Netflix, and that's a shame. It's definitely worth your time — and tells a much meatier story than anything you'll get about these same characters from Marvel. Both seasons of the show also ended with jaw-dropping set pieces, including one wherein the teenage Magne (who comes to realize he's the reincarnation of Thor) is locked in a fight with one of the baddies and calls thunder down from the heavens in a way that looks super-cool.
The Law According to Lidia Poet
Seasons: 1
Stars include: Matilda de Angelis, Eduardo Scarpetta, and Pier Luigi Pasino
Summary: This 6-episode Netflix series dramatizes the story of the first female lawyer in Italy. Played by the fantastic, witty, and beautiful Matilda de Angelis, Lidia Poet is a strong and unforgettable protagonist as she shows off her legal prowess while also fighting for respect and the ability to practice law freely. The series also has a 100% critics' score on Rotten Tomatoes, and Netflix has thankfully already ordered a second season.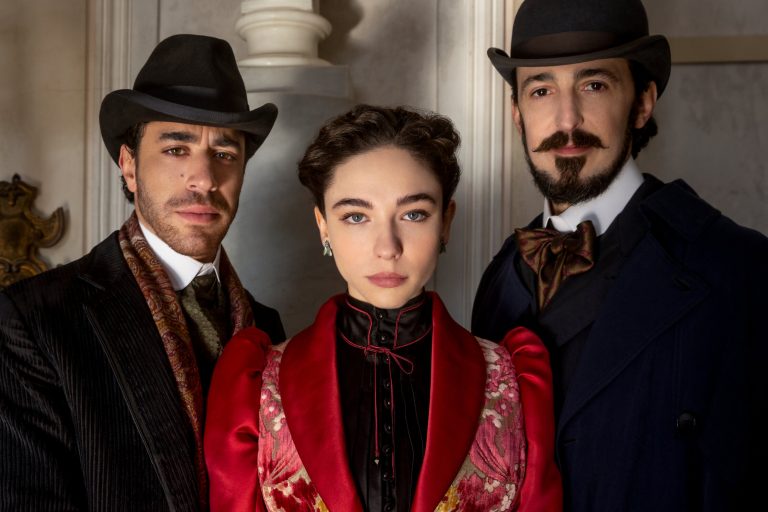 Kleo
Seasons: 1
Stars include: Jella Haase, Dimitrij Schaad, and Julius Feldmeier
Summary: This Cold War-era, German-language spy thriller mixes a Killing Eve-like protagonist with a killer soundtrack and solid storytelling to make this one a no-brainer to add to your watch list — if, that is, you're a fan of espionage thrillers.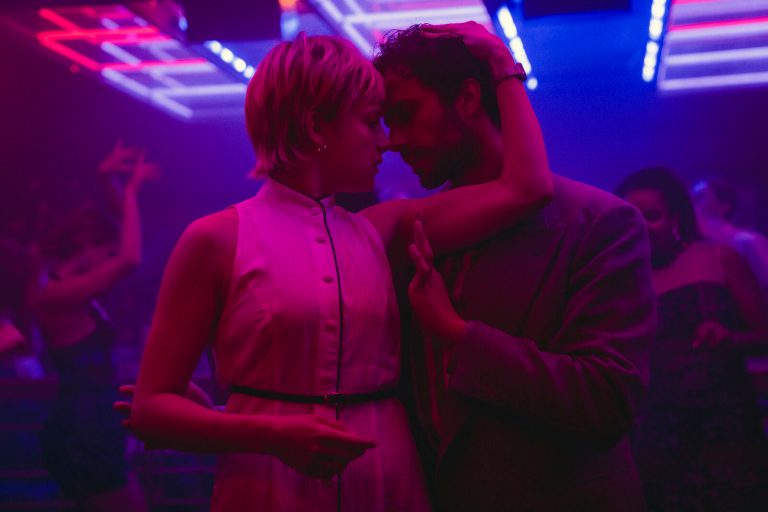 Kleo, the character, is an East German spy who has just spent two years in prison when we meet her. She's abruptly released upon the dismantling of the Berlin Wall and quickly sets out on a revenge spree that leads from Berlin to improvised electro clubs and Mallorcan fincas all the way to Chile's Atacama Desert. This show also has something rarely see with spy dramas — specifically, an at-times lighthearted tone, with its refusal to take itself too seriously in evidence even before the opening shot.
Before that, there's a title card, greeting us with the following tongue-in-cheek intro:
"This is a true story."
"None of this ever happened."
Snabba Cash
Seasons: 2
Stars include: Evin Ahmad, Dada Fungula Bozela, and Alexander Abdallah
Summary: If you loved a classic crime saga like Breaking Bad, you need to put this Netflix gem from Sweden on your watchlist right now. Here's what I'll say about the series, one of the best shows on Netflix, to quote myself from a prior post: The Sweden in Netflix's compulsively binge-able crime drama Snabba Cash is a land of the endless hustle, a place where entrepreneurs fetishize bling and quick cash, and where swaggering business titans with outsized egos make pronouncements like I am the system.
From hungry startup founders to ruthless dope dealers, everyone in this tense drama is after the same thing: The big score. More territory, edging out rivals, launching the next Spotify — it's all part of the same frantic endgame.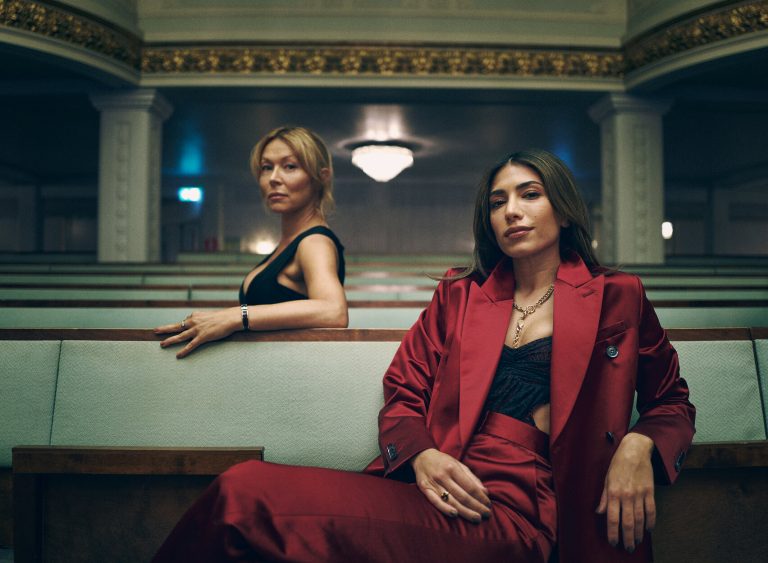 "One of the best series of all time," Ricky Gervais tweeted after finishing Season 2. "The writing, acting, direction, casting, editing, soundtrack, design, and titles are all perfect. The Wire meets Wall Street. Stunning."
And when you're finished with Snabba Cash, check out Ahmad in another great Netflix series, Who is Erin Carter, which you can read more about right here.
Love & Anarchy
Seasons: 2
Stars include: Ida Engvoll, Björn Mosten, and Carla Sehn
Summary: In this Swedish Netflix series, a young IT tech and a married consultant engaged in a flirty game meant to challenge societal norms and ends up causing them to re-evaluate their own lives.
In the 8-episode second season, the series follows newly divorced Sofie trying to create a life for herself and Max. Per Netflix: "Due to unforeseen events, she instead finds herself in the middle of a life crisis, something that also has huge consequences on her relationship with Max — and nothing turns out the way they had hoped. Simultaneously, the small publishing house Lund & Lagersted is doing its best to tackle the very traditional literary world, (while) also trying to navigate the new opportunities that society offers today."
Lost Ollie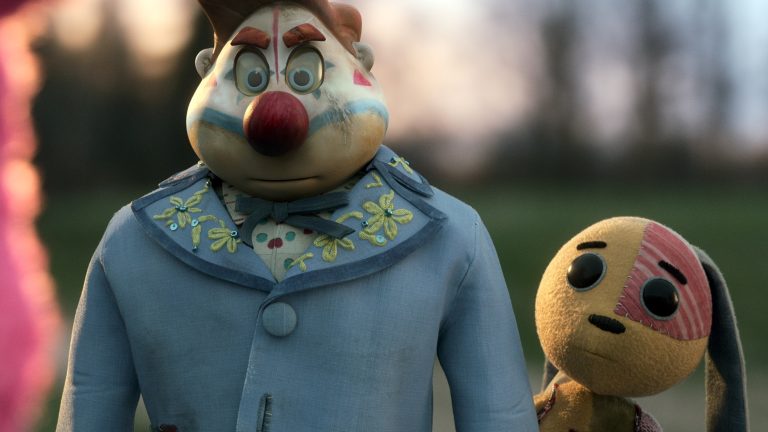 Seasons: 1
Stars include: Gina Rodriguez, Jake Johnson, and Jonathan Groff
Summary: Lost Ollie is a Pixar-like ode to toys and growing up — an absolute gem that will take your heart and break it into a million pieces (before putting the broken pieces back together). This series was inspired by the book Ollie's Odyssey by author and illustrator William Joyce, and nearly every episode left me deep in my feelings.
Netflix describes it as "an epic adventure about a lost toy who braves the many dangers of childhood as he searches the countryside to reunite with the boy who lost him." It's also "the story of the boy who lost more than a best friend. It's a heartwarming tale for the child in us all, remembering those special souls that we've lost but who forever changed our lives."
Vendetta: Truth, Lies, and the Mafia
Seasons: 1
Stars include: N/A (it's a docuseries)
Summary: "If you want to stop me," the old man with the glasses and huge mustache says to the camera in Netflix's Vendetta: Truth, Lies, and The Mafia, "you have two options. Either you arrest me, or you shoot me."
One of my favorite docuseries available on Netflix, Vendetta is a show about a small Sicilian TV news station that decided to go head-to-head with the mob. The TV station founder is Pino Maniaci, the man who said the quote above and who stirs up a hornet's nest while, as he puts it, "fighting the Mafia with no ifs or buts."
In a place where gangsters kill over the slightest provocation, here's a guy who delivers TV news reports in which he bellows at the camera, snarling at any mafioso who might be watching, "You pieces of s**t." Where this story really gets wild, though, is when Pino accuses a judge of being on the take, while the judge, in turn, levels the charge right back at Pino. Her claim is that, no, he's the one who's too cozy with the gangsters, and that his whole anti-mafia schtick is just a charade.
The Billion Dollar Code
Seasons: 1 (miniseries)
Stars include: Mark Waschke, Mišel Matičević, and Leonard Scheicher
Summary: This Netflix drama easily filled the Halt and Catch Fire hole in my heart. It's set in 1990s Berlin, and the series follows a scrappy startup that invents a new technology allowing people to see the whole world from their computer. The team eventually gets into a nasty patent dispute with Google over Google Earth. From Netflix:
"From the hacker scene in post-reunification Berlin in the 1990s to the idealistic world of early Silicon Valley and the harsh reality of a multi-million dollar lawsuit, The Billion Dollar Code tells of a great friendship, loyalty, and the question of justice in the digital age."
Love, Death & Robots
Seasons: 3
Stars include: N/A
Summary: This anthology of animated short stories includes some of the most incredible visuals I've ever seen in a Netflix release. The content itself ranges from horror to fantasy and science fiction, and the creators herein include Mindhunter's David Fincher and Deadpool's Tim Miller.
From a Netflix interview with writer John Scalzi: "To have Love, Death + Robots come out and immediately there are so many hot takes — both from the science fiction community and the people who are watching in the film-television community — has been really gratifying. It wasn't a pebble thrown into the ocean that sinks straight down with barely a ripple. It was a big f*cking splash."
A personal note: I've never seen anything like Jibaro, one installment from the new season of Love, Death, and Robots, before. Over its runtime of less than 20 minutes, I was mesmerized by the beauty and hyperrealism of the artistry. I was scared half to death by the intensity of the story. And my jaw was hanging open pretty much the whole time over the raw emotions that this short elicits — even though not a single word is ever spoken throughout the episode.
Fear City
Seasons: 1
Stars include: N/A (since this is a limited documentary series)
Summary: In this three-part docuseries from the makers of Netflix's Don't F**K With Cats, documentarian Sam Hobkinson dives deep into the organized crime investigation brought against the formidable bosses who once led the 1970s- and 80s-era "Five Families" of the New York mafia (Bonanno, Colombo, Gambino, Genovese, and Lucchese).
Piecing together a jaw-dropping narrative about how the mafia once used industries like high-rise construction to reap billions of dollars, the series uses news and archival material in addition to previously unheard surveillance audio, and much more.
Suburra: Blood on Rome
Seasons: 3
Stars include: Alessandro Borghi, Giacomo Ferrara, and Filippo Nigro
Summary: The 5-season Italian series Gomorrah, available to stream on HBO's Max service, will forever and always be the best mafia drama of all time in my book (including both movies as well as TV shows). Nevertheless, Suburra: Blood on Rome is still very good and a must-watch if you're a fan of Gomorrah. Set in Rome, Suburra was Netflix's first Italian-language original series, drawn from real-life corruption involving the church, politicians, and organized crime.
Heist
Seasons: 1
Stars include: N/A (since this is a limited documentary series)
Summary: The only thing I love watching as much as a solid spy drama is anything that involves a heist. This series takes a deep dive into a few different instances of heists, recreating and walking through scams that included stealing millions of dollars from a Las Vegas casino, as well as a separate theft of pricey luxury bourbon. As soon as the old lady slips off her wig in episode one and starts vigorously making out with her partner in crime, you know the game is on.
Per Netflix: "Viewers will see how the subjects select their targets, the meticulous planning that goes into the job, the sweet glory of success … and the boneheaded errors that lead investigators straight to the truth. The perpetrators sit down for in-depth, frequently emotional conversations, alongside family members, accomplices, and the law enforcement officers who eventually brought them to justice."
Netflix original movies
Now, let's take a look at some great movies to stream on Netflix, in addition to the series above, that all also fall under the category of underrated titles and hidden gems — basically, anything that hasn't really gotten the love that it deserves and that more people need to see.
Kodachrome
Stars include: Ed Harris, Jason Sudeikis, and Elizabeth Olsen
Summary: This might be my favorite Netflix original movie I've ever seen. The streaming giant can keep all the splashy films like Don't Look Up and all the terrible Kevin Hart movies it keeps cranking out — a title like Kodachrome, however, is what I want more of. In this 10/10 movie, Jason Sudeikis plays a son reuniting with his cantankerous and dying photographer father (Ed Harris), and they go on a road trip to help him get to the last photo store still developing Kodachrome photos.
The great thing about a movie like this is that, in spite of the fact that you know with 100% certainty what's going to be on that roll of the father's undeveloped film, the quality of all the actors here makes this an enjoyable story to watch unfold all the same.
"We're all so frightened by time," Harris' character tells a group of fellow photogs at one point in the Netflix movie. "The way it moves on. The way things disappear. But that's why we're photographers. We're preservationists by nature. We take pictures to stop time. To commit moments to eternity. Human nature, made tangible. About as good a definite of art as any, I guess."
The Fundamentals of Caring
Stars include: Paul Rudd, Craig Roberts, and Selena Gomez
Summary: Based on a novel by Jonathan Evison, this exquisite Netflix hidden gem follows the story of Ben, who per Netflix is "a retired writer who becomes a caregiver after suffering a personal tragedy.
The streamer continues: "After 6 weeks of training, Ben meets his first client, Trevor, a foul-mouthed 18-year-old with muscular dystrophy. One paralyzed emotionally, one paralyzed physically, Ben and Trevor take an impromptu road trip to all the places Trevor has become obsessed with while watching the local news, including their holy grail: the World's Deepest Pit. Along the way, they pick up a sassy runaway and a mother-to-be who help test the pair's survival skills outside of their calculated existence as they come to understand the importance of hope and true friendship."
Steel Rain

Stars include: Jung Woo-sung, Kwak Do-won, and Kim Gap-soo
Summary: Don't ask me how I found this one, because I couldn't tell you if my life depended on it. I'm so glad that I did find it, though.
Netflix has a ton of great Korean content to enjoy, but it's the TV shows that tend to capture most of the attention. Don't overlook Korean movies like this one, though, which is a thriller, with non-stop action throughout, and is built around a buddy comedy of sorts.
The soldier involves a frumpy South Korean espionage official and an elite North Korean soldier teaming up to save the life of a certain nameless North Korean dictator — a keeping-the-status-quo kind of thing, because if they don't, the North Korean generals will no longer be kept in check and can unleash all sorts of hell.
My favorite scene is of the North and South Korean spies riding together in a car, still a bit wary of each other. The South Korean starts playing some K-pop from South Korean rapper G-Dragon, while the North Korean feigns "I can't believe this is called music" disgust, dad-style.
Icarus
Stars include: N/A
Summary: Documentarian Bryan Fogel, an amateur bike racer, set out with a simple idea: To investigate doping in sports, Fogel decided to dope himself, observe how his performance changed, and see if he could evade detection. Per Netflix: "In doing so, he was connected to a renegade Russian scientist, Dr. Grigory Rodchenkov, a pillar of his country's 'anti-doping' program.
"Over dozens of Skype calls, urine samples, and badly administered hormone injections, Fogel and Rodchenkov grow closer despite shocking allegations that place Rodchenkov at the center of Russia's state-sponsored Olympic doping program."
Eventually, the two men come to realize they are on the cusp of revealing the biggest international sports scandal in years. From one of the film's many 5-star reviews on Rotten Tomatoes:
"A remarkable piece of investigative journalism that starts as an attempt to show how to cheat the system to keep drugs out of cycling and ends up as an exposé of the state-sponsored Russian doping (program) across all sports. Never less than gripping, it's a complex story told with emotional truth."
The Incredible Jessica James
Stars include: Jessica Williams, Chris O'Dowd, and LaKeith Stanfield
Summary: From Netflix's official description of the movie, which hit the streamer back in 2017:
"Jessica Williams ("The Daily Show") stars as a young, aspiring playwright in New York City who is struggling to get over a recent breakup. She is forced to go on a date with the recently divorced Boone, played by Chris O'Dowd (Bridesmaids) and the unlikely duo discover how to make it through the tough times in a social media obsessed post-relationship universe. Lakeith Stanfield (FX's "Atlanta", Straight Outta Compton) and Noël Wells (Netflix's "Master of None") co-star."
Joshua: Teenager vs. Superpower
Stars include: N/A
Summary: Teenager Joshua Wong steps up to fight, with passion in lieu of any kind of organized or long-term plan, when the Chinese Communist Party alters its promise of autonomy to Hong Kong. He rallies thousands of school-age children to skip school and fill the streets in this compelling portrait of courage and the idealism of youth.
According to Reuters, Wong rose to prominence internationally during the 2014 student-led democracy protests in Hong Kong (for which he was one of the leaders). During those protests, the roads to Hong Kong's financial center were blocked off for 79 days. As a schoolboy at age 15, meanwhile, he also helped activists force the government of Hong Kong to abandon plans to bring pro-China education into the local school curriculum.
Wong's official Twitter account, currently managed by friends while he remains in jail, is @joshuawongcf.
Kill Boksoon
Stars include: Jeon Do-yeon, Sul Kyung-gu, Kim Si-a, Esom, and Koo Kyo-hwan
Summary: This blood-soaked, action-packed thriller puts a twist on some of the hired killer tropes we've seen in franchises like the Kill Bill and John Wick movies. Even the title of Kill Boksoon evokes the former, as does the deadly female hitwoman at the core of the story.
And that's no accident, given that director Byun Sung-hyun himself has acknowledged that the 2003 Tarantino classic is one of his all-time favorite movies.
The protagonist of Kill Boksoon is a woman, played by Jeon Do-yeon, who's both a mother of a teenage daughter as well as a professional assassin with a 100% success rate. Gil Boksoon (whose name — again, no accident — even sounds like the order to "Kill Boksoon") is a seasoned professional killer working at an agency that hires out its assassins for jobs. Long story short, when it's time to renew her contract with the agency, she decides to retire and put it all behind her so she can focus on fixing her relationship with her daughter.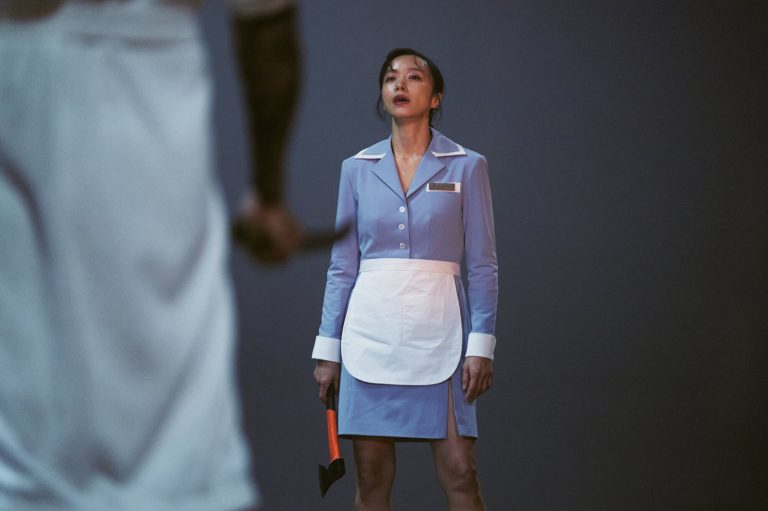 Before notifying the agency of her decision, however, she's on one last assignment, discovers a secret, and decides to break the agency's rules because of it. That leads to, like the title suggests, not only her agency but everyone in the hitman industry angling to do one thing: Kill Boksoon.
Blood & Gold
Stars include: Robert Maaser, Marie Hacke, and Alexander Scheer
Summary: This Netflix World War II movie filmmaker Peter Throwarth — in which a German deserter, during the final days of the war, finds himself battling SS troops who are scrambling to find a hidden stash of gold — is like a German-language version of Quentin Tarantino's Inglourious Basterds.
Both films, among other things, stay away from big battles and the expansiveness of the war — giving us, instead, individual protagonists on a daunting personal quest against Nazis. Even better, Blood & Gold is from a German director who's already proven himself a hitmaker on the streaming giant (his first Netflix movie was 2021's Blood Red Sky).
The action takes place during the spring of 1945 and introduces us to a German deserter named Heinrich. While on his way home from the front and desperate to see his daughter again, Heinrich stumbles into a marauding band of SS troops.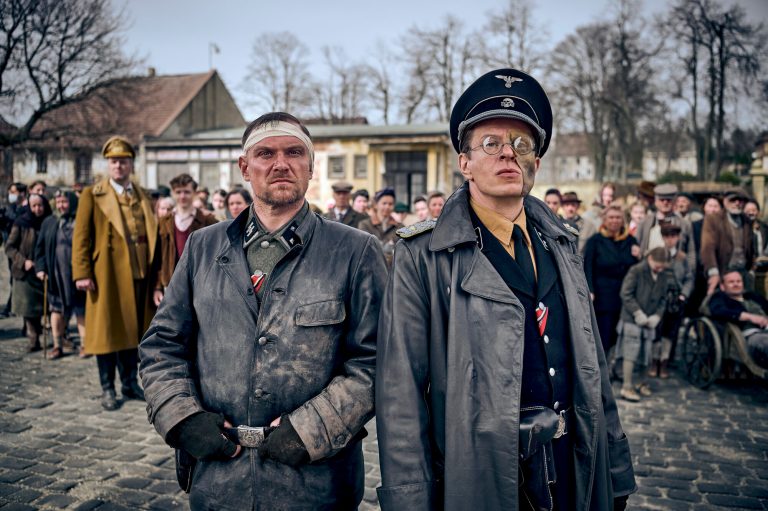 The SS leader decides to leave Heinrich hanging from a tree — but at the last minute, though, a young and courageous farmer named Elsa cuts him down, saving his life.
While Heinrich hides out on her farm, the SS troops antagonize a nearby village by scouring it for hidden treasure. Heinrich and Elsa soon find themselves unwittingly dragged into the hunt for the gold, and ultimately into a bloody showdown at the village church.
I Used to be Famous
Stars include: Ed Skrein, Eleanor Matsuura, and Leo Long
Summary: Per Netflix, in this heartwarming film "A former boy band star unexpectedly gets a second shot at success when he forms a bond with a gifted young drummer." The "star" here is Vinnie D, who toured the world year ago but who now can't even draw a crowd in a pub. He's now a lone, desperate dreamer again, dying to play for anyone who will listen.
It's an impromptu jam with the drummer mentioned above — who's autistic but has a great knack for rhythm — that sparks something powerful between this pair of misunderstood artists.