Netflix recently shared a peek at all of the original movies that are part of its 2023 release slate, including first looks and release dates for everything from Zack Snyder's Rebel Moon to the Chris Hemsworth-led Extraction sequel. The streaming giant has also wasted no time in getting that rollout actually underway, as evidenced by the newly arrived comedy You People.
It stars Eddie Murphy and Jonah Hill in a kind of Meet the Parents knockoff that looks completely forgettable — but which will probably be watched by millions of people, regardless.
You People stars Eddie Murphy and Jonah Hill
This movie, coming on January 27, marks the directorial debut of Kenya Barris, and it was co-written by Barris and Hill, who put a twist on the familiar "meet the parents" storyline involving two lovers, this time with the inclusion of a culture clash.
You People gets started with a typical meet-cute. Hill's Ezra Cohen accidentally gets into someone's car (belonging to Amira, played by Lauren London), after mistakenly assuming she's his rideshare. Once the shock wears off, there's an offer of a date, and the two quickly and easily hit it off.
So far, so good.
Eventually, it's time to meet each other's families. Ezra's are Jewish and (per Netflix's description) "semi-woke" parents, played by David Duchovny and Julia Louis-Dreyfus, while Amira's are Muslim and "unyielding" (played by Eddie Murphy and Nia Long). Naturally, conflict and hilarity ensue.
"The one thing they have in common?" a promotional piece from the streamer teases about the movie. "The ability to mercilessly interfere with their children's lives — with hilarious results."
Lockwood & Co. + more new Netflix releases
Moving right along, among the streamer's other new releases: The new 8-episode fantasy drama Lockwood & Co. — based on the series of young adult novels by Jonathan Stroud — is hitting Netflix on January 27.
At the heart of the story here are teenage ghost hunters, doing battle with apparitions they encounter on the streets of London. The trailer for the show, by the way, has been viewed almost 3 million times in its first week, if that tells you anything.
Here's the official Netflix description for the series:
"In London, where the most gifted teenage ghost-hunters venture nightly into perilous combat with deadly spirits, amidst the many corporate, adult-run agencies, one stands alone: independent of any commercial imperative or adult supervision — a tiny startup, run by two teenage boys and a newly arrived, supremely psychically gifted girl, a renegade trio destined to unravel a mystery that will change the course of history: Lockwood & Co."
Additional titles to watch
In addition to the new Netflix releases listed above, there are also several high-profile new international titles to check out over the coming days on the streamer. They include:
Fauda: This series is an action-heavy drama from Israel. Co-created by Lior Raz and Avi Isaacharoff (former Israeli Defense Forces soldiers), the show revolves around an elite Israeli military unit and the extremes they undertake to keep ordinary citizens safe. Now streaming.
Mission Manju: From Netflix's official description of this Indian spy movie, "In the 1970s, an undercover Indian spy takes on a deadly mission to expose a covert nuclear weapons program in the heart of Pakistan." Now streaming.
Netflix Korean sci-fi film JUNG_E
Last but not least: Korean content is increasingly becoming the most consistently high-quality fare available on Netflix, in my opinion, and a new sci-fi release that's now streaming only bolsters that assertion.
JUNG_E, from the director of Train to Busan, is a genre film about the use of AI-based soldiers to fight battles in the future, and it should appeal to fans of similar titles like Elysium and Alita: Battle Angel.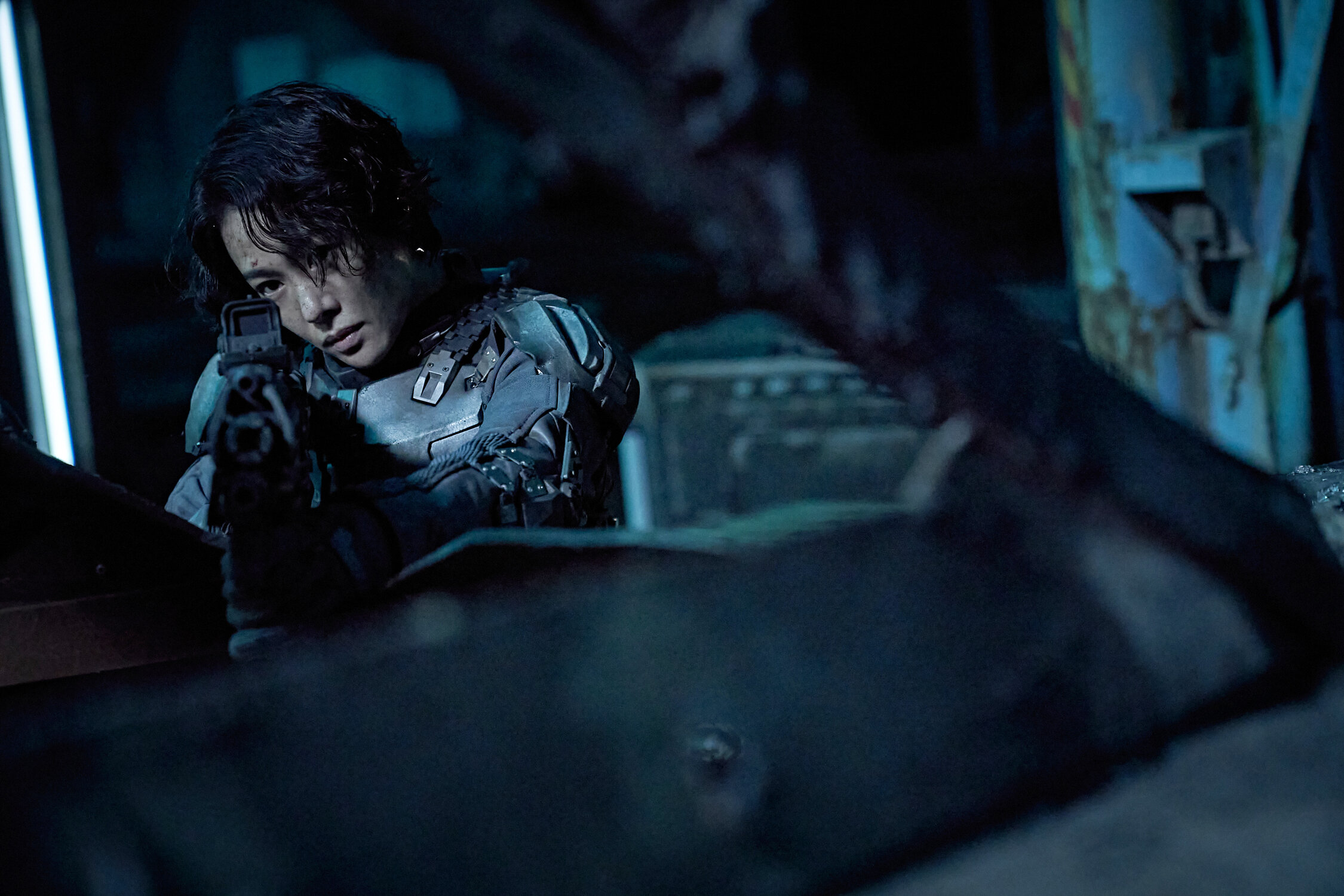 The story is set in the far future, with humans having fled an Earth devasted by climate change. Humankind seeks out refuge in outer space-based shelters, where a war breaks out. From Netflix's synopsis:
"The civil war that occurs there continues on for decades, and Yun Jung-yi (Kim Hyun-joo) becomes a legendary mercenary and military strategist with countless victories to her name. But one failed mission puts her in a vegetative state. Kronoid, a military A.I. development company, attempts to create the ultimate combat warrior by cloning her brain."
Almost four decades later, Jung-yi's daughter Yun Seo-hyun becomes the head researcher of the JUNG_E project. When little progress is made — despite one cloning and simulation attempt after another — the Kronoid company abandons the research to launch another project. Seo-hyun learns of their plans and sets out to save JUNG_E.