After a month of beta testing, tvOS 17.1 is finally available to Apple TV and HomePod users. Unlike version 17, which brought several features, this one focuses on one main change: expanding Enhance Dialogue to all HomePod models.
This function was previously exclusive to Apple TV 4K users with a pair of HomePod 2. Still, Apple is now expanding to any Apple TV 4K with any pair of HomePods, as long as they're from the same generation and updated to tvOS 17.1.
Enhanced Dialogue helps Apple TV users hear more clearly what's being said over effects, action, and music in a movie or TV show on Apple TV 4K by separating the dialogue from the background noise and bringing it forward to the center channel.
That said, while it seemed tvOS 17.1 wouldn't bring new features, it's actually adding a function that will really improve watching people's favorite TV shows and movies.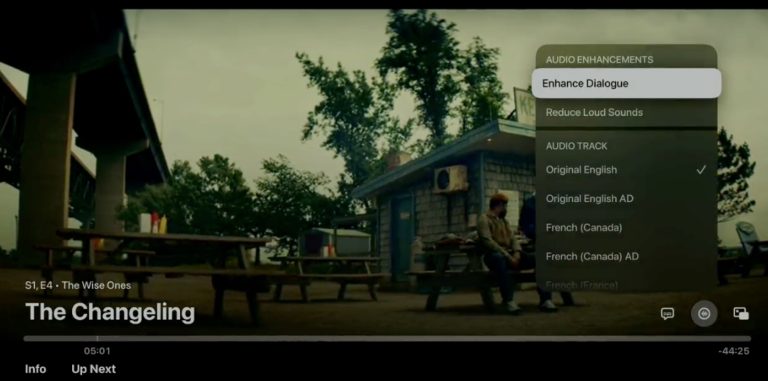 With tvOS 17, Apple added a major revamp to Apple TV users. For the first time, the Apple TV hardware integrates with the iPhone camera with the Continuity Camera feature on the new system.
In addition, Apple Music Sing also integrates with Continuity Camera so Apple TV users can see themselves onscreen and add "entertaining filters" while singing.
Even though iOS 17 didn't get a revamped Control Center as it was rumored, the Apple TV with tvOS 17 did. The new Control Center focuses on making things easier for the Apple TV. From there, you can see the system status, the current time, and the active profile. It also makes connecting Bluetooth devices or checking your Home accessories easier. Bringing the new UI to multiple platforms, a new Control Center interface is also available in watchOS 10.
Besides tvOS 17.1, Apple is seeding iOS 17.1, iPadOS 17.1, watchOS 10.1, and macOS 14.1 to all users.