Since Apple started beta testing the upcoming macOS Sonoma operating system for Macs, we haven't seen many design changes and features, despite what the company announced during the WWDC 2023 keynote. As Cupertino resumes macOS Sonoma beta testing after a couple of weeks, users who updated to beta 6 discovered when their systems rebooted that a new wallpaper was available. Called Sonoma Horizon, this wallpaper took over everyone's Lock Screen and Home Screen.
For those paying attention, this image was already available in previous builds but as a screen saver. That said, Apple is finally giving us a proper wallpaper after two years of abstract pictures of California regions (Monterey and Ventura).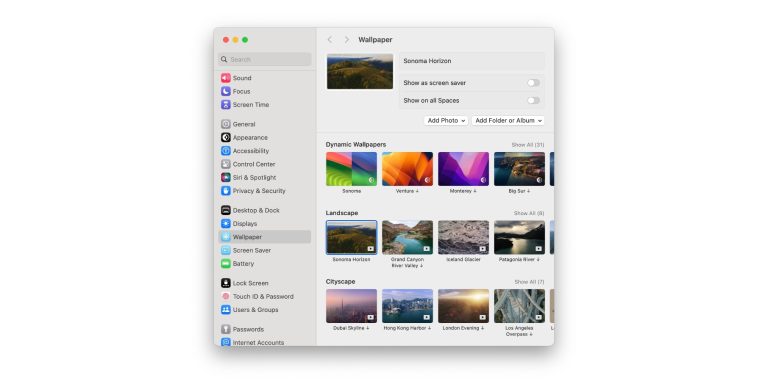 As a long-time Mac user, it's time for Apple to finally give us new landscape and cityscape options, as many people enjoy choosing stock wallpapers rather than personal photos.
For macOS Sonoma, Apple spent a few good keynote minutes highlighting the new slow-motion screen savers, which would show "breathtaking" locations from around the world. The company says that when you log in, they seamlessly become your desktop wallpaper.
In addition, macOS finally allows you to place widgets on your desktop from your widget gallery. Thanks to a new Continuity feature, these interactive widgets can be the same as the ones on your iPhone, as you don't even have to install the corresponding apps on your Mac.
Apple also says that when you open an app or window or use Stage Manager, widgets fade into the background so you can concentrate on the task.
macOS Sonoma availability
With Apple delaying the latest macOS Sonoma by a week, meaning iPhone developers are running beta 7 and Mac developers are on beta 6, Cupertino is likely delaying this operating system release by a month. That said, instead of a September launch, we expect Sonoma to be available in October when Apple could unveil new M3 Macs.
Below, you can learn everything about this new operating system update.