With macOS Sonoma now available, several developers have updated their apps to take advantage of the new macOS features. After you've read BGR's macOS Sonoma review, you'll definitely want to check out some newly updated apps with special new features. Here are some of the best apps you should try right now:
Focus App: Developed by Meaningful Things, Focus lets you place widgets on your desktop and start your Focus session right from the widget. These sessions help you break down your work time into smaller chunks. The app is free to download but requires a subscription to take advantage of all the features.
Portal: If you're a BGR reader, you know Portal is one of the best apps to focus and relax. To take advantage of macOS Sonoma, the developers behind this app have released a new update to support Dynamic Spatial Audio for Mac users. This wasn't possible until Sonoma. In addition, the app now lets you play motion visuals "in-window" instead of just on your desktop. Portal for Mac is available via the Mac App Store with a free 7-day trial for all customers. It costs £39.99 / $49.99 (annual) or £7.99 / $9.99 (Monthly). You can also buy a lifetime pass for a one-off cost of £249.99 / $249.99
Bezel: This app lets you show any iPhone or iPad on your Mac. Just plug in the device to make it show up. The developers explain that this application is great for content creators, who can record iPhones alongside other content, and people in teams working on iOS apps to review if their work matches the specified design and share progress made in a screen share in meetings. The app is free with a watermark but costs $29 if you want to get rid of it. The one-time purchase offers one year of updates.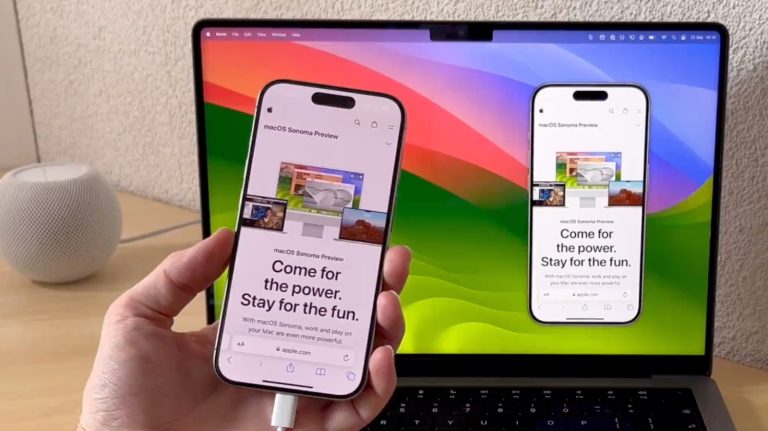 Dark Noise: This app brings fast, white noise to your home with interactive widgets. Just add Dark Noise to your desktop and choose your favorite sound. The app is free to download but requires a subscription to take full advantage of the features.
Posture Pal: It helps you improve your sitting posture just by wearing your AirPods. Using the motion sensors in your AirPods, the app detects when you're slouching or tilting your head too much. The app gives you reminders from the bottom of your screen to help you improve your posture. The app is free to download, but there's a one-time payment if you want to unlock all features that cost $4.99.
Tripsy: This travel planner app helps you plan your entire trip in one place. With macOS Sonoma, it adds interactive widgets, the ability to configure to view or hide the routes on the map for flights and other transportation methods, in addition to the account information synced over keychain between devices. The app is free to download but requires a subscription to take advantage of all the new features.
BGR will keep updating this article as we learn more about other apps being updated to macOS Sonoma.