Ecoflow has quickly become one of the biggest and best names in the market when it comes to portable power stations, solar generators, and practically anything that involves battery power. The company's product catalog has been expanding rapidly in recent years, and its latest portable power stations have received glowing reviews from users and from the media. Now, for Prime Day 2023, Ecoflow is offering deals with the lowest prices of the year on several of its latest and greatest products.
Prices start at just $144 for the Ecoflow RIVER Mini, which is a 210Wh portable power station that's one of the smallest and lightest models Ecoflow makes. There are plenty of other deals I'll cover as well, including a huge $740 discount on the hot new Ecoflow DELTA 2 Max & solar panel bundle. I've been testing this setup myself, and I'll never go back to using a gas-powered generator.
Featured deal: Ecoflow DELTA 2 Max & solar panel bundle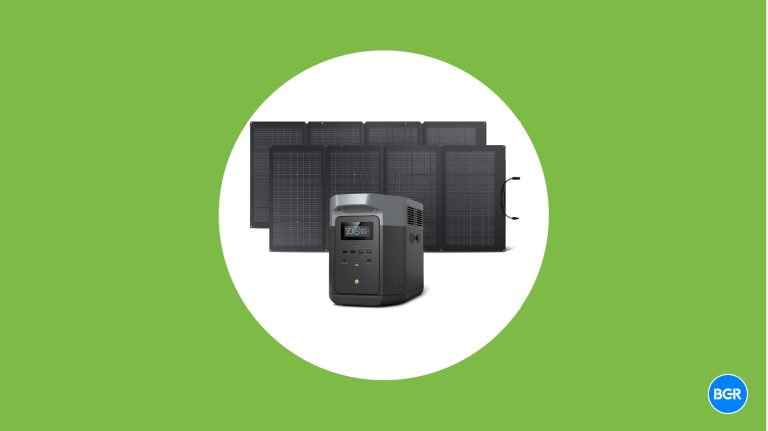 Where I live in the Northeast, power outages are pretty common. We get pretty strong storms up here that are characterized by high wind speeds and torrential rain. Then, things can get even worse in the winter. I remember a few years ago when we got over a foot of snow, and the power was out for several days.
Anytime something like that happens, a chorus of gas-powered generators can be heard across all the neighborhoods in my area. People want to do everything they can to keep power running to their refrigerators, of course. They also want to keep their phones charged and their lights on at night.
I've been testing the new Ecoflow DELTA 2 Max for the past week, and I can already tell you that I'm getting rid of my gas generator. I'm so excited to never have to wait in line at the gas station again when there are power outages in my area.
The DELTA 2 Max is a heavy-duty 2048Wh portable power station that's available on its own for $2,099. You can also get it bundled with two 220W solar panels for $3,197. Those are retail prices, however, so you can expect to pay much less during big sales like Prime Day 2023. The stand-alone unit is down to $1,699 on sale right now, while the aforementioned bundle has a huge $740 discount on July 11-12.
There are other bundles that are also on sale for Prime Day, and you can check them out on Amazon's Ecoflow DELTA 2 Max listing page.
The main unit is a hefty 50-pound box with an impressive 2048Wh capacity and a maximum of 3400W of AC output. In the event of a power outage, that's enough to keep all of your essentials running and then some.
Or, if you need to power things in remote locations, the Ecoflow DELTA 2 Max is as good as it gets. Whether you love taking RV trips with the family or you work on remote sites as part of your job, this is exactly the portable power station you want to take with you.
One of the best features is the fact that you can recharge the DELTA 2 Max using solar panels. Ecoflow offers both 220W and 400W foldable solar panels that can be used with this power station.
A single 220W solar panel can recharge the DELTA 2 Max from empty in a little over 10 hours. With two panels like the ones included in this bundle, you can do the job in about 5.4 hours. Of course, the idea is to just keep the panels connected to the power station so that it's recharging anytime it's in use.
The Ecoflow DELTA 2 Max has been very impressive in my testing. We finally got a couple of sunny days in the Northeast recently, and the solar panel that I received works exactly as expected. There are a whopping 15 different outlets on the DELTA 2 Max power station, including 6 AC ports, 2 USB-A ports, 2 USB-A fast-charge ports, 2 USB-C ports, 2 DC5521 ports, and a 12V port. Needless to say, all the bases are covered.
Then we get to one of my absolute favorite features. Remember the chorus of noisy gas generators I mentioned earlier? Well, I'm happy to report that I'll no longer play a part in that chorus because the Ecoflow DELTA 2 Max is whisper-quiet.
I mean that literally, by the way. The DELTA 2 Max makes about 30 dB of noise while it's running. That also happens to be the exact average volume of a whisper.
Again, the DELTA 2 Max is a heavy-duty 2048Wh portable power station that's available on sale for $1,699 on its own or $2,457 when bundled with two 220W solar panels for Prime Day 2023. Those are the best deals so far for this great new portable power station.
Other Ecoflow deals for Prime Day
In addition to the featured deals above, Ecoflow has plenty of other models on sale for Prime Day 2023. Examples include $390 off the Ecoflow WAVE 2 portable air conditioner, $869 off the DELTA Max solar generator bundle, and $460 off the DELTA 2 bundled with a 220W solar panel.
Here are all of Ecoflow's Prime Day deals, which are available on July 11-12:
More Prime Day 2023 coverage
Amazon Prime Day 2023 includes hundreds of thousands of deals that are exclusively available to shoppers who subscribe to Amazon Prime. If you're not already a Prime member, you can sign up for a free 30-day Amazon Prime trial and shop all of these great Prime Day deals for free.
Here's some more coverage from BGR that you should check out to see all the best Prime Day 2023 deals: