If you purchase an independently reviewed product or service through a link on our website, we may receive an affiliate commission. Learn more.
Hoo nelly do we have a great list of paid iPhone and iPad apps on sale for free today. We've got awesome games, a bunch of well reviewed apps and even one of our favorite calendar apps of all time. Seriously, you've got to check it out. There are also a few remaining freebies in yesterday's post if you want to head back there and check them out.
MUST SEE: Look at this new leaked photo and tell me which phone is hotter than the iPhone 7
These are paid iPhone and iPad apps that have been made available for free for a limited time by their developers. There is no way to tell how long they will be free. These sales could end an hour from now or a week from now — obviously, the only thing we can guarantee is that they were free at the time this post was written. If you click on a link and see a price listed next to an app instead of the word "get," it is no longer free. The sale has ended. If you download the app, you will be charged.
Peek Calendar
Normally $3.99.
***** New Themes in the latest version! *****

Featured by Apple ("Best New Apps"), The Verge, Techcrunch, Wired, The Next Web, Fast Company, Lifehacker and many more

from Twitter:
"The calendar app that's changing my life"
"I love the design so much I'm finding any excuse to add new events to it"
"The calendar app I've been waiting all my life. "
∞∞∞∞∞∞∞∞∞∞∞∞∞∞∞∞∞∞∞∞∞∞∞∞∞∞∞∞∞∞∞∞∞∞∞∞∞∞∞∞∞∞∞∞∞∞∞∞∞∞∞∞∞∞

Peek is a quick and simple to use calendar for your iPhone. It is designed to be glanceable and intuitive. Peek presents the essentials in a easy to understand manner, without overwhelming you with data you might not need for an on-the-go experience.

Life can be stressful, why not managing it in a slightly more playful way. Peek is designed to offer a fluid, fast and fun way to have a glance at your schedule. Along with a fresh look into the user interface, it introduces new behaviors for interaction to make the experience more delightful. Try the Peek's shading gesture or simply shake the phone to see some Peek's life events.

∞∞∞∞∞∞∞∞∞∞∞∞∞∞∞∞∞∞∞∞∞∞∞∞∞∞∞∞∞∞∞∞∞∞∞∞∞∞∞∞∞∞∞∞∞∞∞∞∞∞∞∞∞∞

Features:
HUMAN ORIENTED & FLAT DESIGN
• A completely redesigned calendar experience for iPhone.
• An interface that is clean and content focused.
• Unified timeline view.
• Expanded current week: Today, Tomorrow and the rest of the week.
ADDING EVENTS NEVER WAS SO FUN
• Simple and fast to add events or edit them.
• Tap and hold on any day to add a new event.
• Adjust event start & end time w/o ever again typing or scrolling time wheel!
• Adjust event's start time with 2 taps or drags.
• Adjust event's end time with shrinking bar size.
USE INTERACTIVE & IMMERSIVE GESTURES
• Shading gesture – cup your hand over the top to reveal the time.
• Shake to get suggestions on Peek's life events.
• Drag or swipe to the right to peek and view the duration and the location of events.
CUSTOMISABLE & FLEXIBLE
• Sync all external calendars supported by build-in calendar including iCloud, Google Calendar, Exchange, etc.
• Different color themes.
• Controlled sound and vibration feedback.
• Alarms integrated.
• Monday/Sunday start option.
• Timezone Support with picker.
Scanner & Translator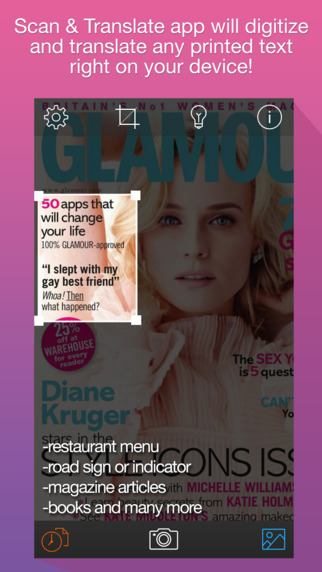 Normally $2.99.
DOWNLOAD NOW! THE GUARANTEED QUALITY APP! 5 STAR RATED!
Scanner&Translator app extracts texts from any printed sources: documents, books, signs, instructions or announcements and allows to immediately translate them to any of 90 languages.
Take a picture of the text and after the text is recognized, you can immediately edit, hear, translate, share it on Facebook, Twitter, or simply send by email.

Better and faster than any other similar product!
70% cheaper than any other similar app, offered by competitors!

————————
• Recognizes texts in more than 70 languages
• Translates to more than 90 languages
• Reads texts in more than 44 languages
————————

MAIN FEATURES:

• Full text translation for more than 90 languages (Internet connection is required)
• Listen to the text that has been recognized and translated into more than 44 languages!
• Edit the text, copy it to clipboard, and save in other apps
• Share the text on Facebook, Twitter, or send by email
• All texts are saved in History and can be later recovered at any time

————————
With Scan & Translate app you can easily scan and translate:
• any paper documents
• recipes from cookbooks
• notes and letters
• menus in restaurants, bars, and cafes
• articles from magazines and newspapers
• book parts
• instructions and manuals
• texts on product labels
• road signs as well as signs in airports and stations
• and many more…

App is fully compatible with iPhone 5S, 5, 4S, 4, iPod touch 5th generation, iPad 4, iPad 2, iPad Mini.

Full support for iOS versions 6.0-8.1.2!
Heavy Rockets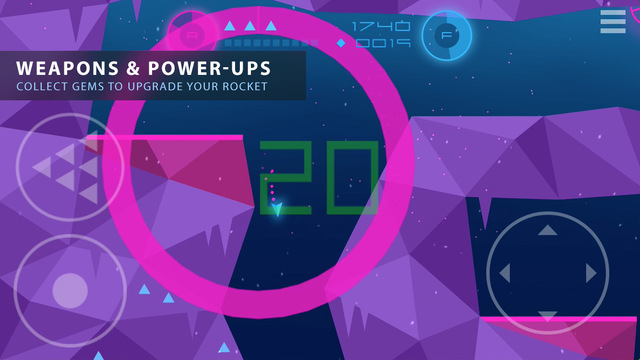 Normally $0.99.
Prove you're the fastest and deadliest rocket pilot. Challenge friends or shoot for high scores in furious battles and races across the galaxy.

The classic cave shooter has returned, and it's on iPhone and iPad! Take flight with your rocket and blasters, with specially designed controls that feel just like the arcade. Hone your skills in high-speed race maps and dangerous battle zones – then play with friends via shared Wi-Fi, ghost rockets, Game Center or Facebook. Collect gems to upgrade your ship – but remember, when you're facing a rival rocket only your skills can bring you victory!

Features:
• 19 CHALLENGING ARENAS (more coming soon)
• RACE MODE: Who will survive a high-speed chase through an underground course, and be the fastest among friends? Race mode is the way to find that out.
• BATTLE MODE: An underground dogfight in which the last pilot flying is the winner.
• REAL ARCADE FEEL: The weighty, responsive controls of an arcade cabinet, reproduced on iOS devices and tested with real players.
• MULTIPLAYER: Battle and race with friends in real-time on the same Wi-Fi network. Share and race against friends' ghost laps any time.
• SCORE CHALLENGE: Compete with friends for score supremacy through Game Center and Facebook.
Week Agenda Ultimate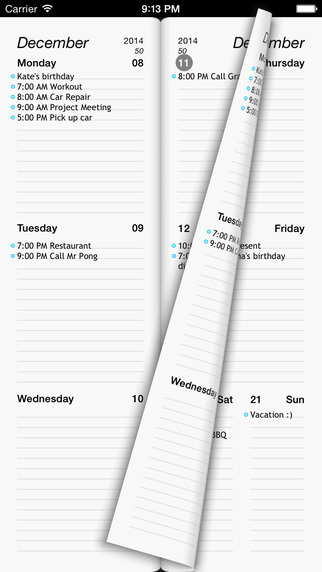 Normally $0.99.
Keeping your schedule straight as you go through your day, and look to the weeks ahead, is a proverbial snap with the Week Agenda Ultimate app. Elegantly designed, this agenda app gives you a nice overview of the current week with pages to turn to upcoming, or preceding weeks. It has a classic day-planner feel.

Highlights:
● Apple Watch support
● Stylish week view
● Browse through weeks easy
● Week numbers
● Like a personal organizer
● Multiple calendar support
● Retina support
● Multi language: over 22 languages and your own region notation
● Universal app: iPhone app and iPad app in one buy!
● Today Widget
● Multitasking on iPad in iOS 9 or later

Easy Navigation:
● Swipe left or right to turn the pages
● Fast browsing with 2 fingers for a month and 3 fingers for a year.
● Tap on the day title ('monday') for a day calendar view.
● Long press on a day for a new event
● Tap on an event for edit
● Tap on top of the page for a menu bar. From there you can select your calendars, return to the current day and access a help popup.
Polymer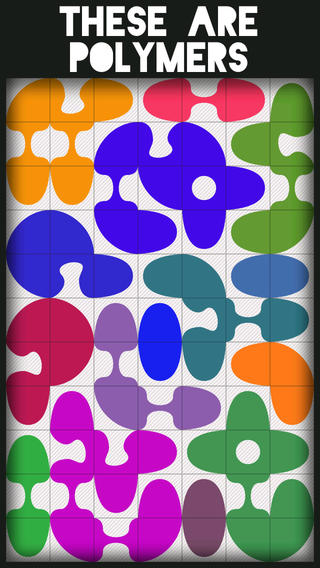 Normally $2.99
Polymer is a strategic, logical, and creative shape-building game. Slide columns and rows to create never-before-seen shapes! The bigger your shape, the higher your score, but it's not as easy as it looks.
FIVE GAME MODES:
• Two Minutes: Casual and fast-paced
• One Polymer: Stress free and thought-provoking
• Bombs: Destroy the endless waves of bombs!
• Endless: No points. No time. No restrictions. Relax!
• Multiplayer: Who can make the best polymer within two minutes?

FEATURES:
• Universal support!
• iCloud syncing between devices
• Procedurally generated: every game is different!
• Five unique pieces
• Five gorgeous pieces of music
• Multiple color schemes
• Share or save your best polymers
• GameCenter leaderboards and achievements
____________________

"Polymer is my new go-to puzzle game. It's a lot of fun and very challenging. Combined with the beautiful colors and awesome music and sound effects — I'm hooked."
— iMore

"It's already one of my favorite puzzle games on iOS."
— 148 Apps

"One of the most creative and unique puzzle games to come out in a while for your iPhone."
— App Advice

"Polymer is just like the molecules inside the game. Colourful, packed with a genuine sense of play, and far more than the sum of the parts"
— Gamezebo
DriveBox HD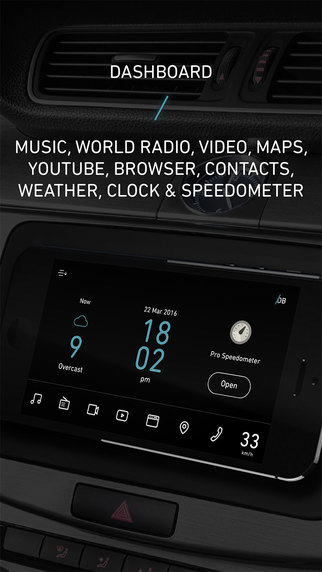 Normally $1.99.
Car app award 2014

*** UK APP & MOBILE DESIGN WINNERS 2014 FOR BEST CONNECTED APP ***

DriveBox is an interactive intelligent vehicle app built for car, truck, motorcycle and all types of vehicle lovers and daily users. It brings all your content and in-car entertainment under one roof. Features include in-car gadgets, music, maps, video, calls, radio, widgets and much more for your ultimate driving experience. Unlock the retro speedometer and mount it to your dashboard or simply use our StreetView maps feature. Keep up to date with current in-car trends by utilizing an app takes your driving experience to the next level.

Main features:

Dashboard
• Featured weather widget with forecasting
• Display time and date data
• Access your in-car gadgets

Music
• DriveBox utilises Apple's CarPlay features to allow you to connect to your vehicle with Bluetooth (or cable) and use your steering wheel knobs to control your music
• DriveBox EyesFree® gesture controls (simple gestures to browse and listen to your music) without ever taking your eyes off the road
• DriveBox MusicFx® presents your music in a beautiful and minimal effects panel which also feature our Eyes Free gesture controls
• Filter between Songs, Albums, Artists, Playlists and Audiobooks
• Experience full graphic and visual richness with all your music artwork in full color
• Repeat or shuffle your tracks for pleasure

World Web Radio
• Listen the world's best radio from over 600 stations
• Choose from many different countries, including your own

Video
• View your videos directly inside our player (non-DRM)
• Access DRM (digital rights managed) video on your device
• Filter between your Movies, TV Shows, Vodcasts and Personal Videos
• Experience full graphic and visual richness with all your video artwork in full color

Youtube
• Search for Youtube videos directly in the DriveBox app
• Videos presented in your search choice between HD and SD quality
• View your video in full screen mode directly inside DriveBox app

Calls
• Pull in all your address book contacts directly into DriveBox app
• Use of large buttons and typography for ease of calling
• Integration of Skype® and FaceTime®
• Connect your device via bluetooth for hands free conversations

Maps
• DriveBox StreetView presents a 360 degrees full color view of your desired destination point (available as in app purchase)
• DriveBox StreetView displays desired destination weather information
• Get directions to your chosen destinations with Apple Maps®, GMaps®, Waze®, Navigon®, TomTom® eSygic®

Web Browser
• Use our browser directly inside the DriveBox app
• Access, save and edit your favorites for ease of use
• Features forward and back buttons for a smooth and fluid interaction
Contact Picture Sync for WhatsApp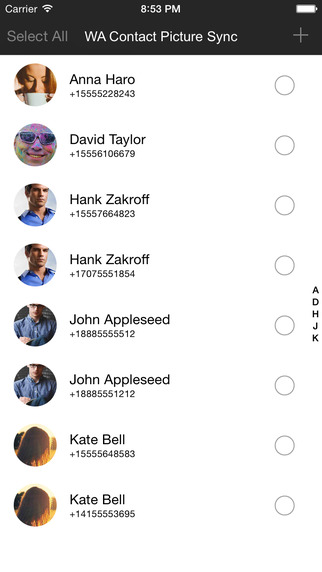 Normally $3.99.
► Must-Have for WhatsApp Users!

Contact Picture Sync for WhatsApp identifies unknown calls and adds full screen caller photos to your contacts from WhatsApp messenger!
Always see the newest profile photo of your friends when you get a call or when you call them! All photos will fit your screen perfectly. (You can also sync thumbnails only)

► Sync all your contacts with just one tap or select single contacts!

► All contact pictures are stored in your phone address book! You can also sync them with your computer or mac!
Download Contact Picture Sync for WhatsApp
1st&5 Fantasy Football
Normally $2.99.
*** New version for 2016 allows you to try some of the features for free before upgrading to Premium for the 2016 season! ***

1st&5 Fantasy Football combines a sleek UI with a wealth of information, innovative features, and a user-centric approach to give fantasy football owners their most immersive experience to-date. Whether you're getting lost in our comprehensive statistics, listening to our podcasts full of in-depth fantasy analysis, or adjusting your rankings to your satisfaction for hours on end, it's easy to get caught up in the 1st&5 world.

Fantasy football players of all experience levels will find 1st&5 fun and easy to use, and our unique features help you prepare for and experience draft day like never before.

Completely customizable user rankings: Make 1st&5's rankings your own by simply dragging and dropping players, adding your own notes about any player, customizing fantasy scoring settings to fit your league, and having the ability to designate players as keepers.

War Room: Our draft utility allows you to simply swipe away players as you work your way through the draft. By providing all the information at your fingertips, you have everything you need to make the right picks.

‌• Customize your own fantasy rankings with drag and drop
‌• Listen to the official podcast of 1st&5 as you work
‌• Quickly compare players by position, statistics, and workout measurables
‌• Compare per-game averages among all players
‌• Customize fantasy settings to fit your league
‌• Enter the War Room to navigate through your league's draft with simple swiping
‌• Have your rankings and notes by your side as you draft
‌• Draft results sent right to your email
‌• Combine and Pro Day stats for veterans and rookies alike
‌• Video tutorials to guide you through the app

With the advantage of 1st&5 during your draft, your fantasy football experience will never be the same.
Download 1st&5 Fantasy Football
Briefcase Pro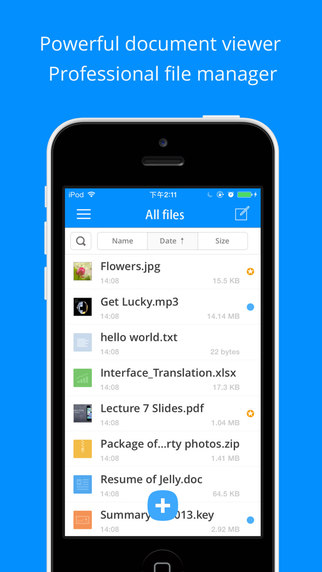 Normally $2.99.
Briefcase is an all-in-one document reader and manager for iPhone, iPad and iPod Touch.

It can import files from Camera, Photo Albums, PC/Mac(via Wi-Fi or iTunes), Email attachments, GoogleDrive, Dropbox,SkyDrive,Box and so on. All files are saved to your deivce locally so you can enjoy reading them anywhere!

======== Features ==========
● Import files From Mac or PC via Wi-Fi or iTunes
Any Mac OS X, Windows XP/Vista/7 computer can transfer files to the iPhone,iPad and iPod Touch and operate it like a wireless flash drive. No additional software is required.

● Access Dropbox, GoogleDrive,SkyDrive,Box
Pocket Briefcase allows you to download and upload files from Dropbox, GoogleDirve,SkyDrive,Box.

● Documents viewer and manager
Supports view PDF file, Microsoft Office documents (Word, Excel & Powerpoint), iWorks documents (Keynote, Pages, Numbers), image files(JPG, PNG, GIF, TIFF and others)and other plain text file.

● Media files playback
Supports audio(MP3, AAC, Apple Lossless, AIFF, WAV) and video(MOV, MP4, M4V) file playback.

● Share Files With Your Friends
Email files directly from Pocket Briefcase. Share files via "Wi-fi Sharing" function.

● Password protection supported
Passcode required at App startup
Sketchworthy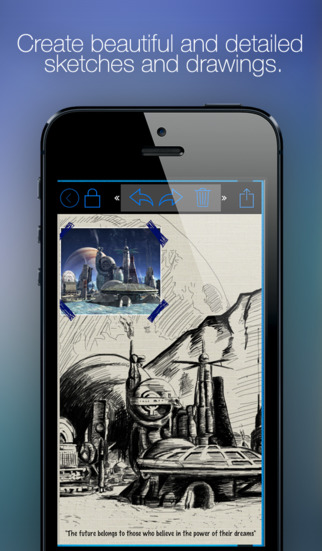 Normally $2.99.
Sketchworthy is designed as a beautiful and innovative way to create and manage all your notes, sketches, scribbles, and more. Create notebooks and pages of your sketches, annotate maps and webpages, add photos, text, draw, and more. The app takes advantage of new iOS 9 technology to offer an experience unseen in other note-taking or drawing apps.

SIMPLICITY MEETS FUNCTIONALITY
Sketchworthy is beautiful. Interfaces are clean and intuitive, and Menus are uncluttered and easy to navigate. Built-in help makes the app easy to learn and use. Yet despite its beauty and simplicity, the app packs a powerful productivity punch!

ANNOTATE EVERYTHING
With Sketchworthy, you can capture and save maps, web pages, and photos. Anything you capture becomes a page in your notebook, and can be drawn on just like any other paper. Mark up and annotate to your heart's content with our smooth and fluid drawing engine, and bring your concepts to life.

THERE'S A PACK FOR THAT
Sketchworthy comes with a built-in paper store. You can purchase packs and download them directly into the application, and EVERY page in a notebook can be set to a different paper style paper style. This means that you can use graphing paper for 1 page, and then lined paper for the next. And with packs for blueprints, sheet music, graphs, planners, to-to lists, and much, much more, you can manage your projects in a manner unrivaled by similar applications

AN APP THAT CHANGES EVERYTHING
Simply put, there is no existing drawing app that allows the level of customization that Sketchworthy offers. Change everything from the color of your notebooks and the pages they use, to the background and appearance of the app itself.

SHARING
With social networks such as Facebook and Twitter built into Draw Pad Pro, sharing your notes and sketches has never been easier. Save, email, tweet and post pages in a notebook. Notebooks you create can be printed directly from your device, emailed as a PDF file, or exported to a third party application such as Dropbox or GoodReader.

UNIVERSAL APP
Sketchworthy is universal, giving you 2 apps for the price of 1. Own an iPhone? iPad? iPod Touch? It doesn't matter. Sketchworthy is designed for them all.

Sketchworthy offers an experience and features unlike any other, is kid and environmentally friendly, only hangs out with reputable people, and comes recommended by 4 out of 5 mad scientists. Give Sketchworthy a try!
Easy Spending Expense Tracker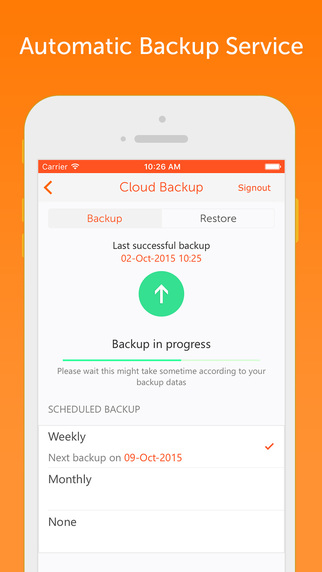 Normally $1.99.
*** Over a Million satisfied users of our apps ***

@ User Friendly Plus!
"I use this app every single day and is by far the most valuable app on my iPhone." – John Fredrick NY

See where your money goes and take control of where to spend your money effectively using the simple and yet powerful expense manager on iOS.

The Easy Spending expense tracker, is the most powerful and convenient daily expense manager App on the go for iPhone and iPad, that neatly tracks all your cash flow between different accounts that you can budget, and is an easy to use budgeting App.

It is now all the more secure, with the addition of Automatic Backup Service as part of its In-App purchase. With this feature you never have to worry about losing valuable financial data, either through accidental deletion or change of device. You can restore it on any device with this App installed.

Comes with easy gestures with convenient layout and clutter free interface, with large fonts, well spaced layouts for easy viewing and readability.

Great for maintaining monthly recurring bills with reminders, it has the convenience of an Expense Tracker and BILL reminders at one place.

HIGHLIGHTS

@ Never loose your valuable financial data with the All new Automatic Backup Service, (available as an In-App purchase)

@ Excellent and seamless cloud sync of all your transaction data. (available as an In-App purchase)

@ BILL Reminders.

@ Recurring income/expense tracking

@ MULTIPLE ACCOUNT(S) Summary in a single screen, and nice reports.

$ Passcode LOCK.

$ Support Fortnightly transactions.

$ NOTIFICATIONS added to Default calendar for recurring transactions as an option. Using this option, NEVER forget to pay your BILL on time.

$ See future bills/payments and income using, "UPCOMING TRANSACTIONS" view.

$ Cool Search based on category and notes

$ Allows transactions to be emailed as CSV, and also uploaded to your Google Drive account

$ Store data for MANY MANY years

$ Preview comments in History while drilling down the transactions.

$ Use MULTIPLE accounts like Checking, Savings, Credit card, Cash flow, Mortgage accounts etc.

$ Preview comments in History while drilling down the transactions.
Download Easy Spending Expense Tracker
---
Our deals and product reviews are picked by BGR's expert editors and team.
Follow @BGRDeals on Twitter to keep up with the latest and greatest deals we find around the web. Prices subject to change without notice and any coupons mentioned above may be available in limited supply.