If you purchase an independently reviewed product or service through a link on our website, we may receive an affiliate commission. Learn more.
How are you doing, bargain hunters? Did you survive Prime Day? If you follow the BGR Deals team you not only survived but thrived, and you undoubtedly got tons of new gear in the process. Each day we pick up where the Deals team leaves off by showing you the best paid iPhone and iPad apps that go on sale for free for a limited time, and we've got 10 options for you on today's list.
MUST SEE: Look at this new leaked photo and tell me which phone is hotter than the iPhone 7
These are paid iPhone and iPad apps that have been made available for free for a limited time by their developers. There is no way to tell how long they will be free. These sales could end an hour from now or a week from now — obviously, the only thing we can guarantee is that they were free at the time this post was written. If you click on a link and see a price listed next to an app instead of the word "get," it is no longer free. The sale has ended. If you download the app, you will be charged.
Splashtop 2 Remote Desktop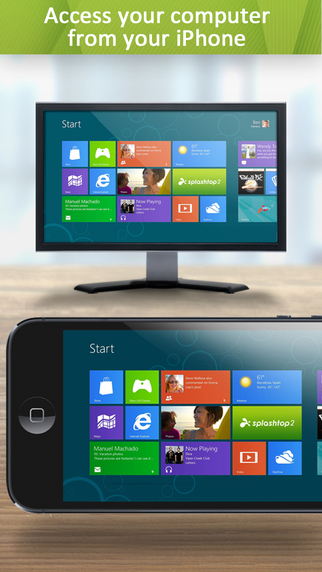 Normally $1.99.
Over 20 Million Users — #1 Remote Desktop App for iPhone & iPod! Splashtop is the easiest and fastest way to access your Mac or Windows PC from your iPhone & iPod!

Use Splashtop to access your computer on the local network with best-in-class video streaming performance. View and edit Microsoft Office and PDF files. Browse the web using IE, Chrome, and Firefox with full Flash and Java support. Play 3D PC and Mac games. Access your entire media library and documents. Put your PC or Mac in your pocket!

To access your computer from across the Internet, subscribe to Anywhere Access Pack via In-App Purchase.
* Use your iPhone or iPod to access all of the programs and files on your computer with 100% compatibility, including PowerPoint, Keynote, Word, Excel, Outlook, Quicken, IE, Chrome, Safari, and all other PC/Mac applications

* Use your full desktop browser (IE, Chrome, Firefox) with Flash and Java support, with all of your bookmarks and your favorite plug-ins

* Enjoy the full video and music libraries that are playable only on your computer, whatever formats they're in

* Play all the 3D games (World of Warcraft, StarCraft, Skyrim, Diablo III, etc.) and all the Flash games (FarmVille, CityVille, etc.)

* Enjoy the most vibrant experience with Apple Retina display support (when using native resolution)

===================================
Optional In-App Subscription

Get Anywhere Access Pack to access your computer over 3G/4G or from across the Internet, via our global network of secure, high-performance servers:
— Access across Internet over 3G/4G and Wi-Fi
— Optimized streaming performance under varying network conditions
— Fully secured via SSL with 256-bit AES encryption
— Subscribe monthly for $1.99 or annually for $16.99

Subscriptions will be charged to your credit card through your iTunes account. Your subscription will automatically renew unless cancelled at least 24-hours before the end of the current period. You will not be able to cancel a subscription during the active period. Manage your subscriptions in the Account Settings after purchase.

See our Terms of Service and Privacy policy at http://www.splashtop.com/terms/splashtop.
===================================
===================================
License:

You may access up to 5 computers via your Splashtop Account.

Splashtop Personal is for non-commercial use only, i.e. use it to access your personal computers for non-work related purposes.

For commercial use in a professional environment, please use Splashtop Business which is specifically designed for the workplace offering enhanced manageability, security, and compliance (www.splashtop.com/business).
===================================

Notes:
1. Install Splashtop Streamer on your PC (Windows 7/8/10, Vista, and XP), Mac (10.7 and higher), or Linux (Ubuntu 12.04). Download for free from http://www.splashtop.com/downloads
2. A computer with dual-core CPU is strongly recommended for best performance
3. Compatible with iPhone 4 and newer and iPod Touch (5th generation and later)
Download Splashtop 2 Remote Desktop
Black SMS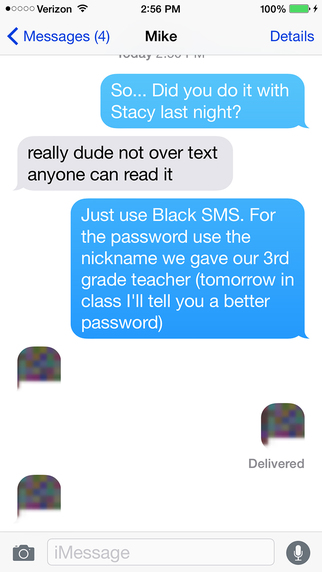 Normally $0.99.
With Black SMS you can feel safe that no one will read your private messages.

Be James Bond. Black SMS protects secret messages with a password and hides the secret messages inside of fake messages of your choice that can be sent via text or iMessage — For example, you can send a message that looks like it says "Hello" on iMessages, while actually saying "Come over at 11 ;)" on Black SMS.

Black SMS can also password-protect photos.

The app uses a military-grade advanced encryption (AES-256) so your communication is impossible to reveal without the correct password.

Frequent updates with this app!
Net Master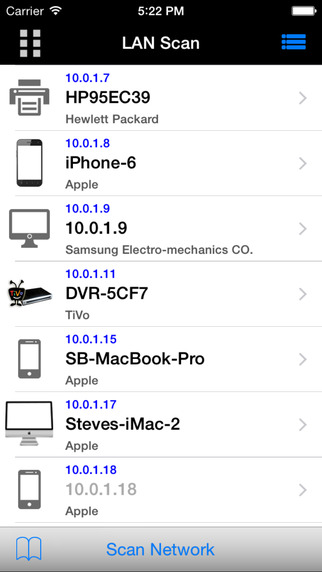 Normally $4.99.
Net Master is the ultimate mobile solution for all your network analysis and diagnostic problems. Net Master is a utility application developed for Network Administrators and IT Professionals but presented in a format targeted for non-professionals. All the essential networking tools are available in one convenient mobile application.

Networking Tools available include:

* LAN Scan for complete scanning and diagnostics of all devices connected to a Local Area Network
— Includes: TCP Connect LAN Scanning, ARP table scan
— Also includes NetBios Scan, Bonjour Scan and Port Scanning
— Reverse DNS Lookup
— Wake On LAN functionality
— Dictionary lookups for MAC addresses, Port addresses and many Bonjour Services
— All information presented to the user in a easy to understand user interface
— Save previous Scans to reload and review later

* Speed Test to monitor your cellular (3G/4G/LTE) or WiFi connection rate and response for your device.
– Simple, one button tap performs (or cancels) the internet speed tests.
– Testing features download rate, upload rate and latency (response) time.
– Simple, easy-to-read tracking and reporting.

* Port Scanning is a essential network utility for every IT professional. This utility application lets you check what services are listening on a network and is useful for making sure no service ports are open that shouldn't be.
— Multi-thread TCP port scanner on cellular or WiFi network.
— Quick scan for the most popular ports does a scan within a few seconds.
— Display common protocol used by each open port and allow connection if port protocol known.
— Scanning parameters are fully adjustable to handle different network environments.

* Geographical Trace Route for determining the route path and measuring the transit times across an IP network.
— Asynchronous Trace algorithm provides extremely fast results
— Graphical plotting of ping results for all hops
— Geo-location information for hops
— Reverse Hostname (DNS Information)
— IP Address of each hop
— Monitors Average packet round trip time
— Packet count and lost information
— WHOIS hostnames and IP address range
— Works over WiFi or Cellular network connection
— Save previous Traces to review later

Note: Geographical route of hops is based on third-party publicly accessible IP geo-location services. There are occasions when location data for those services is incorrect causing anomalies in the visual presentation. This location information will become more accurate as more users run traces from various locations.

* Ping is another essential network utility that determines the availability of a host via a Domain Name or IP Address.
— Bookmark feature fallows the user to store and monitor multiple game servers latency at the touch of a single button.
— Email ability for saving results.

* WiFi Finder is a powerful WiFi hotspot locator that includes Yelp business information and reviews for each hotspot.

— WiFi finder to quickly and easily find FREE or paid WiFi hotspots from your current location.
— Integrated with Yelp database to provide complete information on the business associated with each WiFi hotspot.
— View WiFi hotspot search results in a list view or on a map without leaving the app.
— Save favorite WiFi hotspots for convenient access.
— Look up Business addresses and phone numbers for WiFi hotspots.

* Subnet Calculator for providing the information needed to make decisions regarding your subnetting.

All the networking tools for the IT Professionals in one application.
cmd.fm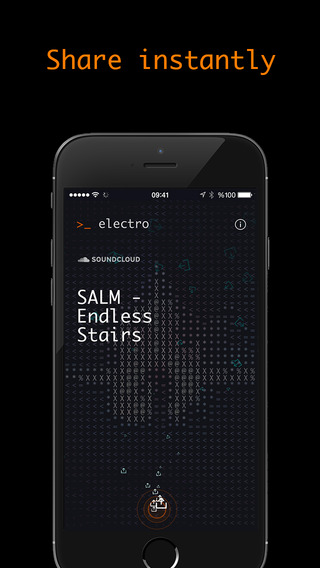 Normally $1.99.
Next generation radio with unlimited skips and awesome graphics! Over 120+ genres: Ambient, Trip Hop, Dubstep, Trap, House, Rock, Pop, Classical, Country, Jazz, Chiptunes, Latin, K-Pop, J-Pop, 80s, Nu Jazz, Deep House, Disco, Glitch, Indie, Chillout and more!

cmd.fm mobile works like Pandora. It allows you to listen from 120+ genres with unlimited skips!

* AWESOME TUNES
* GREAT MUSIC DISCOVERY
* SIMPLE INTERFACE
* BLAZING FAST
* INSTANT SHARE
* ASCII ARTWORKS & PARTICLES
* NO ADS

You can get more information and real user feedbacks here: https://cmd.fm/mobile

Music provided by soundcloud

This app includes these genres:

80s, Acid Jazz, Acoustic, Acoustic Rock, African, Alternative, Ambient, Americana, Arabic, Bachata, Bhangra, Blues, Blues Rock, Chanson, Chillout, Chiptunes, Choir, Classical, Classical Guitar, Contemporary, Country, Dance, Dancehall, Death Metal, Disco, Dream Pop, Drum & Bass , Dub, Dubstep, Electro House, Electronic, Electronic Pop, Folk, Folk Rock, Funk, Glitch, Gospel, Grime, Grindcore, Grunge, Hardcore, Heavy Metal, Hip-Hop, House, Indie Pop, Industrial Metal, Instrumental Rock , J-Pop, Jazz, Jazz Funk, Jazz Fusion , K-Pop, Latin Jazz, Mambo, Metalcore, Minimal, Modern Jazz, Moombahton, New Wave, Nu Jazz, Orchestral, Piano , Pop, Post Rock, Progressive House, Progressive Metal, Punk, R&B, Rap, Reggae, Reggaeton, Riddim, Rock, Salsa, Samba, Shoegaze, Singer / Songwriter, Smooth Jazz, Soul, Tech House, Techno, Thrash Metal, Trance, Trap, Turntablism, Avantgarde, Bossa Nova, Classic Rock, Cumbia, Dirty South, Easy Listening, Electronic Rock, Hard Rock, Indie, Latin, Middle Eastern, Opera, Post Hardcore, Progressive Rock, Rock 'n' Roll, Synth Pop, Trip-hop, Alternative Rock, Deep House, Electro, Hardcore, Techno, Indie Rock, Metal, Minimal Techno, World, Audiobooks, Business, Comedy, Entertainment, Learning, News & Politics, Religion & Spiritualism, Science, Sports, Storytelling, Technology
HealthView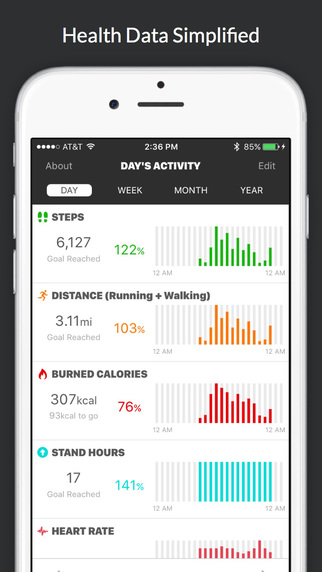 Normally $0.99.
HealthView app allows you to understand your HealthKit (Apple Health App) data in broader view, by allowing you to drill down to more details in an easy and quick way!

Apple Watch complications will show your activity levels from your pedometer data – this feature is very convenient if you want to glance over your activity data quickly.

HealthView also features the ability to customize and show up to 3 data sets in the Today View widget!

Download the app today!
If you have any questions, please don't hesitate to contact our support!

Supported Data Sets:
Steps Count
Distance
Cycling
Weight
Body Fat
BMI
Lean Body Mass
Burned Calories
Dietary Calories
Flights Climbed
Heart Rate
Nike Fuel
Sleep
Caffeine
Water
Stand Hours
Workouts

NOTE: HealthView reads data only from Apple Health app. No data is being sent outside of your device. HealthKit access required.
Deadly Moto Racing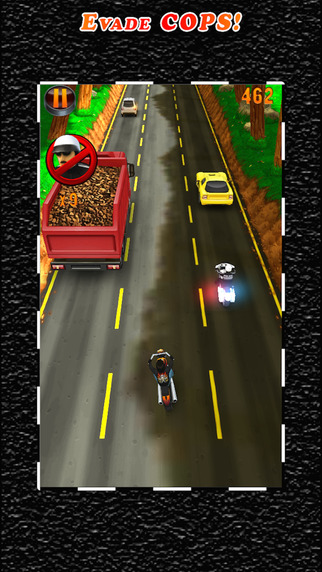 Normally $19.99.
What happens when two rival gangs of riders come into conflict? Well, they do battle racing through the streets at top speed!

Ride your trusty moto, face rivals in the streets of the city zipping between vehicles at reckless speed and kick your opponents until they fall to the ground!

Become the reckless moto king of the road! But watch out for the cops, do not get caught!
How long can you last without getting caught by the cops while traveling at breakneck speed between a vehicle and the other, chasing your rivals?

If you manage not end up crushed under some vehicle then you'll have a variety of items that will grant you an advantage over others, first of all your special supply of super-beer that will make you indestructible!

Reckless moto riders, start your engines and .. engage in this insane and deadly race!

Features:
– Enjoy the beautiful full HD and 3D graphics with spectacular special effects!!
– Collect coins to buy several items and power-ups in a well assorted virtual store!
– Speed-up, slow-down, zip through traffic, evade cops and sprint to kick your opponents to death!
– Two game modes and several unlockable items!!
– GameCenter social gaming with two global leaderboards!
– Universal App: runs in HD on iPad and Retina Display devices.
Halftone PIc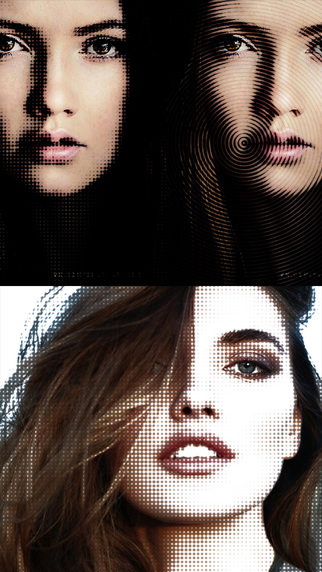 Normally $1.99.
Halftone Art is a very popular image style, it can make your photo not only full with retro mood but also digital technology style. Halftone Art has a long history, no doubt, it is a lasting fashion.

[ Halftone Pic ] offers 4 Halftone modes for you to change photo into Halftone style. [ Halftone Pic ] can emphasize the bright or dark part of photo, also can change the full-color tone into black&white or gray scale. In addition, dot patterns' size, angle and strength are changeable.

34 back images available, allows to make abstract effects.

You will experience the fun of creation by using Halftone modes with filters, such as Vibrance, brightness, sharpen…etc.
Frugi
Normally $3.99.
Surely you have experienced problems of the amount of money spent or earned for what and when.

Using this application, you will be able to simply manage all your payments and incomes.
This app has been designed in an intuitive way that without any instructions you can manage your budget.
Within three seconds you will be able to insert a transaction, and all calculations are done automatically.
Interestingly, you need considerably more time while jotting it down on paper even if you don't make any calculations.

Key features:
– Fully localized
– Simple design for easy use
– Classifying monthly expenses and incomes
– Smart calendar for displaying all items of a day
– Supporting multiple calendars:
Gregorian, Buddhist, Indian, Japanese, Islamic, Persian
– Using smart tags
– Recognizing and extraction of tags based on input data
– Using tags for advanced search
– Presenting statistics in "Tag Cloud" format to see the monthly budget in one glance
– Supporting all monetary units
– Future lists
– Setting alarms to remind future lists
– Displaying one day items with different colors for different days
– Adding/editing items on the calendar
– Showing item differences between two months (current and previous)
– Using multiple accounts
– Balancing transfers from one account to another
– PDF output
– Excel output
– Air print
– Choosing your favorite theme
– Defining the last day of financial month
– Using Passcode and TouchID (finger print) for security
– iCloud Backup
– iCloud Auto Sync
air radio tune
Normally $0.99.
Air radio tune provides a quick and easy way to listen to thousands of streaming Internet radio stations and free music on your iPhone,iPad and iPod. Listen the most important of the large collection of music, news, sports and speaking stations worldwide. Over 30,000 radio stations in great quality, of any genre and style. Create playlists of favorites to your liking and direction.
Watch video on facebook.com/airradiotune and vk.com/airradiotune.

– Access to more than 30,000 radio stations on your iPhone, iPad or iPod Touch.
– Multitasking supports background audio playback so you can listen while doing other things.
– Search for an artist and name of the station.
– Update stations from internet.
– Organize a list of your favorite stations.
– Supports broadband streams.
– Scanning stations with the established interval.
– Set buffering timer.
– Add, edit and delete your own stations.
– Album and artist information displayed when available.
– Time-shifting with live streams:rewind and fast forward back to "live".
– MP3 "on demand" file streaming with time-shifting features.
– Support for MP3, AAC, and AAC+ v1 (also called HE AAC), and HE AACv2 audio streams.
– Add custom URLs – pls, m3u, mp3 and AAC direct link.
– Automatic handling of interruptions due to incoming phone calls or audio from other apps.
– Music visualizer: see the animations react to the music.
– Information about the free RAM and free storage.
– AirPlay support – stream the music wirelessly to other AirPlay compatible devices.
– Setting of memory for audio packets.
– Defines the amount of audio playback time.
– Local radio stations from China, USA, UK, Russia, Italy, France, Germany, Spain, Ukraine, Portugal, Netherlands, Sweden, Austria, Armenia, Belgium, Switzerland, Poland, Belarus, Czech Republic and Denmark.
Supermarket Mania 2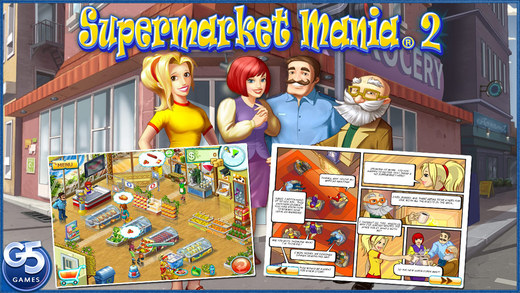 Normally $2.99.
The immersive free-to-play version, Supermarket Mania® Journey, is already live! Don't miss out!

Have you played the prequel to this fascinating game? Don't miss Supermarket Mania – on iPad and iPhone!
Millions rejoice as the beloved adventure finally receives a much – awaited sequel!
Nikki and her friends adventure to Tinseltown to help save Uncle Ross' supermarket chain from the evil Mr. Torg. Open new stores and test your business management skills like never before! New graphics, new music, new customers, new devices, new game mechanics, and new special levels – there's so much more to do in Supermarket Mania 2!

● Play 80 diverse levels to achieve expert score
● Open new stores through 6 new game settings
● Stock shelves with 34 products to sell
● Keep 11 unique customers happy
● Master 10 new game mechanics
● 200 Upgrades
● Get instant bonuses
● Game Center Support
● iPhone 5 support
---
Our deals and product reviews are picked by BGR's expert editors and team.

Follow @BGRDeals on Twitter to keep up with the latest and greatest deals we find around the web. Prices subject to change without notice and any coupons mentioned above may be available in limited supply.