Google will launch the third Pixel generation this fall, but the Pixel 3 and Pixel 3 XL are hardly well-kept secrets. We've seen them in leaked images, and we know the XL model will be Google's first iPhone X clone, although we're looking at a more prominent notch on the Pixel 3 XL, and a thick bottom bezel.
Furthermore, because the Pixel phones are high-end handsets, we expect them to pack the same hardware as plenty of other 2018 flagships, like the Galaxy S9 and Note 9 or the OnePlus 6. Now, the first benchmark leak for the Google Pixel 3 XL confirms that is indeed the case, and of course the phone's performance appears to pale in comparison to Apple's year-old iPhones.
The phone will pack a Snapdragon 845 processor and 4GB of RAM, according to the Geekbench listing, and it obviously runs Android 9.0. The benchmark lists scores of 2426 and 8355 for single- and multi-core tests which are on par with what's expected from Snapdragon 845-powered phones this year.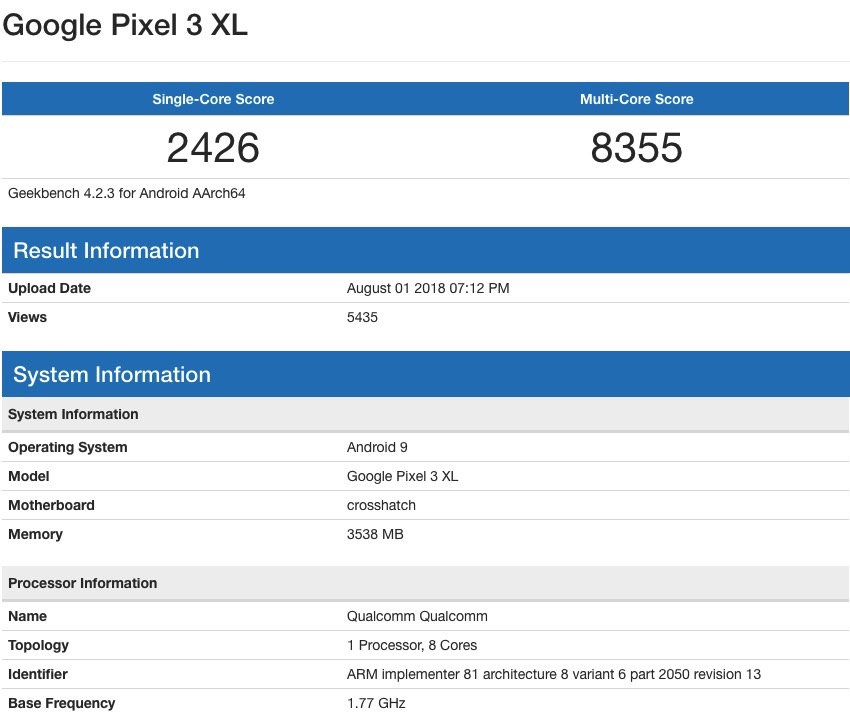 The multi-core score for the Pixel 3 XL is a bit lower than what we've seen rivals, but this is still a pre-release device, so performance should be tweaked by the time it launches. And, as always those numbers pale in comparison with iPhone benchmarks. The Pixel 3 series will score well below Apple's 2017 iPhone X and iPhone 8, and the 2018 iPhone lineup will undoubtedly achieve much better results than last year's iPhone models.
The listing also mentions that the "crosshatch" code name that appeared in previous Pixel 3 XL leaks. Geekbench listings can be spoofed, but it's not like we have any reason to expect that the Pixel 3 XL to offer better hardware than other 2018 Android flagships.
Earlier this week, we saw more pictures of a real Pixel 3 XL prototype, although the phone had been wiped clean by Google. The company should release Android 9.0 this summer and then the Pixel 3 series should be unveiled by early October.