Now that the OnePlus 6 is officially out, we know the smartphone is significantly faster than its rivals, including Samsung's Galaxy S9 series and Apple's iPhone X. That's even more impressive considering that the Galaxy S9 rocks the same Snapdragon 845 processor that goes inside the OnePlus 6, although the Chinese smartphone maker went crazy on RAM again. The OnePlus 6 does have 8GB RAM, while the Galaxy S9+ only gets 6GB.
The Galaxy Note 9, of course, is Samsung's next high-end smartphone. So will it be faster than the OnePlus 6?
A benchmark for the Exynos version of the Galaxy Note 9 reveals the phone won't offer a significant performance boost compared to the Galaxy S9. The Note 9 will also come in two versions, powered by the Qualcomm Snapdragon 845 and an Exynos 9810, as expected.
The Exynos 9810 scores are slightly superior to the Snapdragon 845 benchmark that was leaked a few years ago. We're looking at 2737 and 9064 in single- and multi-core tests for the Exynos-powered Samsung SM-N960N, according to the Geekbench listing found by MobielKopen.
The Snapdragon 845 Galaxy Note 9, meanwhile, scored 2411 and 8712 in the same tests. It's worth pointing out that the Qualcomm-powered Galaxy S9 version also scored lower in benchmarks than the Exynos model, but did better in real-life tests.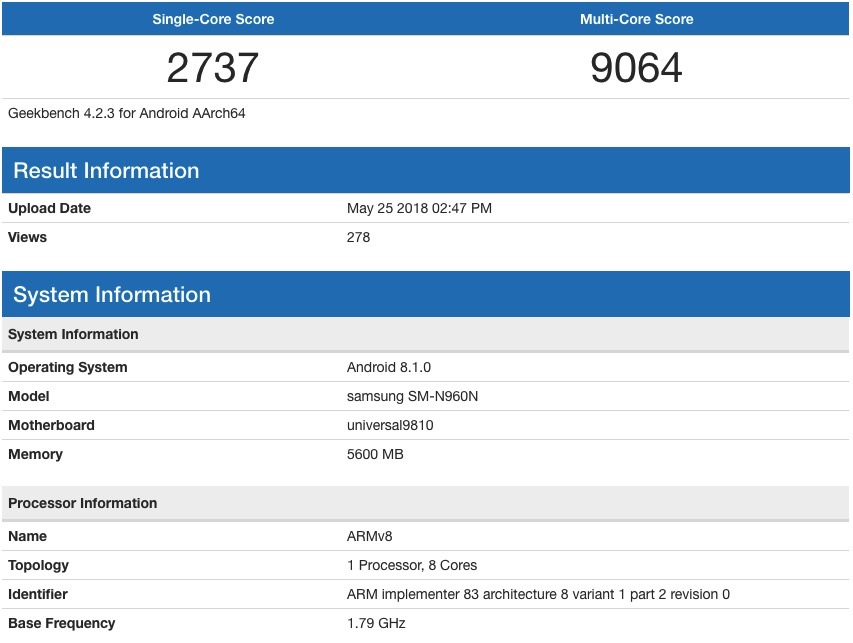 The OnePlus 6, meanwhile, scored 2474 and 9082 in Geekbench tests, and we noted in our review that the multi-core score is the highest score obtained by any Android device in this benchmark.
Needless to say that neither the Galaxy S9/Note 9 or the OnePlus 6 can score as high as the iPhone X's A11 Bionic chip in benchmark tests.
The new benchmark, listed on Geekbench on Friday, also reveals that the Galaxy Note 9 will have 6GB of RAM. It's unclear whether Samsung will make an 8GB Galaxy Note 9 this year.