Apple's new iPhone event can't come soon enough so that we can finally stop the iPhone rumor rollercoaster. In a matter of days, we learned the official name of the new 5.8-inch iPhone. But we still don't know what Apple will call the 6.1-inch LCD handset and the bigger 6.5-inch version, as we do have at least two name versions for each model so far. Also, when it comes to prices, we have different claims out there as well, with the latest estimate suggesting the iPhone everybody will want might be just as cheap as we had hoped.
A leaked slide from a China Mobile presentation listed the purported names of the new iPhones — that's iPhone XC (6.1-inch), iPhone XS (5.8-inch), and iPhone XS Plus (6.5-inch. But it also listed the entry prices for all models: 5,888 yuan ($858) for iPhone XC, 7,388 yuan ($1,076) for iPhone XS and 8,388 yuan ($1,222) for iPhone XS Plus. 
Unlike US prices, Chinese prices for the iPhone include tax, which means we're looking at a 17% markup. Comparatively, the current 5.8-inch iPhone X sells for 8316 yuan ($1,212), which means its successor will be cheaper, just as previously rumored.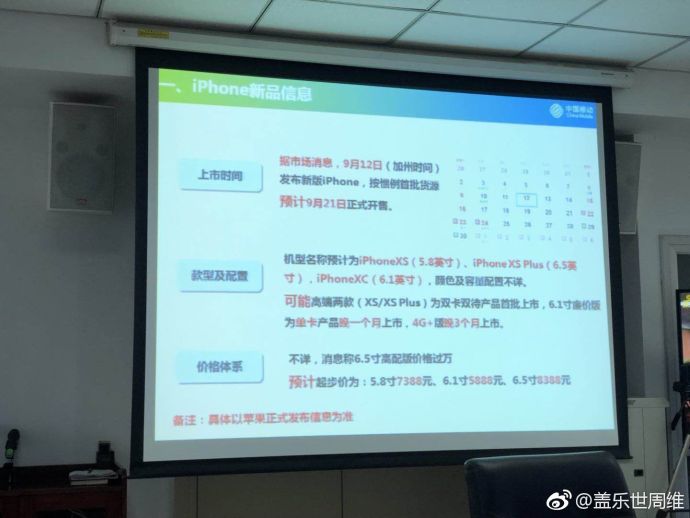 What the leak doesn't tell us is how much base storage each model will have, although 64GB seems to be the obvious choice. Also, it's unclear what other storage tiers will be available, and whether Apple will launch a 512GB iPhone this year. Finally, the leak does mention dual-SIM iPhones, but we have no idea how much Apple will charge for those. Apple never made dual-SIM iPhones so far.
Using these prices as a model, 9to5Mac predicts the iPhone XC would cost $699, just as some rumors said. The iPhone XS would be priced at $899, while the iPhone XS Plus would start at $999. These price points were rumored long before Apple dropped the ball allowing the iPhone XS name and marketing images to leak.
Last week, a research note from Bank of America Merrill Lynch said the new iPhones will be more expensive than that, starting at $799, $999, and $1,049, respectively. That pricing structure doesn't sound like something Apple would do.
That said, Apple will announce pricing details on Wednesday, and at least of the new iPhones will be available for preorders on Friday. The new iPhone everybody will buy this year, the cheaper iPhone 9/XC/XR might launch a few weeks later. The dual-SIM iPhones might also see some delays.