CIRP has shared another study focused on Apple. This time, the company wanted to discover what's the most popular iPhone color for the new iPhone 14 models. In this study, CIRP asked iPhone owners what version and color they chose during the holiday quarter.
While historically, most people stick with black or white iPhone models, Apple has been pushing users to choose from different options. For example, with regular phones, the company bets on fun colors instead of the traditional black-and-white duopoly – Apple doesn't even sell a black iPhone anymore, as Midnight is pretty much navy blue.
That said, even iPhone Pro owners, who usually choose between gray, silver, or gold, have been getting at least one new color option per cycle: Midnight Green, Midnight Blue, Sierra Blue, Alpine, Graphite, and now Deep Purple.
With all that in mind, here's how customers chose their iPhone colors during the holiday quarter.
What's the most popular iPhone color?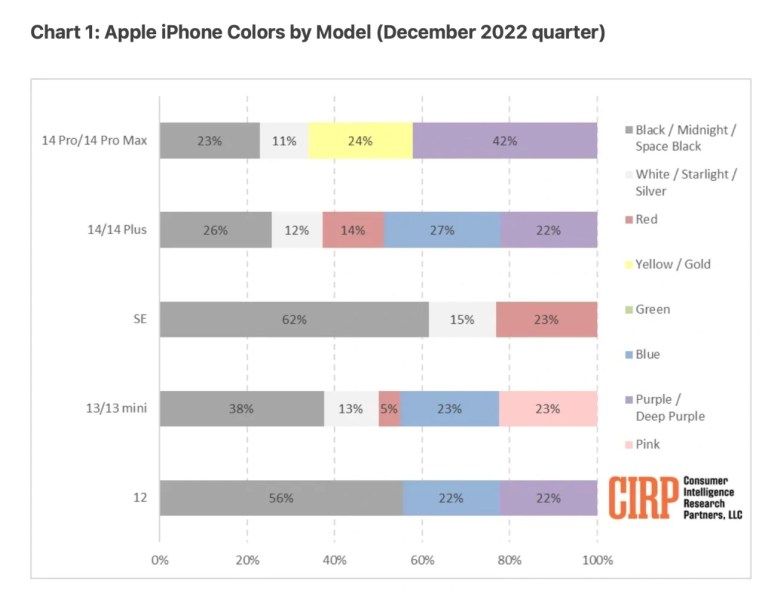 An impressive 42% of iPhone 14 Pro owners chose Deep Purple during this holiday quarter. While Graphite was another new color, it stayed in third place, as 23% of users went with it. In the second place, we found the Gold iPhone, with 24% of people choosing it.
For the iPhone 14 models, most users also chose the new Blue color, which looks a lot like the iPhone 13 Pro's Sierra Blue. It was followed by Midnight (26%), Purple (22%), PRODUCT(RED) (14%), and Starlight (12%).
Interestingly enough, customers opted for more traditional colors with the new iPhone SE 3, the iPhone 13 models, and iPhone 12 during this holiday season. For example, 62% of customers chose the Midnight iPhone SE 3, 38% chose the Midnight iPhone 13, and 56% opted for the Black iPhone 12.
The difference between color options from the newest models to the other iPhones can mean a few things. First of all, CIRP says Apple has "aggressively promoted the new purple iPhone 14/Plus and 14 Pro/Max models," so this might be a reason why so many people opted for them. At the same time, since most customers buy their iPhones on carriers, it's not usual for them to have the "fun colors" for older releases, so this could explain why Midnight/Black was so popular.
If you care about color, you should prepare for the upcoming iPhone 15 models, as their colors might have already leaked.