Over the past week, 9to5Mac and MacRumors have offered a better look at what to expect from the iPhone 15 Pro models. While the first publication showed a 3D render of what to expect from the new Pro iPhone, including thinner bezels, rounded edges, and USB-C port, the other website shared a first look at a blurry iPhone 15 model with the Dynamic Island and USB-C port.
Now, 9to5Mac heard from its sources that Apple is testing a very dark red color for the upcoming iPhone 15 Pro models. If that turns out to be accurate, this will be the first time a Pro iPhone has a red option.
Here are the possible colors for the iPhone 15 and iPhone 15 Pro models
Since the iPhone 11 Pro, Apple has offered different colors for its Pro phones. The company went from Midnight Green to Pacific Blue, Azul Sierra, and now Deep Purple. Now, 9to5Mac claims the next one will be a very dark red.
For the iPhone 15 Pro, a source who spoke to 9to5Mac revealed that Apple is planning a new dark red color option. We did a quick mockup of what this might look like, which you can see above. The color itself is a very dark red with the color hex of #410D0D.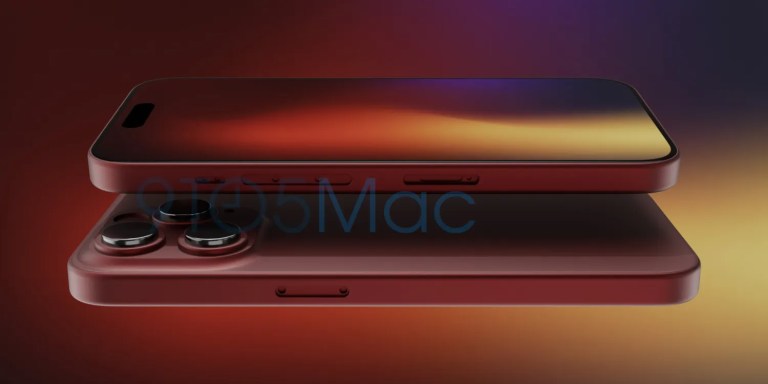 This dark red color would be interesting as Apple is rumored to switch the iPhone 15 Pro stainless steel finish to titanium. Apple has already offered natural and space black coatings for Apple Watches made of titanium, so it will be interesting if the company offers a "graphite" version, a "natural" one, and this special very dark red color.
In addition, 9to5Mac says its source believes Apple is also testing light blue and pink for the upcoming regular iPhone 15 models. That said, if the company follows the trend, we could see these two colors alongside Midnight, Starlight, and (PRODUCT)RED.
So, here's how the iPhone 15 series could look color-wise:
iPhone 15 colors:
Light Blue;
Pink;
Midnight;
Starlight;
(PRODUCT)RED.
iPhone 15 Pro colors:
Graphite
Natural Titanium
Very Dark Red
At the moment, it's unclear if Apple will offer a somewhat gold color with a titanium finish, as it has never done this before.
That said, it's important to note that Apple tests different colors until it decides which will be the ones available in its following flagship phones. BGR will report back if we hear more about the colors of Apple's upcoming iPhone models.