With every new iPhone release, Apple sticks to the same script. That means it keeps several key specs that may matter to some consumers under wraps. The list includes the actual clock speed of the processor, the amount of RAM, and the exact battery capacity. Of course, every year, we find out these details from leaks preceding the event and from benchmarks, legal documents Apple has to file with regulators, and teardowns.
A few days ago, a new set of benchmarks confirmed that the iPhone XS and XS Max pack 4GB of RAM each, while the iPhone XR only has 3GB of RAM under the hood — just what rumors told us. Now, thanks to regulatory documents from China, we know the battery capacities for all three phones. Found by MyDrivers, the legal documents reveal the iPhone XS Max has a 3,174 mAh of capacity, which is slightly bigger than the 2,942 mAh battery in the iPhone XR. The iPhone XS has a 2,658 mAh battery, which is smaller than the 2,716 mAh battery in the iPhone X. Even still, Apple says the phone will offer slightly better battery life than last year's iPhone X.
Battery size, of course, doesn't tell the whole story. From Apple's site, we already know that the iPhone XR is expected to deliver better battery than the XS models and that both iPhone XS phones last longer than the iPhone X.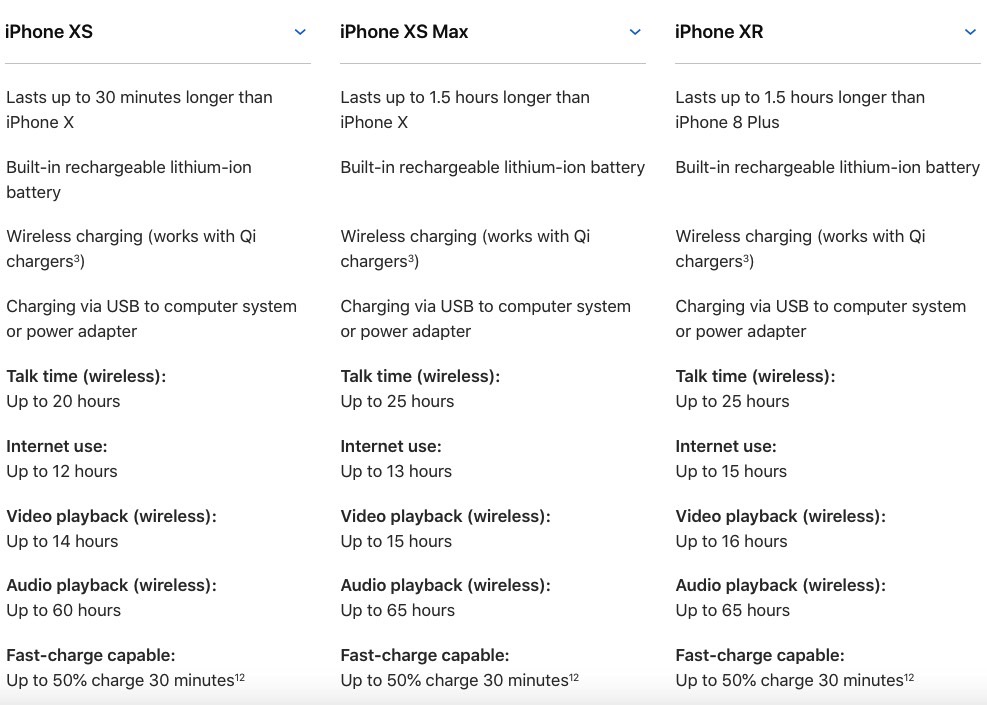 That's because all three phones pack more efficient components, like the 7nm A12 Bionic chip. The documents also reveal the A12 Bionic chip clocks in at 2.5GHz, and that the OLED phones have 4GB of RAM, while the LCD model only has 3GB of memory. Teardowns, which will be available later this week when the iPhone XS phones hit stores, will likely confirm all these details, at least for the XS series. The iPhone XR won't be released until the end of next month.