Apple unveiled two hot iPhones last week — they are hot, no matter what you hear about their boring design — and a formidable Apple Watch Series 2 that will give even (smart) watch makers even more headaches. The new devices have some impressive new features. Just look past the familiar design, and you'll spot a lot of exciting gems.
Look even harder, and you'll see signs of the next-gen iPhone, the building blocks that Apple needs now for the smartphones of the future. And yes, the wireless AirPods are very exciting too, regardless of how much fun one can make at their expense.
In what follows we'll look at the various iPhone 7, Apple Watch, and AirPods features that indicate what's in store for next year's 10th anniversary iPhone, which we'll just call iPhone 8 from here.
DON'T MISS: How to get the iPhone 7 or 7 Plus you want on launch day even without a preorder
Screen revolution
AMOLED is coming to the iPhone 8 next year, most rumors said last year. Apple is already preparing the screen technology that will power them. The Apple Watch Series 2 has a new screen that offers 1000 nits of brightness. That's more than twice the brightness of the Apple Watch Series 1 (450 nits). Apple's iPhone 7 has an LCD screen that offers 625 nits of brightness, significantly more than the 500 nits of the iPhone 6s. But LCD isn't OLED, and we might see an iPhone 8 next year with a brighter display than ever.
Finally, because it's a brand new iPhone, the iPhone 8 could see a bump in resolution for both the 4.7-inch and 5.5-inch models. A third size may be coming to accomodate the OLED display. And the OLED screen might be a dual edge curved one.
Fewer buttons
The new, intelligent home button is a capacitive button for the first time in the iPhone's history. That means Apple is getting ready to incorporate that button in the screen, while also perfecting technology that can tell the difference home button presses and 3D Touches and deliver the accurate response. The fingerprint sensor would all move to the screen in such a scenario.
And if the iPhone 8 will have a new curved display, we might see other buttons, including volume rockers, standby switch, and the mute switch fade into the screen and be replaced by virtual buttons that deliver Taptic Engine-driven feedback.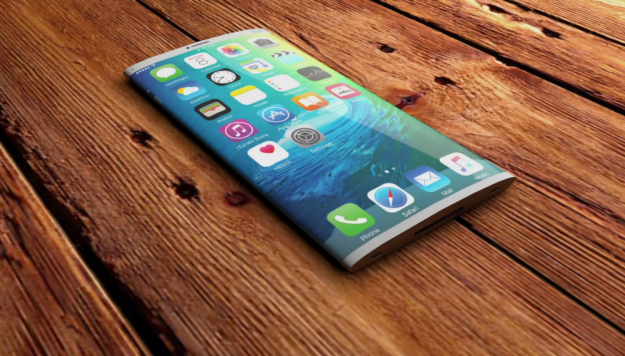 A new material
Aluminum can't be further improved for the iPhone, an incredibly detailed report said. Apple is now making a ceramics Watch, and that same material might be heading to the iPhone 8 — here's what you need to know about that.
Waterproof design
The iPhone 7 is water resistant, not waterproof. The elimination of the headphone jack, and Apple's inclusion of other internal components that keep water away, help with that. It's likely next year's iPhone 8 handset will be even better at surviving water damage. And yes, the Apple Watch is also waterproof properly now.
True wireless charging
There are many hints that suggest true wireless charging is coming to the iPhone 8. First of all, Phil Schiller said on stage that we're heading to a future without wires when explaining one of the reasons the 3.5mm headphone jack just died. So if Apple is going towards that wireless future, it will probably add wireless charging to the iPhone as soon as it perfects it. A ceramics design would also help with such goals.
One other reason why wireless is happening is that exciting Apple W1 chip in the AirPods that we hardly talk about. That's the first wireless chip Apple made to that, Schiller also said. That must mean a W chip for wireless charging is in the works.
Finally, wireless charging fixes that charging-and-using-wired-headphones "issue" so many users complain about. Not to mention that the Apple Watches all charge using wireless charging. And the AirPods might be charging wirelessly too in that Charing Case — we'll have to wait to see if that's what happens.
Even more power
The iPhone 7 is the most powerful smartphone on Earth, and tests will surely show that. The iPhone 7 is 40% faster than the iPhone 6s in processing power (CPU) and 50% faster when it comes to graphics (GPU). And that all happened without moving from 14/16nm chip design in the iPhone 6s to 10nm. But next year, TSMC will provide 10nm chips that should be even faster and more energy efficient than this year's design.
Meanwhile, Apple won't stop developing its chips to reach new heights, and that's something we certainly expect given that each year the brand new A-branded CPUs are significantly faster than their predecessors. Oh, and the same goes for the Apple Watch Series 2, which has an even faster chip than first-gen Watches.
3D Cameras?
What do you get when you put two lenses on a mobile device's cameras? 3D cameras, of course, so we might see Apple develop such powers for the future iPhone. Even if that's not happening, the dual-lens camera on the iPhone could pave the way for exciting features – just look at what Lenovo and Google are doing with the help of multiple cameras.