Apple replaced the gold Apple Watch Edition with an Apple Watch Series 2 made of ceramic. But what if next year's iPhone — the iPhone 8 that's supposed to mark Apple's 10th iPhone anniversary — is made of ultra-strong ceramics as well? There are plenty of reasons why Apple would want to replace aluminum with ceramics in all of its products, and they make a lot of sense, especially for the iPhone.
DON'T MISS: How to get the iPhone 7 or 7 Plus you want on launch day even without a preorder
As Brian Roemmele aptly explains on Quora, the qualities of ZrO2, or Zirconia Ceramics, would fit Apple's iPhone needs perfectly.
Compared to aluminum, Zirconia Ceramic offers better strength and scratch resistance, it's able to dissipate heat a lot more efficiently, and it's radio transparent. An iPhone made of Zirconia would offer better durability than aluminum models as well, and would not require annoying antenna bands on the outside since it would let all cellular, Wi-Fi, GPS, NFC and Bluetooth signals simply move through the material.
On top of that, Zirconia Ceramic is easier to mass-produce than you would expect, and might be even cheaper to make than the current "manufacturing, milling, and CNC machining of the unibody aluminum for the iPhone 7, in high production," according to Roemmele. Finally, Zirconia iPhones could be pigmented in a number of colors, which would let Apple continue to offer different options to buyers.
People who closely follow everything related to Apple will remember that Apple already tried to use a different material for the iPhone last year — sapphire. But that adventure did not go so well. At the same time, Apple applied for several revealing patents that describe its interest in ceramics in great detail. So it's likely that Apple has been preparing for this moment for years.
Interestingly, Roemmele revealed on Quora that Apple smartly held back a patent with help from the USPTO, to make sure it wasn't picked up by anyone ahead of its September 7th iPhone 7 and Apple Watch 2 event.
The patent was filed on August 3rd, 2015 under the boring name of Co-molded Ceramic and Polymer Structure, and the patent was published on September 8th. The documentation describes a means of making device housings out of ceramics in combination with polymer materials. As Roemmele points out, the language used is somewhat similar to the way Apple describes the Apple Watch Edition Series 2, the one made of ceramic.
The patent even provides imagery that shows iPhone and Apple Watch devices made of ceramics (see below). It's no wonder that Apple tried to keep a tight lid on this particular patent.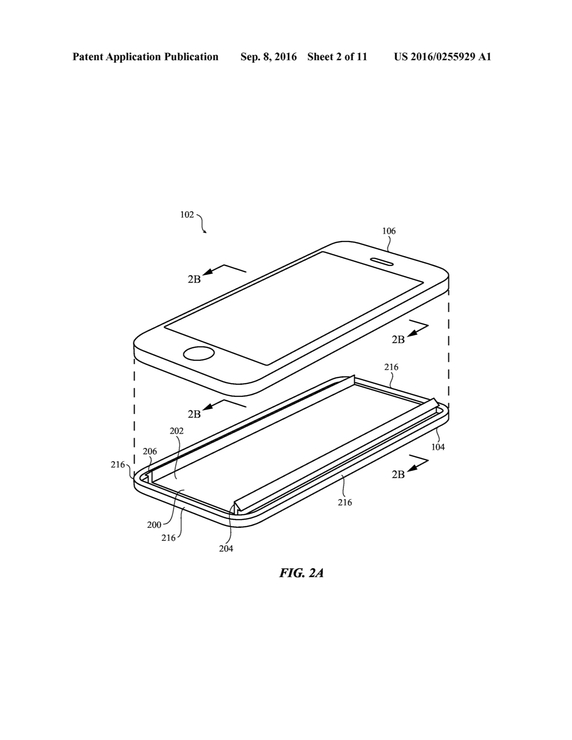 "In September 2017, Apple will be releasing the 10th Anniversary iPhone 8," Roemmele wrote. "It is my view Apple will use this moment to present a completely new iPhone design that will be revolutionary in many ways. I assert the design language will be based on a more organic shape and design."
He continued, "There will be ergonomic curves that will mold into the new AMOLED display being driven by video chips that simply could not have thermally operated in such a small space without heat efficiency of Zirconia Ceramics. The iPhone 8 will not just be water resistant but waterproof and dust proof to a level never seen before on a smartphone. The lightning port will look more like the Mag-Safe system used on the MacBook Pro devices [9] and mostly use inductive charging. Of course, there will be no 3.5mm audio jack."
Oh, and those of you wondering about those iPhone patents describing devices with wraparound displays should know that Zirconia Ceramics can also be transparent. Check out the entire fascinating article on Quora.