During an appearance at the D10 conference in 2012, Tim Cook famously promised to double down on product secrecy. Frustrated by an onslaught of iPhone and iPad leaks at the time, Cook vowed that Apple would implement a series of measures designed to keep upcoming Apple hardware out of the news cycle. That notwithstanding, the reality is that Apple has to rely on manufacturing partners in order to bring its products to market, and in turn, there's only so much Apple can do to keep iPhone rumors from leaking out.
This year, the product leaks involving Apple's 2017 iPhone lineup have been particularly illuminating, if not downright endless. Though Apple won't officially unveil the iPhone 8 and the iPhone 7s until next month, not a week goes by that we aren't bestowed with even more information regarding Apple's next-gen devices. That said, this past weekend proved to be an especially busy few days for the Apple rumor mill, with a number of fascinating product details and photos leaking out. If you didn't have a chance to hop online over the weekend, listed below is a comprehensive rundown of all the new iPhone rumors you may have missed.
New iPhone color
Apple likes to toy around with new iPhone colors with every new release, and this year promises to be no different. According to a leak emanating from the Chinese microblogging site Weibo, the iPhone 8 will be available in three different colors: silver, black, and a rose gold model that, at least from the photos below, looks more like copper than anything else.
Here's a better view of the rose gold model.
iPhone 8's facial recognition feature will be incredible
With Apple reportedly ditching Touch ID in favor of a facial recognition solution, many iPhone users have wondered if the iPhone 8 will represent a step backwards in usability. Among many concerns, some users have wondered how easy it will be to unlock the device when it's not positioned directly in front of their face. That said, recently unearthed data strings from Apple's HomePod firmware suggest that the iPhone 8 will be able to detect faces and identify users even when the device is laying flat on a table
iPhone 8 wireless charging
Bolstering what we already know about the iPhone 8, x-ray photos of the device seem to confirm that Apple's next-gen device will support wireless charging. The photo below is said to have been taken by a Foxconn employee.
iPhone 7s to feature wireless charging
Speaking of wireless charging, it remains unknown if the feature will make its way into Apple's iPhone 7s lineup. While we've seen conflicting reports on the matter, dummy photos of the iPhone 7s with a glass back surfaced online this weekend, seemingly indicating that the device will, in fact, offer wireless charging functionality right out of the box.
https://bgr.com/wp-content/uploads/2017/08/iphone-7s-glass-back.jpg?quality=98&strip=all&strip=all
iPhone 8 front panel
Over the weekend, yet another photo purporting to be an iPhone 8 front panel surfaced online. The photo below lines up with any number of previous leaks, which is to say that the front of the iPhone 8 will assuredly look like this.
https://bgr.com/wp-content/uploads/2017/08/iphone-8-screen-leak-1.jpg?quality=98&strip=all&w=576
More iPhone 7s Plus Photos
Hardly a revelation, the iPhone 7s Plus will likely look exactly like the iPhone 7 Plus. So while the iPhone 7 Plus dummy model below isn't all that revealing, here it is below for your viewing pleasure via Slashleaks.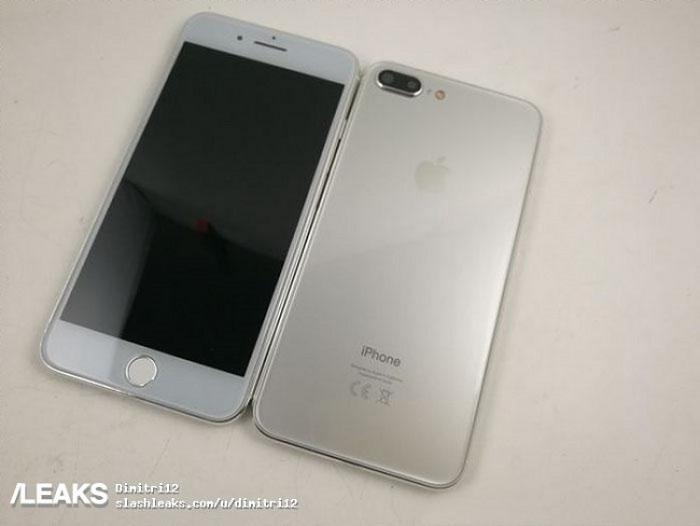 iPhone 7s packaging
Originally brought to light by Slashleaks, the photo below claims to be "the first page user manual and material to print on the packaging of the 7S.