The HomePod firmware that Apple mistakenly made public last weekend may very well represent the most significant iPhone leak we've ever seen. While the prototype iPhone 4 obtained by Gizmodo a few years back revealed a completely new form factor, many of the device's new software features remained unknown until Steve Jobs officially introduced the device a few months later. In stark contrast, Apple's HomePod firmware has provided us with an inside look at the iPhone 8's new form factor along with a few of the device's more significant new features. Just a few days ago, for example, data strings from the HomePod firmware revealed that the iPhone 8's front facing camera will likely support 4K video recording at 60 frames per second.
That said, the most significant and intriguing tidbits of information regarding the iPhone 8 center on the removal of Touch ID and the inclusion of an advanced facial recognition system. With respect to Touch ID, developer Steve Troughton-Smith a few days ago relayed that nothing in the HomePod firmware points to the iPhone 8 featuring a Touch ID sensor embedded into the display. Instead, it's widely believed that the iPhone 8 will incorporate advanced facial recognition software that will be used for biometric authentication. To this end, developers have also found evidence that facial recognition on the iPhone 8 will be used to authenticate Apple Pay transactions.
Since debuting on the iPhone 5s in 2013, Touch ID has been an incredibly reliable, useful and secure way for users to log into their device and authorize financial transactions. As a result, there are well-grounded concerns as to whether or not facial recognition will be as easy to use and practical as Touch ID. After all, Touch ID allows users to unlock a device as they pull it out of a pocket, even in the dark. Replacing Touch ID with facial recognition therefore raises a number of interesting questions.
For starters, what happens when a user takes out his or her device in the dark? Well, not to worry, data strings in the HomePod firmware suggest that the iPhone 8's front facing cameras will rely upon infrared sensors that should work just fine in low light and dark environments.
Another valid concern asks if users will have to hold up the iPhone 8 directly to their face in order to unlock it. This, of course, would present an obvious step backwards in usability.
Once again, this concern may not be as big of an issue as some might imagine. The latest iPhone 8 leak to emerge from the HomePod firmware release indicates that the iPhone 8 camera will be able to identify individual users even when the device sitting flat on a table. Originally unearthed by iHelp BR, the data string in question reads in part: "accessibility.resting.pearl.unlock." Notably, Pearl is believed to be the internal codename for the iPhone 8's facial recognition scheme.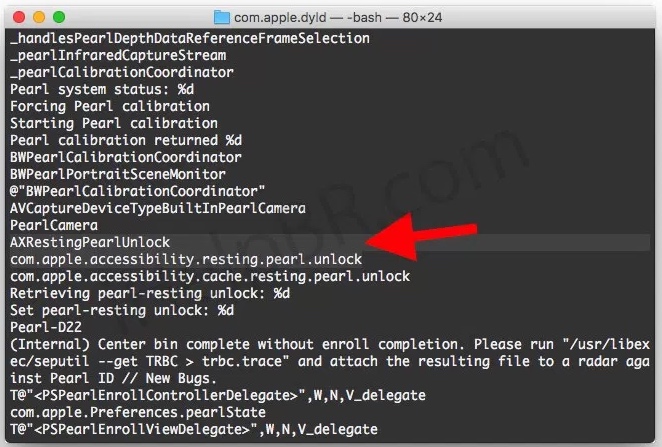 That this feature would exist certainly makes sense given that Apple isn't generally in the business of releasing new products that provide less functionality and usability than existing ones.