Last week, Google did something that not even Apple has done: commit to 7 years of OS, security, and feature updates for the Pixel 8 series. Such longevity is a first for Android but something longtime iPhone users have been taking for granted. Phones like the iPhone 7, 8, and X received five years of software releases. Newer models might get even more, especially phones like the iPhone 14 and iPhone 15 series, with their impressive processing power.
With each new iOS release, Apple tries to support older hardware and offer users a similar experience to what they'd get on a new phone. Meanwhile, iOS features that need specific hardware components (a faster chip or newer camera tech) will not be compatible with old devices.
iOS 17 is no different. But the newest iPhone operating system packs a few exclusive iPhone 15 features that could run on iPhone 14 Pro and 14 Pro Max models. Surprisingly, Apple doesn't explain why last year's Pro phones aren't compatible with software functionality that runs on iPhone 15 and 15 Plus, which are essentially smaller copies of the iPhone 14 Pro and 14 Pro Max.
But there are ways to bring those features to your iPhone 14 Pro relatively easily.
iPhone 15's 24-megapixel photos
All iPhone 15 models take 24-megapixel photos by default. That's an upgrade from the previous 12-megapixel standard, and it applies to all four iPhones.
The iPhone 15 and 15 Plus pack similar camera hardware as the iPhone 14 Pro and 14 Pro Max. They also run on similar chips. Yet last year's phones do not support 24-megapixel photos.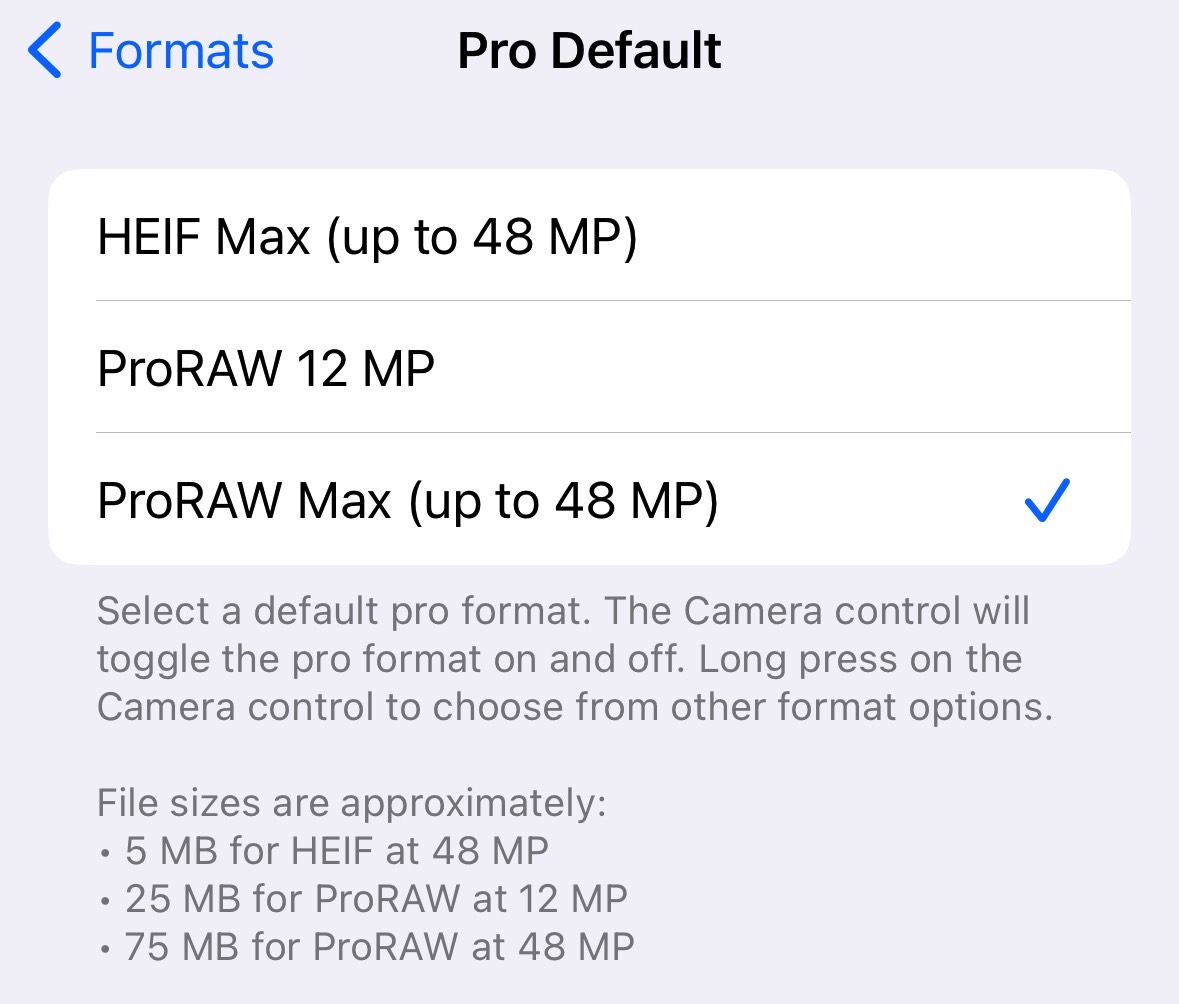 What you can do, however, is bump the resolution of your images to 48-megapixel thanks to a new RAS shooting mode available in iOS 17.
Just head to the Settings app, look for the Camera menu, and then Formats. Tap the Pro Default and select HEIF Max. This mode lets you capture up to 48-megapixel camera on your iPhone 14 Pro/Max. They won't clog your memory either, as they'll only take 5MB, compared to 25MB for 12-megapixel ProRAW photos and 75MB for 48-megapixel ProRAW Max pics.
Find out your iPhone's battery cycle count
All iPhone 15 models will now give you detailed battery information, including the cycle count. Combined with the battery health information, this will let you determine your battery degradation and whether it needs servicing.
Sadly, the iPhone 14 Pro and 14 Pro Max don't get the same feature. However, I've been using Coconut Battery for years to find out more details about my iPhone's battery. That includes the number of cycles since buying the handset.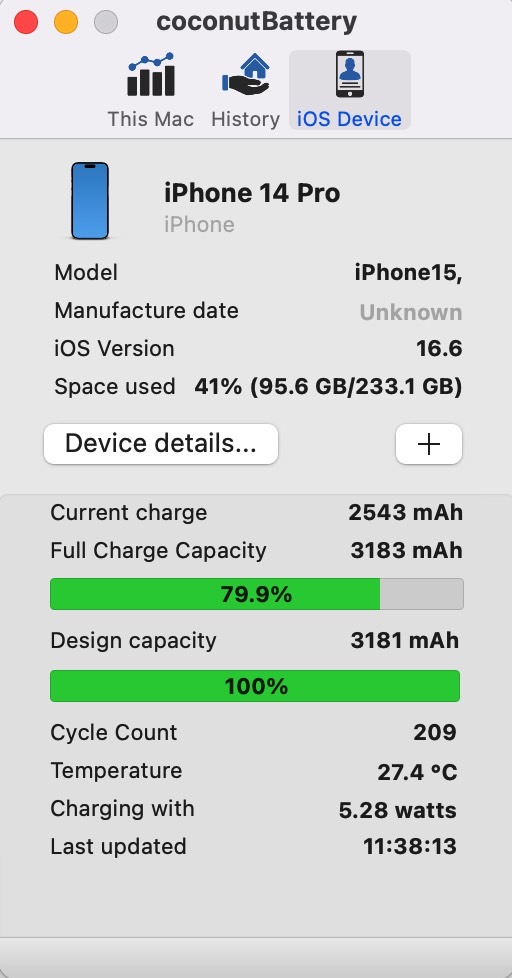 The process isn't as simple as going into the phone's Settings app. You must install the app on your Mac, connect the iPhone with a cable, and then look for the information you want. You'll get a screen like the one above, which shows stats for iPhone 14 Pro from a few weeks ago.
If you're on Windows, you can use an app called iMazing to get the same job done.
Stop the iPhone 14 Pro battery from charging above 80%
The iPhone 15 phones have another great battery health-related feature in iOS 17. They let you prevent battery charging above 80%. You get a slightly lower battery life estimate by preventing the phone from charging fully. But battery health will benefit in the long run.
The iPhone 14 Pro and 14 Pro Max do not have a similar feature. But there's an Automation that lets you achieve the same goal.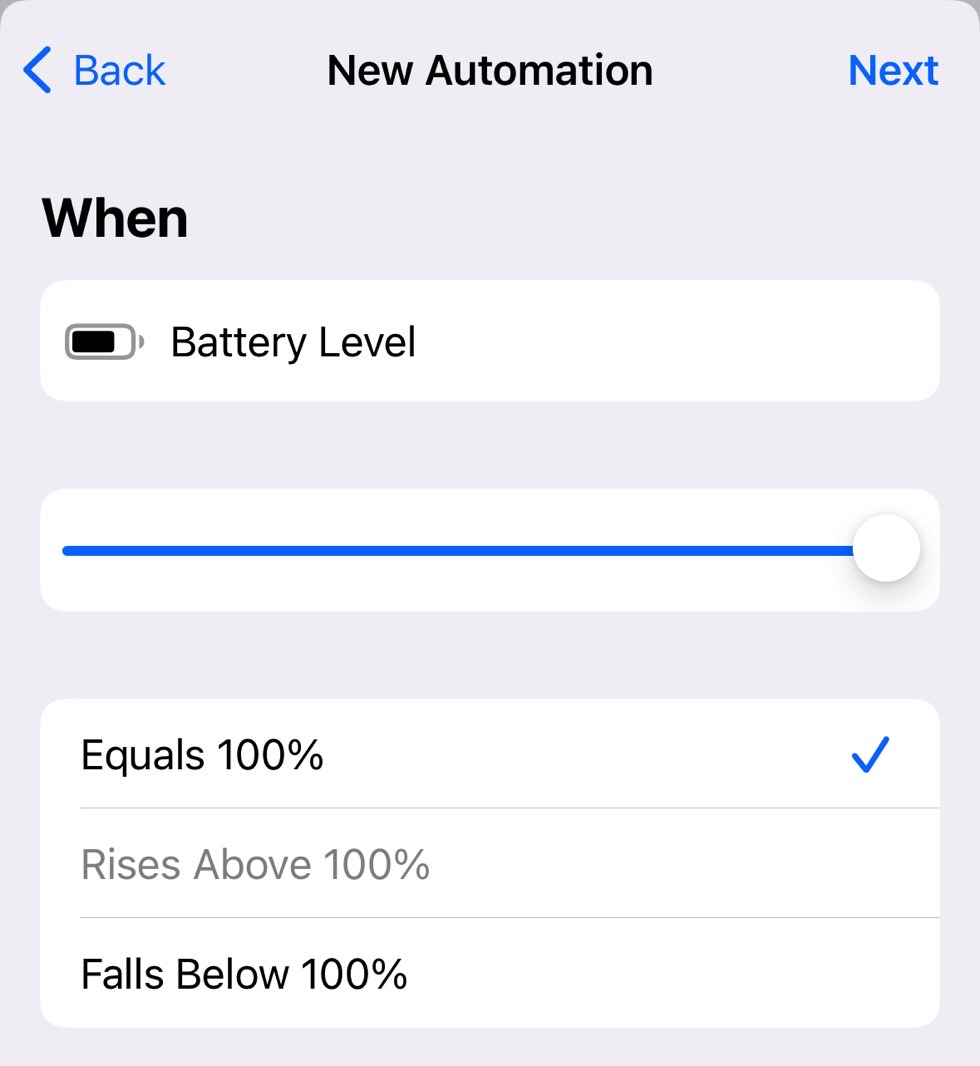 I taught you recently to create an iPhone automation that has the handset play a sound/music when the battery reaches a full charge. The thinking here is that you don't want to keep the iPhone plugged in after it reaches 100%.
You can tweak the automation so the sound/music starts playing when the battery rises above 80% (or your favorite percentage). Once you hear the sound, all you have to do is unplug the handset. Yes, you have to actively unplug the phone, but the result is similar. You might prolong the health of your iPhone 14 Pro's battery by reducing degradation.
On that note, I also use a similar automation to automatically toggle on Low Battery Mode when the iPhone drops to 30%.