Everyone probably has an iPhone battery level that kicks in battery anxiety long before the handset warns you that you have 20% or 10% of your charge left. For me, it happens when the iPhone battery gets into the 30%. I start to get nervous even though I know I have nothing to worry about, especially considering the amazing battery life I've been getting on my iPhone 14 Pro.
But fear might kick in even sooner than that for other people. You might start worrying about iPhone battery life once it drops below 50% or 40%. Or when it hits 23%. There's no wrong answer. Once that happens, you'll do one of two things: You'll enable Low Power Mode, or you'll recharge the iPhone.
It's not the best idea to start recharging the handset when there's still plenty of juice left. The better option to fix battery anxiety is to enable Low Power Mode. And the iPhone trick that follows will automatically enable Low Power Mode anytime your iPhone battery hits a certain level.
I've recently shown you how to make your iPhone stay on Low Power Mode. This should prolong battery life on new devices or offer a better experience on older iPhones that could use a battery replacement.
I've also shown you how to get an alert when the iPhone battery charge reaches 100%. The benefit of this trick is that you'll unplug the iPhone sooner, which will help you maintain the battery's health.
These tricks use the same iPhone functionality, the Automation feature inside the Shortcuts app.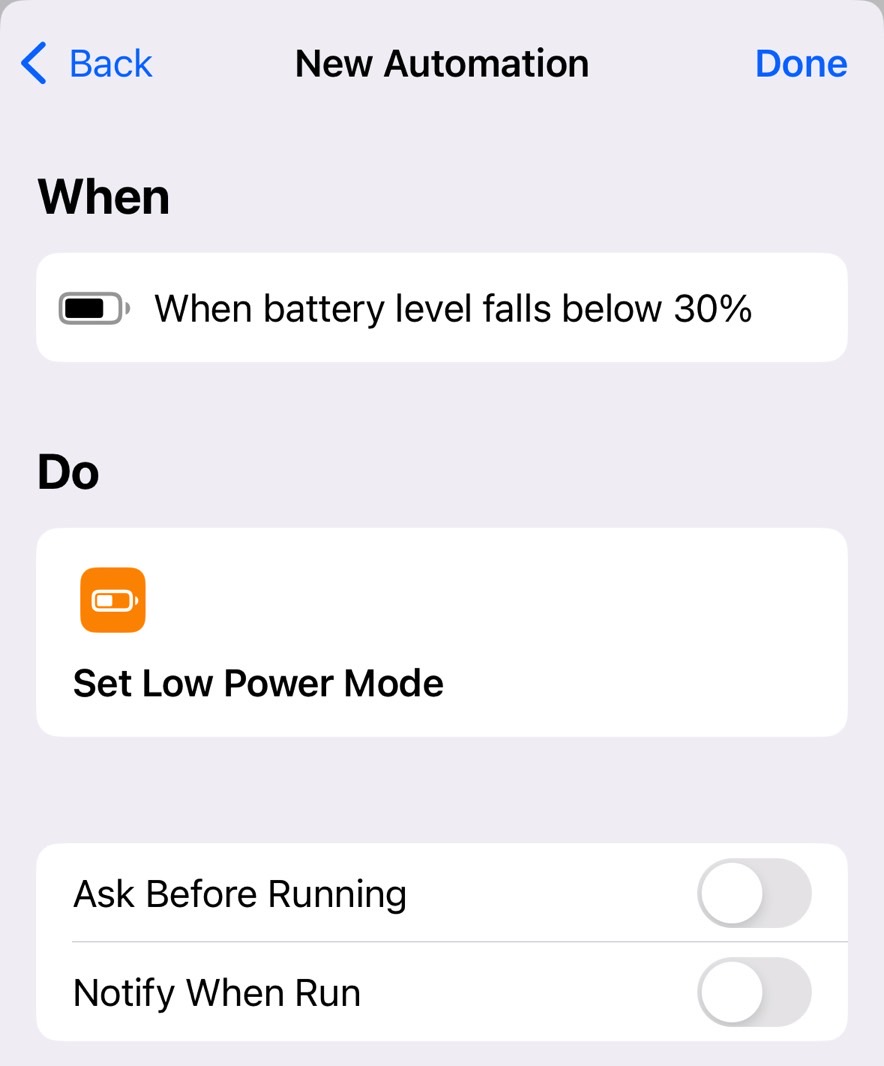 Using the same tool, we can instruct the iPhone to automatically enable Low Power Mode when the battery level falls below your desired percentage. For the following demo, I'll set 30% as the level where I want my iPhone's Low Power Mode to kick in automatically.
Just follow these instructions to set up the automation in the Shortcuts app as I've done on my handset:
Tap on the + symbol in the Automation tab
Tap the Create Personal Automation button
Select the Battery Level option
Leave the Falls Below % option enabled as you slide to 30% (or whatever level you might want it to be)
Tap Next
Tap Add Action
Search for Set Low Power Mode and have it set to Turn on
Tap Next
Disable Ask Before Running
Tap Done
Once that's done, the iPhone will always enable Low Power Mode when the battery reaches 30%. The automation will run in the background; you won't have to worry about manually enabling it. As with other iPhone automation, you can disable it or edit it later.
Come to think of it, I wish Apple offered a battery setting option to let you turn on the Low Power Mode functionality automatically.
If your iPhone is telling you that you need to service the battery, which means replacing it, you might want to set the level a lot higher. Or, use the previous iPhone trick to ensure that your iPhone never disables Low Power Mode.