A great idea on paper, the larger iPhone 14 Plus turned out to be a disappointment when it comes to sales. Apple would never disclose such information, but leaks and supply chain analyses show that the Plus model isn't selling well. Demand for the iPhone 14 Plus hadn't improved in the past few months. And that was still true even when iPhone 14 Pro and 14 Pro Max supply was constrained due to the COVID restrictions in China.
The latest information concerning the iPhone 14 Plus's popularity comes from well-known display supply chain analyst Ross Young. According to his report (via 9to5Mac), the iPhone 14 Pro models account for 75% of Apple's display shipments. The number should continue to grow at the expense of lesser models, especially the iPhone 14 Plus.
The larger non-Plus device saw no display panel shipments in December and January, according to Ross's data. This should change in February, which indicates Apple will continue to manufacture the handset. But we're not looking at spectacular gains for the iPhone 14 Plus, as they are expected to only account for about 5% of Apple's total orders.
The iPhone 14 Pro and 14 Pro Max should dominate panel shipments for the iPhone 14 series in February, in line with previous months. The Pro models have been the most popular ones since launch. The handset sold out online quickly during preorders. Apple could not meet the demand for weeks after that, and the COVID lockdowns further hurt sales.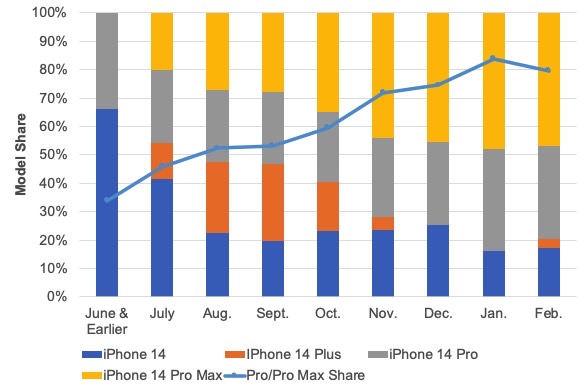 For most of November and December, buyers had to wait more than a month for their iPhone 14 Pro deliveries. Meanwhile, the iPhone 14 and iPhone 14 Plus were in stock the whole time. And some carriers ran attractive promotions featuring the cheaper handsets.
The lack of iPhone 14 Pro supply during the holiday quarter might explain the increased demand for the Pro models. But that's just speculation, and Ross's graph above only looks at display panel shipments, not sales. It's clear from Apple's December quarter earnings results that the inability to manufacture iPhone 14 Pros hurt Apple financially for the period.
The iPhone 14 Plus is the equivalent of the iPhone 13 Pro Max from last year. But it doesn't have the same Dynamic Island design as the iPhone 14 Pro and Pro Max. And it lacks a third zoom camera on the back, as well as a 120Hz ProMotion support. Since it's a repackaged iPhone 13 Pro Max, it also has last year's chip.
That's still a solid flagship smartphone that offers excellent battery life and could last several years before requiring a replacement. Still, the iPhone 14 Pro Max might be a much better deal for consumers, especially if they can trade in old devices and score significant savings.
As you can see in our guide on Verizon phone deals, customers can get up to $1,000 off the iPhone 14 Pro Max with a trade-in, plus another $200 if they're switching from another carrier.
Nonetheless, this year, Apple will make an iPhone 15 Plus model as part of the iPhone 15 series. That's what rumors say, with some indicating that Apple wants to make the cheaper iPhone 15 models more exciting to buyers. A price cut might be in order for the iPhone 15 and 15 Plus, although it's still too early to determine the validity of those rumors.