iOS 10 has been out for a few days now and already appears to be a significant success. Just 24 hours in, an estimated 15% of Apple's enormous user base had already upgraded. 48 hours after iOS 10's release, an impressive 20% of iOS users worldwide had upgraded. Now ff you've already become acquainted with some of the cooler new features and usability tips baked into iOS 10, we're back with yet another installment of cool and clever iOS 10 features that might have escaped your attention.
Here are 14 more of our favorites.
DON'T MISS: 10 best iPhone 7 and iPhone 7 Plus cases we've found so far
Turn your iPhone camera into a virtual magnifying glass
Thanks to a new accessibility feature called Magnifier, iOS 10 users can use their iPhone camera to really zoom in on text or an object at a distance. To enable this feature, head on over to Settings > General > Accessibility > Magnifier. Once enabled, you can activate the Magnifier by triple clicking on the home button. If you're wondering why you can't just use the built-in Camera app to zoom in, note that the zoom feature is a lot more powerful with Magnifier.
Quickly access your camera from the lock screen
If you're looking to take a photo and time is of the essence, iOS 10 makes it easier and quicker than ever to call up the Camera app into action without having to first unlock your device. From the lock screen, simply swipe to the right and iOS will open up the Camera app.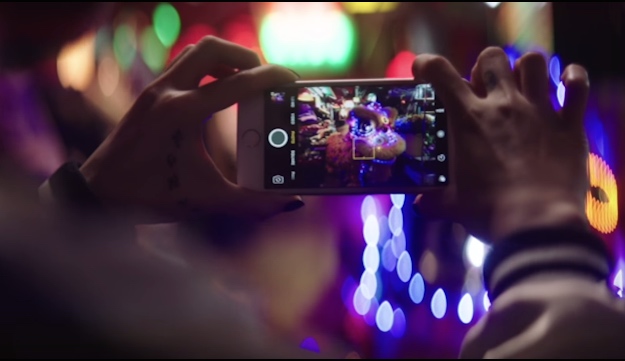 Use Siri to retrieve hard-to-find photos
This one is a personal favorite of mine. In iOS 10, you can now use Siri to search for photos based on a particular date, time frame or location. So say, for example, that you went to a baseball game on May 4 and quickly want to look at those photos without have to scroll endlessly through a gigantic library. With iOS 10 you can simply call up Siri and say "Show me photos from May 4."
You can also ask Siri to bring up photos from "yesterday", "last week", or even "last month. Also cool is that you can use Siri to retrieve photos from a particular place. So if you want to quickly bring up vacation photos, you can tell Siri to "Show me photos from Hawaii" and Siri will take of all of the dirty work for you.
But wait, there's more! You can use similar commands to search for videos as well. And to top it all off, you can even use Siri to look for specific items or people from within your photo library. For example, you can instruct Siri to "show me photos of dogs" and Siri will scour your photo library for snapshots with dogs in the mix. This is a fun one to play around with as Siri can recognize all sorts of items, from food to grass and everything in between.
Quickly access related photos
In addition to Apple Music and Maps, Apple's Photos app in iOS 10 was also graced with an extensive overhaul. One of the more intriguing new features enables users to swipe up on a photo whereupon a list of related photos and videos will appear underneath.
Find your misplaced Apple Watch with ease
Assuming that you have an Apple Watch running watchOS 3 (and there's really no reason why you wouldn't want to upgrade to watchOS 3), iOS 10 allows users to find their Apple Watch via the tried and true Find My iPhone app. From within the app, iOS 10 users can erase the contents of their Apple Watch, place it in Lost Mode, or simply have the device play a sequence of sounds (assuming the watch is connected to the Internet) for easy tracking.
Quickly browse through only your unread emails
From within the mail app, if you tap on the icon located in the lower left hand corner of the screen, Mail will only show you a list of unread messages. Hitting the icon again will bring you back to the 'everything' view.
Limit what can be seen on your iPhone lock screen
Thanks to iOS 10's new 'Raise to Wake' feature, iPhone users can pick up their devices and quickly get a glance at their notifications and other pertinent information. This can be extremely convenient but also worrisome if you're worried about privacy and someone just picking up your phone and seeing what you've got going on.
Not to worry, iOS 10 lets you granularly control what type of information shows up on the lock screen when Raise to Wake is called into action. To take more control of your lock screen, simply go to Settings > Touch ID & Passcode and scroll down until you see this screen.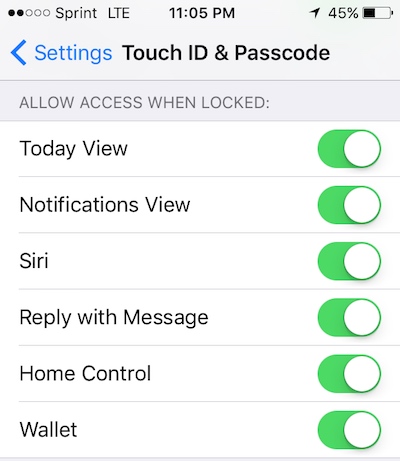 Intelligent photo searching
With iOS 10, searching for photos is much more advanced as users can now search for photos by specific people (thanks to facial recognition) and even by environment or things in the photo. For example, users can do a search for any and all photos that have a dog pictured or any photos that feature a beach. As the photo from Apple below demonstrates, granular searches are even possible, allowing users to search for photos from different beaches.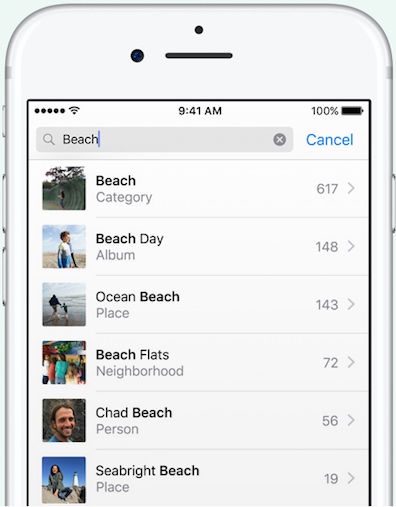 Re-enable touch to unlock
If you're not a fan of having to physically press the home button to unlock your phone, there's an iOS settings option that will enable you to unlock your device simply by resting your finger on the Touch ID sensor. You can activate this setting by going to Settings > General > Accessibility > Home Button and then selecting Rest Finger to Open.
Live Photos editing
With iOS 10, there's more of an incentive to keep the Live Photos feature turned on. In addition to smoothing out the video, iOS 10 now enables users to edit their Live Photos, whether they want to edit it for length, crop the size, or even add photo filters into the mix.
Send handwritten notes and doodles in Messages
If you turn your iPhone into landscape mode while in Messages, you'll notice the appearance of a squiggly line at the bottom of iOS' built-in keyboard. If you tap that, you'll be able to send handwritten notes and doodles to friends.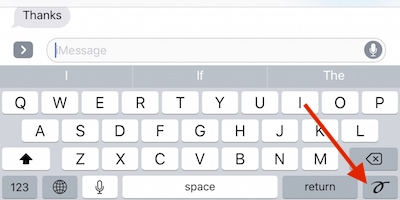 Use 3D Touch to quickly create a checklist
If you apply a 3D Touch to Apple's in-house Notes app, you'll be given an option to quickly create a check-list.
Unlimited Safari tabs
We're not sure how popular this feature will be, but if you happen to be someone who enjoys opening up an endless number of Safari tabs, iOS 10 has got you covered. For the first time, iOS users will be able to open up an unlimited number of Safari tabs. As a point of reference, iOS 9 limited users to 36 Safari tabs.
Quickly access your "Today" view from Apple's Health app
If you want a quick glimpse of your activity for the day, iOS 10 allows users to 3D Touch on the Health app whereupon you can select to view your steps etc. for the day.
Want more? Make sure to check out our list of an additional 25 awesome iOS 10 tips that might have flown underneath your radar.