iOS 10 was released just a short while ago and it is undoubtedly an update you'll want to get your hands on as soon as possible. While early iOS releases sometimes need some time to get all the kinks out, the endless number of iOS 10 betas Apple released will hopefully make the shipping version of iOS 10.0 much more stable than early releases of previous iOS iterations.
While you may already be familiar with some of the broader iOS 10 features such as all of the snazzy new things you can do in Messages and the long-overdue overhaul to Apple Music, we've put together a list of 25 iOS 10 features, tips, tricks and hidden software tweaks that you'll want to test out as soon as you get iOS 10 up and running on your device.
DON'T MISS: The 10 biggest changes coming to your iPhone today with iOS 10
Get a good night's sleep every night
A new Bedtime toggle within the Clock app is designed to help you be a much healthier sleeper. Once you set it up and teach it your sleeping habits (i.e how many hours of shut-eye you demand a night), it will send you a daily reminder of when you should start the wind down process and head to bed along with an automatic alarm in the morning.
Siri can tell you who's calling
This was a late addition, but a new iOS 10 feature allows Siri to announce the name or number of an incoming call. This is a helpful feature for when you're driving or simply happen to be away from your phone but hear it ringing from across the room.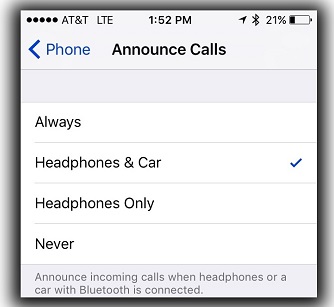 Never run out of storage
Apple with the iPhone 7 finally did away with its entry-level 16GB model. However, if you are still using an 16GB device, or even if you're using a higher-capacity device and happening to be running low on storage, iOS 10 makes it easier to always keep room available. Thanks to a new storage optimization feature, users can take advantage of a setting that will automatically delete songs from a user's music library if they haven't been played in a while.
Find your parked car
iOS 10 is smart enough to know when you go out for a drive and park your car at a new location. In such a scenario, iOS will automatically remember where you parked and place a helpful pin on the Maps app so that you won't have to waste time aimlessly wandering around a parking lot.
Adjust Flashlight intensity
This is a great new tweak in iOS 10. If you call up the Control Center and then apply a 3D Touch to the Flashlight icon, you can adjust its intensity between three different settings.
Avoid toll roads in Maps
In addition to a welcome redesign of the user interface, Apple Maps is teeming with new features. One such feature might even save you money in the form of avoiding tolls. Thanks to a new feature setting in Apple Maps, users can retrieve driving directions that completely bypass routes with costly tolls. The feature can be enabled by going to Settings > Maps > Driving & Navigation and then toggle the switch to your desired preference.
Quickly search for a phrase on Safari
Searching for a particular word or phrase in Safari isn't new, but the process in iOS 9 was a bit convoluted and not at all intuitive. In iOS 10, Apple has made things a lot easier. Now you can search for a word simply by tapping the Share button at the bottom of each page and then selecting the "Find on Page" option on the share sheet.
Contextual predictions in Messages and Mail are much smarter
Thanks to advances Apple is making in AI, the contextual predictions from within the Messages app are much smarter. For example, if a friend asks "Where are you?", users will be prompted to tap a button to immediately share their current location. Note that improved contextual predictions will also appear in the Mail app, as evidenced by the photo below.
Call an Uber/Lyft with Siri, and much more
Thanks to Apple finally providing Siri APIs to third-party developers, Siri is a lot more capable in iOS 10 than ever before. Now users can take advantage of Siri to order an Uber, send money to a friend and much more. Some apps that will have Siri functionality built-in right at launch include Lyft, Square, Uber, Slack, WeChat, WhatsApp and more. Unfortunately, users still won't be able to order a pizza using Siri, but hopefully Dominos gets its act together ASAP.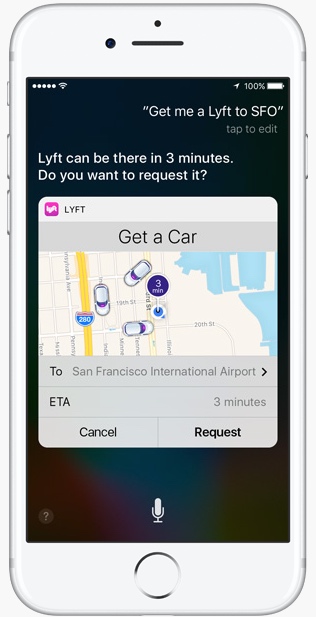 Clear all notifications with one tap
Clearing out your notifications in iOS 9 could sometimes be a chore, especially if you have standing notifications from a multitude of applications. With iOS 10, it's finally possible to clear all notifications with a single tap. To do so, simply apply a 3D Touch action to the 'x' toggle highlighted below and then you can select "Clear All Notifications" to get the job done.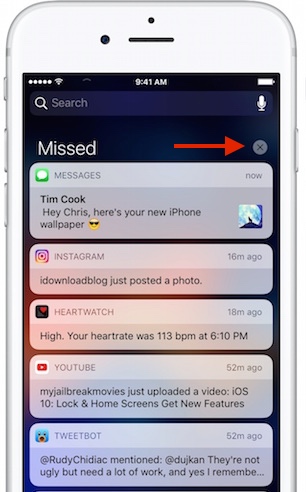 Delete Apple's built-in iOS apps.. finally!
At long last, iOS users who have been complaining about their inability to delete apps like Stocks have reason to celebrate. With iOS 10, Apple finally gives users the power to delete any of Apple's pre-installed iOS apps, save of course for the Phone app. So if you hate having your iPhone littered by apps like Stocks, News, Compass, Clock, Reminders etc., you can kick them to the curb just as you would any other app.
iOS 10 makes typing on the Apple TV a breeze
If you're running iOS 10 and the latest Apple TV software, data entry has never been easier. If you're browsing around on your Apple TV and encounter a typing prompt, your iPhone will display an alert which will allow you to take advantage of the device's virtual keyboard, all without having to go through Apple's Remote app.
Voicemail transcription
If you don't have the time or patience to slog through a long voicemail, iOS 10 is here to help you out. As demonstrated at WWDC, iOS 10 can listen to and transcribe your voicemails for your reading convenience. Your can read your voicemails from the same setting where you listen to your voicemails.
Fast access to Battery/Cellular Data/Wi-Fi controls
Apple with iOS 10 has incorporated 3D Touch support in a number of interesting and helpful ways. For instance, if you 3D Touch the Settings icon in iOS 10, you'll have quick access to commonly used settings like Battery and Wi-Fi
Select a preferred mode of transportation for Apple Maps directions
If you walk everywhere or if you only take the train, you can streamline directions in Apple Maps to default to your preferred mode of transportation. You can set this up by going to Settings > Maps and then choosing between Driving, Walking and Public Transport options.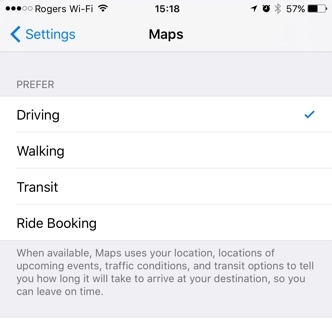 Inline video/media support for the iPhone
iOS 10 allows users to watch videos and other media content directly in mobile Safari without having to exit to full-screen mode. If a video begins playing in full-screen mode, users can simply tap the resize button located towards the lower right hand corner of the screen whereupon they can resume watching the video from within the browser window. Notably, iOS 10 also lets users watch inline video and Apple Music links from within Messages.
Raise to Wake
Now that Touch ID works remarkably fast, many users find that they don't even have time to glance at their notifications before being whisked away to their iOS home screen. In effort to become more notification friendly, Apple with iOS 10 introduced a feature called "Raise to Wake" which activates the lock screen anytime a user picks up his or her phone. Note that the feature relies upon Apple's M9 motion coprocessor, which is to say that it will only work on the iPhone 6s, iPhone SE and the iPhone 7.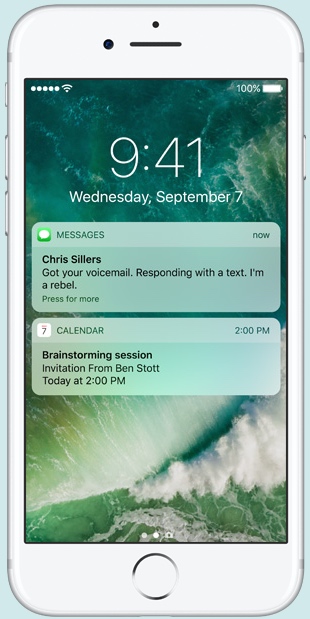 Apple Pay hits mobile Safari
The days of clumsily entering in your credit card information on your iPhone will soon be a thing of the past. With iOS 10, websites can incorporate an Apple Pay payment option into their checkout page, saving users a whole lot of time and frustration.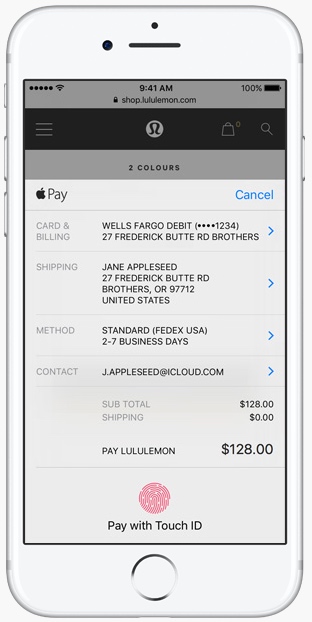 New Stopwatch face
While not a huge change, Apple switching things up a bit in iOS 10 with a snazzy new analogue stopwatch design. If you're not a fan of change and prefer the old design, it's accessible simply by swiping to the left/right to switch between designs.
Easily unsubscribe from mailing lists
iOS 10 makes unsubscribing from mailing lists easier than ever. Instead of having to go searching for an unsubscribe button, the Mail app in iOS 10 can detect if a particular message is part of a mailing list and, in turn, will display an easy to locate "unsubscribe" button towards the top of the page.
Read Receipts can now be accessed on a user-by-user basis
iOS 10 finally lets users toggle Read Receipts on and off on an individual basis. This is nice change from previous iterations of iOS where the feature was either turned off completely or applied to everyone in a user's contacts.
Integrated VoIP support
Thanks to a new VoIP API, any calls you receive from a VoIP app like WhatsApp, Skype and Facebook will appear right on the iPhone lock screen as if it were a regular phone call.
Apple Maps integration with OpenTable
Apple really devoted a lot of resources towards improving everything about Apple Maps, from the navigation UI to the apps underlying functionality. One of the cooler new Apple Maps features iOS 10 users can look forward to is the ability to look up a restaurant on Apple Maps and book a reservation via OpenTable all without having to leave the app itself.
More than 100 new Emojis to choose from
iOS 10 is very Emoji friendly for a variety of reasons, not the least of which being that iOS 10 will incorporate more than 100 new emojis, As Apple describes it, the new emoji changes will bring "more gender options to existing characters, including new female athletes and professionals" while also adding "beautiful redesigns of popular emoji, a new rainbow flag and more family options." You'll also note that Emoji in iOS 10 are three times bigger than before.
Emojify your text messages
If you type a word that corresponds to an Emoji, like "Pizza" for example, the world will be highlighted and can quickly be replaced with a pizza icon with a simple tap.