After tearing down the Apple Watch Series 9 and Ultra 2, iFixit published its iPhone 15 Pro Max teardown. While we already saw another channel disassembling the new iPhone, iFixit always goes in-depth with the latest changes.
As Apple already said, the iPhone 15 Pro is more repairable than its predecessor, as Apple rearranged the internals so it's easier to change the back of the phone, lowering the prices of this service. This change first appeared with the regular iPhone 14 models.
The teardown reveals a slightly larger 17.1 Wh battery than the iPhone 14 Pro Max. In addition, iFixit talks about the new tetra prism lenses for 5x optical zoom. Instead of the option for a series of lenses controlled by electro-magnets, Apple designed a single-element tetra prism periscope, which reflects light multiple times in order to simulate a 120mm equivalent focal length.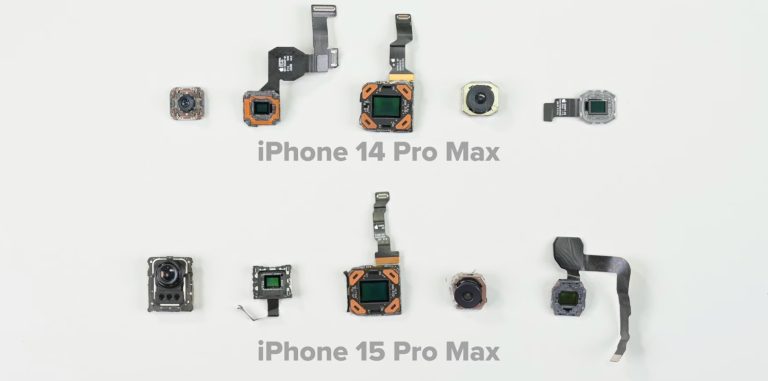 Despite that, all the iPhone 15 Pro Max sensors look the same, which means Apple has brought camera improvements over software and the new A17 Pro chip. iFixit also shows the new processor that doesn't have its name printed on it, in addition to Qualcomm's Snapdragon X70 5G Modem-R for cellular capabilities.
As previously reported, Apple is struggling to develop its own 5G modems, so the company is still relying on Qualcomm for everything related to cellular connectivity.
iFixit also highlights the new USB-C port and the titanium frame on the iPhone 15 Pro Max. This new finish isn't scratch-resistant, and it also seems to be less drop-proof than the stainless steel option.
Lastly, the company says Apple has improved repairability for the "walled garden's" standard, but not for the real world, as the phone won't accept salvaged parts, it complicates at-home repair, and it won't be "any fun" for your local repair tech. That said, it received a provisional 4/10 in iFixit's repairability score.
You can watch the full video below.