Tuesday has been a jam-packed news day on the Apple front, with the iPhone maker unveiling new phone models at its "California Streaming" iPhone 13 event. An event for which expectations were also primed beforehand for similar announcements on a number of other hardware fronts, including for new AirPods, and a new Apple Watch in the form of the Apple Watch Series 7. As well as possibly a number of other surprises from the smartphone giant.
Moments ago, however, the iPhone maker formally showed off the expected redesign it's prepared for the next Apple Watch. And we'll have all the details you need to know in this post.
New Apple Watch — Series 7, with Apple's 'most advanced display'
Traditionally, Apple brings a redesign to its mobile devices every three years. And, as Tuesday's announcement shows, this is the year for the Apple Watch. Rumors had indicated, leading into the iPhone 13 event, that the update to Apple's key wearable will get a design that brings it more in line with the iPhone, the higher-end iPad, and iMac. In Tuesday's presentation about the new watch, for example, we learned that buttons have redesigned and enlarged. That will certainly help complement the size and shape of the new watch display.
Speaking of the display, Apple Watch Series 7 sports a re-engineered Always-On Retina display. One with more screen area, as well as thinner borders. Additionally, it has softer, more rounded corners, and a refractive edge that makes full-screen watch faces and apps seem to seamlessly connect with the curvature of the watch case, according to Apple. Two new watch faces, Contour and Modular Duo, were designed specifically for the larger display. And while charging is 33% faster, the watch still promises the same all-day 18-hour battery life.
"Apple Watch Series 7 delivers significant improvements — from our largest and most advanced display, to enhanced durability and faster charging — making the world's best smartwatch better than ever before," said Apple COO Jeff Williams. "Powered by watchOS 8, Apple Watch brings useful new capabilities to help customers stay connected, track activity and workouts, and better understand their overall health and wellness."
Pricing starts at $399, with availability later this fall.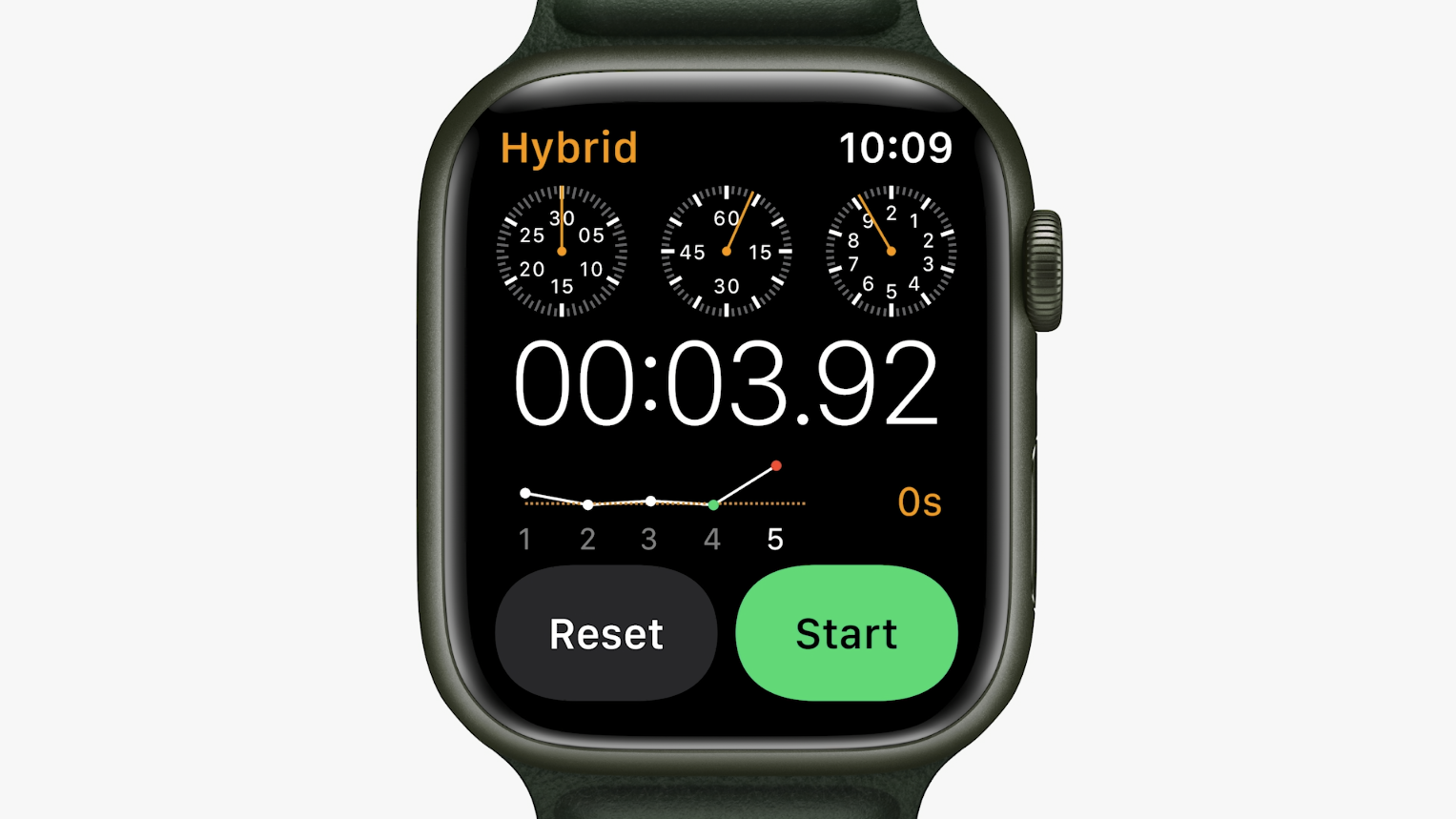 Apple praised this new model as being the most durable ever in the Apple Watch series. It's got a stronger and more crack-resistant front crystal. It's also the first Apple Watch to have an IP6X certification for resistance to dust. And it maintains a WR50 water resistance rating.
Apple announced during Tuesday's event that the Watch Series 7 will have a new Retina display with 20% more screen area. And while we'd expected a flatter design, that's not what we're getting. There's a more rounded design here. And borders are also significantly thinner.
Fast facts
In advance of Apple's Tuesday event, meanwhile, Canalys released some interesting Apple-focused product estimates. For example, at the halfway mark in 2020, Apple's worldwide smartphone shipments and growth totaled an estimated 82 million units at that point. While at the same point this year, that number was up 19% year-over-year, to 98 million units.
In terms of the Apple Watch, according to the Canalys data, in the second quarter of this year 51% of shipped smartphones globally came from Apple. That growth was driven by the strong performance of the Apple Watch Series 6.
At the halfway point in 2020, Apple's worldwide smartwatch shipments share totaled an estimated 11 million units. That number was up 37% year-over-year for the first half of 2021, Canalys reports.
Apple Watch Series 7 is a pretty minor upgrade

40% thinner bezels
Display curves slightly over the edges
Softer/rounded corners, larger/brighter display
New: dust resistance
33% faster charging, same battery
5 new colors

$399 pic.twitter.com/TrD8FxYsa0

— Marques Brownlee (@MKBHD) September 14, 2021
Apple Watch Postscript
Health tracking remains one of the watch's most important and even life-saving features. Per Apple: "The newest Apple Watch continues to offer indispensable tools for health and wellness, including an electrical heart sensor and ECG app, and a Blood Oxygen sensor and app. watchOS 8 helps customers stay healthy, active, and connected through new workout types, the new Mindfulness app, innovative accessibility features, greater access with Apple Wallet, and more capabilities with the Home app, along with enhancements to Messages and the Photos app."
And now, a closing word about the display. The new Apple Watch also promises nearly 20% more screen area and thinner borders, at just 1.7mm. That's 40% smaller than those found on Apple Watch Series 6. From Apple's announcement: "Apple Watch Series 7 is available in 41mm and 45mm sizes. While the wrist is down, the Always-On Retina display is up to 70% brighter indoors than that of Apple Watch Series 6, making it easier to see the watch face without having to lift the wrist or wake the display."