Little Bird True Wireless Earbuds
Costing under $40, these true wireless earbuds offer great sound quality and other features on a budget.
Pros
Good sound
Touch gestures
USB-C port
Great battery
Cons
Sound volume is low
Lack of bass
Movie/Gaming modes don't matter
This week, House of Marley started selling its new eco-friendly Little Bird wireless earbuds in the US. Available for under $40, the company promises high-quality audio on a budget. While a few years ago, House of Marley's Rebel earbuds didn't impress us, it seems the company learned its lesson, and not only is it delivering great audio quality, but it was able to create a well-made product without overcharging users.
Little Bird True Wireless Earbuds specs
| | |
| --- | --- |
| Materials | Bamboo, REGRIND® Recycled Plastic (rABS) |
| Bluetooth | 5.3 |
| Codecs Supported | SBC |
| Playtime (earbud) | 6 hours |
| Playtime (with Case) | 24 hours |
| Driver Size | 10mm |
| Driver Sensitivity (dB) | 102.5 (±3) |
| Dynamic Frequency Response (Hz) | 20Hz – 20kHz |
| Impedance (Ohms) | 16 |
| Touch Control | Yes |
| Active Noise Cancelling | No |
| IP Rating | IPX4 |
| Built-in Microphone | Yes |
| Marley App Compatible | No |
| Warranty | 2 Years |
House of Marley Little Bird earbuds design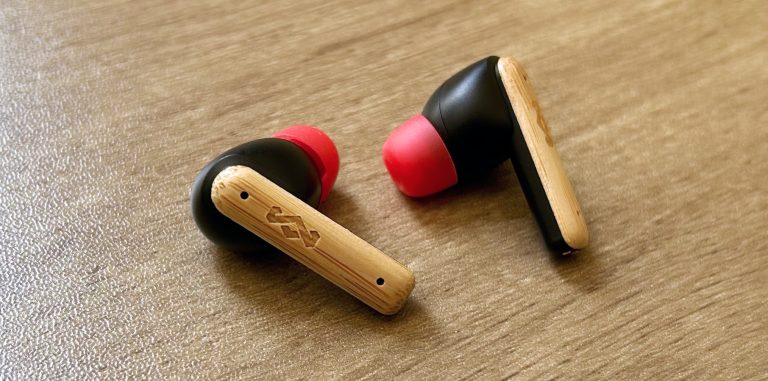 The first impression of the Little Bird true-wireless earbuds is that they look like eco-friendly AirPods Pro. Crafted from bamboo and recycled plastics, they look good, and you can choose between three different ear tips, with each size offering different colors: green, yellow, or red.
Although I've always used the medium size for AirPods and Beats earbuds, I find more comfortable the small option for Little Bird earbuds. The medium size isolates the surroundings better, but after an hour of listening time, they start to hurt my ears.
The charging case has a nice finish in black with the logo of House of Marley on the front and at the top. Another great addition is USB-C. Usually, for budget devices, companies tend to use micro USB, and I'm glad it's not the case here. You can really feel its plastic finish, and since I have big hands, I find it a bit tricky to remove the earbuds for the charging case since there's little room for movement.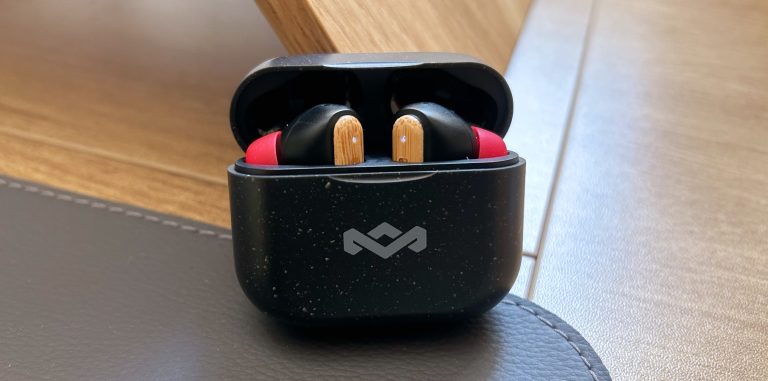 Overall, it has a solid eco-friendly look – which the brand is all about – and anyone rocking these earbuds on the street would look really cool: AirPods Pro-like earbuds with woody and black finishes. This is pure style.
One thing that confused me the first time I tried these earbuds was the lack of LED indicators. You'll find them on the earbuds, but they will always blink white, which makes me think as if they're trying to pair with my iPhone. There's also an LED below the case that activates with the USB-C cable on. If there were an LED in the front, it would be easier to understand if these earbuds were charging or with full battery if there were color variations.
Sound quality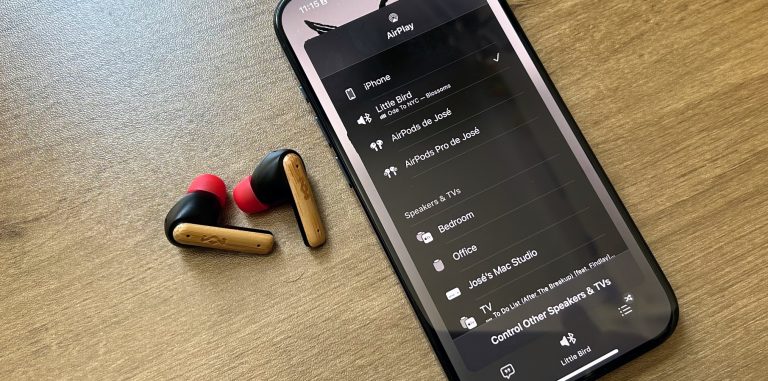 House of Marley's Little Bird true wireless earbuds sound good, but there are a few catches. For example, I feel I need to turn the volume way up to get a crispier sound. When it's lower than 70%, the overall quality is flat, and I feel the sound almost disappears below 50%. Compared to AirPods 3 (although they are not competitors), the sound is crispy and full at 50%, and around 70%, I have the perfect experience in a quiet room.
That said, raising the volume doesn't make Little Bird earbuds sound bad – on the contrary, they sound really good. Although it's not very friendly for my ears, I tend to use these earbuds almost at 100%, so I can really experience my favorite tunes.
I have a preference for everything surrounding rock, pop, and indie/pop, and I think Little Bird earbuds value the singing and percussion instruments better. For bass lovers, I don't think users will fall for this product, as they lack that heavy boom.
When I'm outdoors, I feel the medium ear tips work as noise canceling, as the fit with the song usually removes all other noises. With the small tip, I can hear the surroundings a bit better.
Mic quality
House of Marley promises and delivers clear calls. On FaceTime calls, other people talking to me had no issues with how I sounded. However, I've been told to speak a little louder. I wouldn't recommend taking a call outdoors with the wind against you, but these earbuds do a decent job in a controlled environment.
Gestures, battery, and connectivity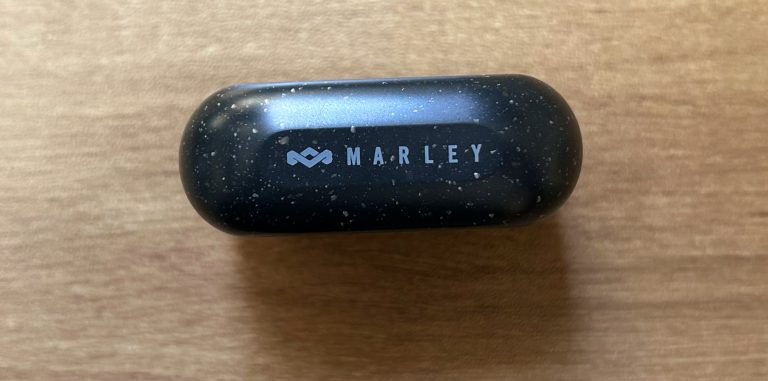 Impressively, the Little Bird true wireless earbuds work with touch gestures. Gentle taps near the top of the stern give you a feedback sound. Here's what you can do.
Tap on the left side: Lower the volume
Tap on the right side: Raise the volume
Double tap: Play/pause
Long press the left side: Play the previous track
Long press the right side: Play the next track
Triple tap: Activates Game/Movie mode
Similar to Beats Studio Pro, House of Marley offers different profile modes. When you triple-tap the earbud, you can activate game or movie mode. I tried with a few TV shows, but I didn't note the difference between having the mode on or off.
On the company's website, House of Marley doesn't explain much besides "enhance your audio experience with movie and gaming modes." It's a little trick that you might never use, but just be aware that it exists.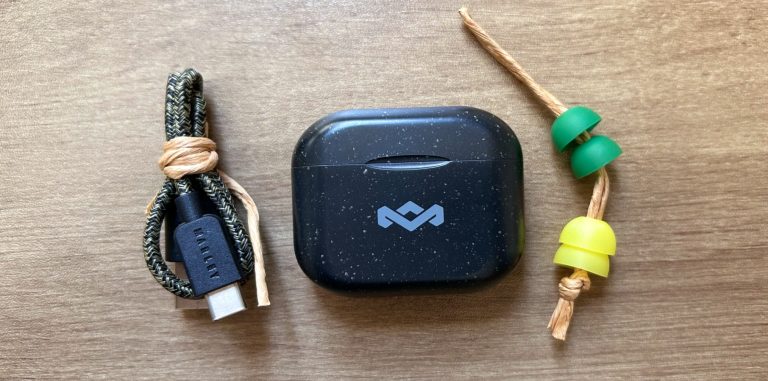 Regarding its battery, House of Marley promises up to 24 hours of listening time, with 6 hours of playtime without case. These are solid results, and I could spend almost a week without needing to charge these earbuds. No complaints here.
Lastly, there's a USB-A to USB-C cable. Although it's little, it's nice that the company includes a resistant braided cable with this device.
House of Marley offers quick charge, Bluetooth 5.3 connectivity, IPX4, and a 2-year guarantee. I think the only thing really lacking on these earbuds is an indicator of the battery status, which could come in the form of a widget or through Marley's app, which is incompatible with this device.
Price and conclusion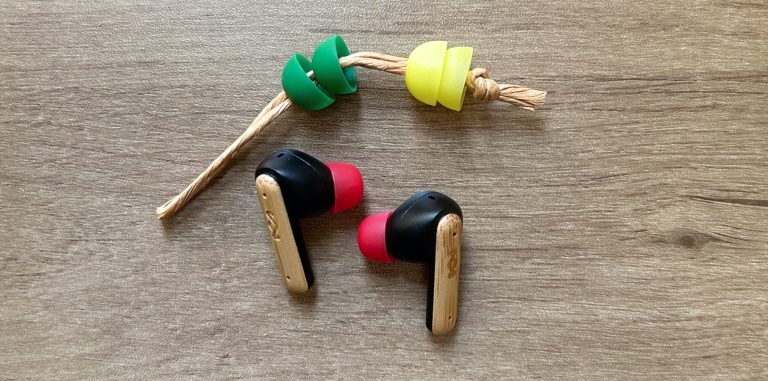 House of Marley Little Bird True Wireless earbuds cost $39.99, which is a ridiculously good price for everything these earbuds offer, and are available in Signature Black or Cream. They're not comparable with Beats or Apple earbuds, but they also cost up to 1/5 less than these premium options.
The overall sound is good; it has a great built-in quality, and the eco-friendly approach of House of Marley is always a positive point to note.
For casual listening, I think the company did an excellent job by offering USB-C capabilities, touch gestures, and different ear tips without overcharging users. It's a fair price for fair earbuds.
Should you get House of Marley Little Bird true wireless earbuds?
If you're looking for budget earbuds, these are the ones you should get.