After four years since its last new headphones, the Beats Studio Pro fixes old issues and improves what always worked.
Pros
Comfortable headphones
Solid battery life
Superb sound quality
Spatial Audio
ANC
Bluetooth 5.3, USB-C, and 3.5mm
Great carrying case
Cons
Fingerprint magnet
Lacks AirPods' "magical" functions
Profile modes can be confusing
Fifteen years ago, Beats introduced its Studio brand. In its fourth iteration, Apple's subsidiary has released the Beats Studio Pro, one of the most exciting pairs of headphones ever made by Beats, and the first new model in four long years.
For a brand that lives for the momentum while being praised for its high-quality audio products, affordable prices, and a hell lot of style, the Beats Studio Pro is an ode to the past while showing that the cool Los Angeles-based company can learn from its past mistakes.
Beats Studio Pro shows that good-looking headphones can also have superb audio quality, as it's the first pair of Apple headphones to support lossless audio — though it's not without a few drawbacks.
Beats Studio Pro specs
Active Noise Canceling
Fully Adaptive
Transparency Mode
Yes
Tech platform
Beats Proprietary Platform (gen 2)
Spatial Audio
Yes, with Dynamic Head Tracking and Personalization
Battery Life
Up to 40 hours of listening time with ANC/Transparency Off
Up to 24 hours of listening time with ANC/Transparency On
Fast Fuel: 10-minute charge = up to 4 hours of playback (ANC Off) Full system recharge = 2 hours
Size and Weight
181mm (h)
178mm (w)
78mm (d)
Weight: 260g
Hey Siri
Yes
Environmental
100% fiber-based packaging
100% recycled tin solder
100% recycled rare earth elements
Audio Technology
Beats custom-designed, two-layer dynamic diaphragm transducer Active Noise Cancellation (fully adaptive)
Transparency Mode
Playback Correction
Microphones
6 upgraded microphones
– MEMS-type with improved signal-to-noise ratio, higher
sensitivity
– Beam-forming voice microphone on each ear cup
– feed-forward and feed-back microphones on each ear cup
(utilized for both ANC/Transparency and voice uplink)
Wired Connectivity
USB-C + 3.5mm
Connectivity
Bluetooth 5.3, Class 1 Bluetooth
In the Box
Beats Studio Pro
Carrying Case
USB-C to USB-C charging cable 3.5mm to 3.5mm audio cable
Documentation
System Requirements
iPhone: latest version of iOS for full system compatibility
Android: Fast Pair requires Android 6.0 or later, location enabled, and access to Google Play services; Beats app requires Android 8.0 or later
MSRP
$349.99
Beats Studio Pro design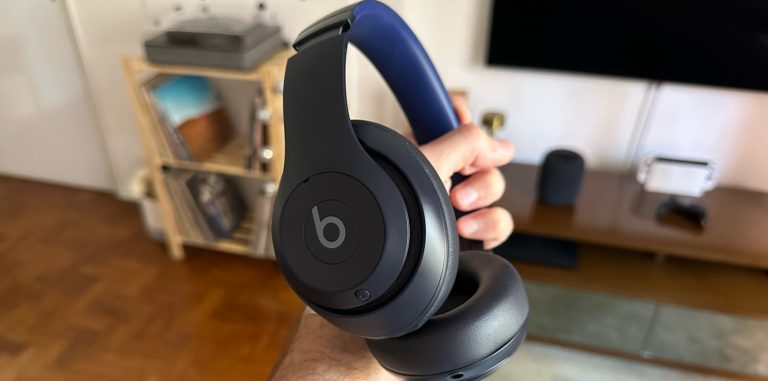 Beats loves to make statements with its products. The company highlights local artists and communities, sports players, and inspirational stars through collabs. This time, Beats Studio Pro counted on veteran creative Samuel Ross (A-Cold-Wall) to design these headphones.
This product combines plastic, brush metal accents, and comfortable leather ear cushions. Available in four colors, Deep Brown, Navy, Sandstone, and Matte Black, they have a "Designed in LA" message on the inner headband with a modern logo while maintaining the traditional "b" on the outer part of the headphones.
I always felt Beats headphones weren't that comfortable. The 2017 Beats Studio3 Wireless was a bit uncomfortable, and the rubber on the headband heated my head after 45 minutes. The 2019 Solo Pro made this sensation worse, as the company switched to a sturdy metal headband that pressed the headphones against my head even tighter, giving me a headache after a few hours of listening time.
The company switched to the old material with the Beats Studio Pro but improved the ear cushions. Thanks to the UltraPlush design, they feel more comfortable whenever I put these headphones on. They have pillowy memory foam wrapped in leather, which Beats says will deliver exceptional durability for years to come. While durability claims will take time to prove, they are truly comfortable.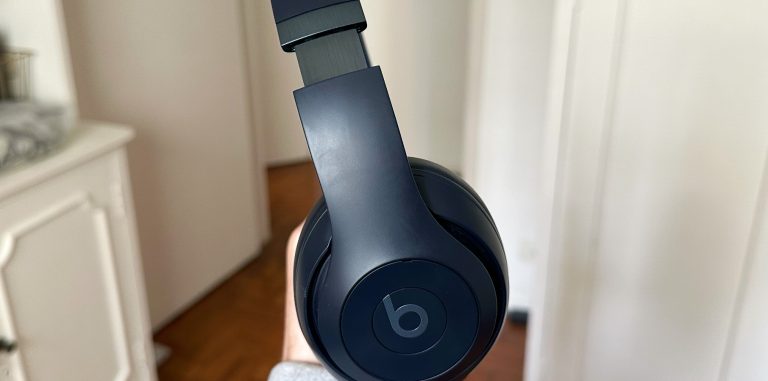 Other improvements from this product include a USB-C port (instead of a Lightning port or mini USB) and support for the headphone jack. Even more interesting, Beats includes a USB-C to USB-C cable and a 3.5mm cable in the box.
For the drawbacks, the Beats Studio Pro is a fingerprint magnet, and you have to clean the headphones all the time. I also think the company could have found a better solution for its buttons. It's 2023, and we keep pressing physical buttons against our ears to play/pause songs or turn up and down the volume, which is frankly annoying. AirPods Max's Digital Crown is an excellent solution, but Beats could have opted for touch sensors instead of the digital crown or tactile buttons.
Also, if you want to change Profile Modes, which I'll explain below, you must remove the headphones to understand which one you are using.
Carrying case
In addition to the design of Beats Studio Pro, the carrying case also has an intelligent design. I'm used to the Smart Charging Case of AirPods Max, but this Beats case is even more useful.
This one uses semi-rigid, tightly-woven fabric and includes an integrated exterior loop for a clip or carabiner. On its interior, you can find pockets for storing the included USB-C and 3.5mm cables – or other small accessories.
It makes the Beats Studio Pro easy to take anywhere and ensures these headphones are always protected, no matter what. This is possible because the headphones' ear cups bend inward, while AirPods Max's only turn sideways.
Sound quality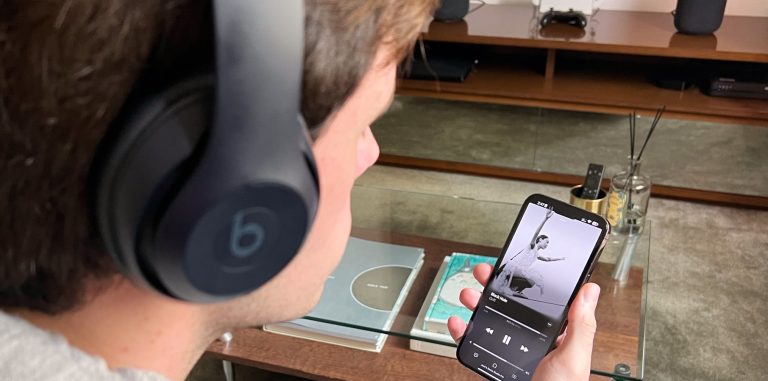 But enough of the design. You're probably wondering: does the Beats Studio Pro sounds terrific?
I'll try not to be too subjective, but yes, they sound really good. Compared to the AirPods Max, I feel it streams songs almost (but not exactly!) as clearly as Apple's premium headphones, but with an additional Beats signature sound that we are all used to, with heavier bass.
Beats says it has added a full custom 40mm active driver with a diaphragm constructed using a two-layer design. This driver has a precise array of micro-vents and fine acoustic mesh to optimize airflow and minimize distortion even at high volumes. The company states that the Studio Pro reduces distortion 80% better than the Studio3 Wireless, which explains why I feel the headphones sound good with all genres of music, not only those that rely a lot on bass.
What also brings these headphones an excellent sound experience is Personalized Spatial Audio, which enables playback of tracks rendered in Dolby Atmos for immersive, 360-degree sound and Dynamic Head-Tracking on Apple platforms, putting you at the center of your favorite music, movies, or TV shows.
Although some complain about Spatial Audio, this feature works better on headphones than earbuds, such as AirPods 3. I think Beats Studio Pro does a remarkable job with these experiences.
Active Noise Cancelling reduces noise at 48,000 times per second, which Beats Solo Pro used to do, and for the first time ever, Beats headphones offer Transparency mode. Both modes work almost as well as on AirPods Max, meaning you can isolate yourself from the world or keep listening to the surround noises with no problem.
During my testing, I noticed that I needed to increase the volume to get the same intensity as I have with AirPods Max. Even so, the songs were always crispy and with no distortion.
Is lossless audio streaming noticeable?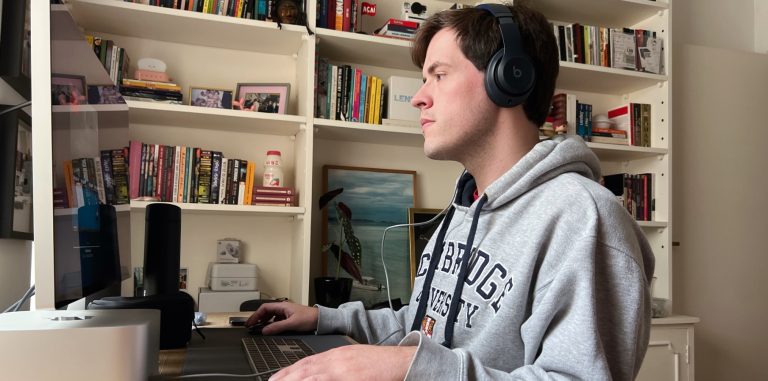 One of the top features available with this product is support for wired lossless streaming at up to 24bit / 48kHz. It works on Apple Music, Tidal, and Amazon Music HD. While streaming services, in general, already deliver high-quality audio, lossless support enriches the experience by bringing every detail of the music to your ears.
After exhaustively testing Apple and Beats earbuds and headphones, this was the first time I could actually experience the lossless format with headphones. Although I know it's transmitting more data, which means it's easier to hear the nuances in songs, I don't think it's too different from what I get with AirPods Pro 2 or AirPods Max.
But it doesn't mean that this is bad since I don't notice the difference. AirPods Pro 2 and AirPods Max offer excellent sound quality because Spatial Audio and Dynamic Head-Tracking play a crucial part in the listening experience.
So if you are an audiophile, you'll probably notice the difference. But, I would rather say here that Beats Studio Pro sounds so good that with lossless streaming or with a wireless experience, you'll have a superb listening time.
Cable Management and Profile Modes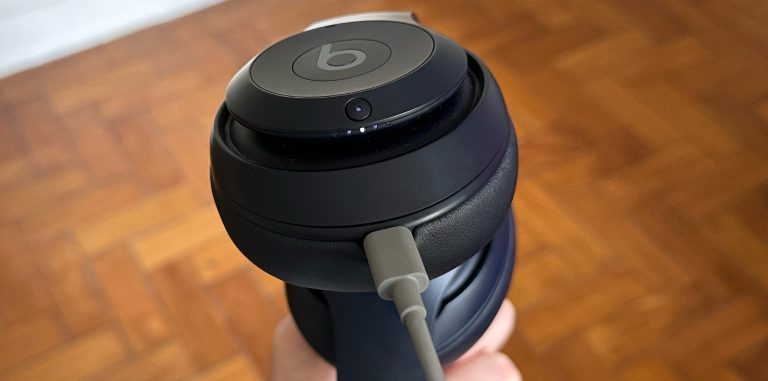 I love that Beats include two different cables with the Studio Pro. But interestingly enough, wired and wireless experiences differ, so it might be a bit confusing for some people.
With USB-C/USB-C cable:
Support for lossless streaming
No ANC nor Transparency Modes
Support for Profile Modes by double pressing power mode
With a 3.5mm cable:
Regular listening experience with no physical button control on the headphones
Wireless connectivity:
Support for ANC and Transparency Mode
Dynamic head tracking
No support for lossless streaming or Profile Modes
Beats Studio Pro supports three different Profile Modes: Beats Signature, Entertainment, and Conversation. To use them, you must have a USB-C/USB-C connection and tap the power button twice.
Beats Signature profile is the ideal option for a music experience with balanced tuning for any genre of music. The Entertainment profile is ideal for watching movies or playing games, while the Conversation mode makes calls better and improves podcasts' listening experience.
For the most time, you'll be rocking with Beats Signature. Entertainment mode won't work with your TV, so you must use it with the Mac, iPad, or Android device, which I don't feel it's ideal, and using the Conversation mode didn't feel like changing much of my experience. If you feel the same way, Beats says that you'll be fine using the Beats Signature profile all the time.
That said, it's a good-to-have feature, but you shouldn't buy these headphones for them.
Connectivity: Works with Apple and Android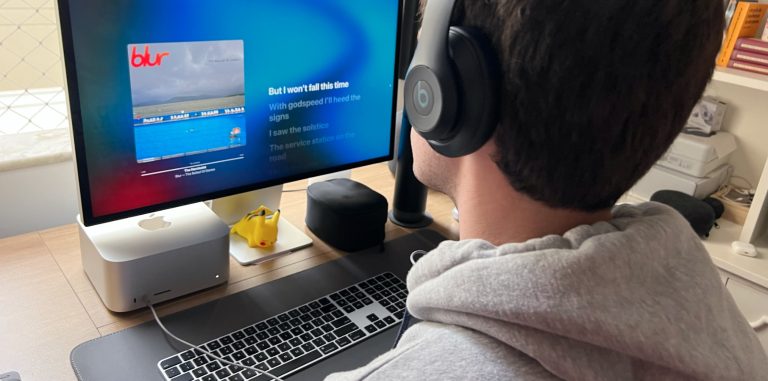 Unlike AirPods Max or AirPods in general, Beats wants most of their headphones and earbuds to work with Apple and Android users. This is why you can have a bit of both worlds but with a few compromises.
Apple Compatibility:
One-touch pairing – easy, one-touch setup instantly pairs with every device in your
iCloud account
"Hey Siri" – simply say "Hey Siri" to activate your voice assistant
Find My – locate your lost headphones on a map based on the last known connected
location
Over-the-air updates – receive software updates and new features automatically
Android Compatibility:
Google Fast Pair – connect quickly with a single tap and automatically pair to all
Android or Chrome devices registered to your Gmail account
Audio Switch – seamlessly transition audio between your Android, Chromebook, and
other compatible devices
Find My Device – easily locate your lost headphones with Google Find My Device
Beats app for Android – unlock access to product customization, software updates,
and new features to get the most out of your headphones
I miss AirPods' magical features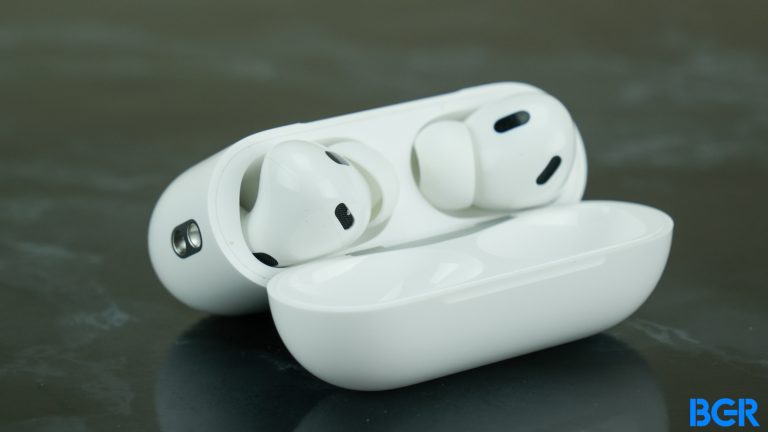 Since Beats wants to please Android and Apple users, I feel it does not please hard-core Apple fans. By using a proprietary chip, not all "magical" AirPods features are available for these headphones, for example:
The music won't stop playing if you remove the headphones;
It doesn't automatically switch from an iPhone to an iPad;
You can't pair two headphones/earbuds at the same time on an iPhone;
This doesn't make these headphones bad, per se. But it's a bit weird that an Apple subsidiary doesn't offer key Apple features. Beats says that some of these functions can be added with a future firmware update, including adding Profile Modes for wireless playback, but these promised features can't count as part of the review.
That said, if you're a hard-core Apple fan, you might opt for an AirPods rather than Beats headphones, but if you honestly don't care or have an Android phone, you'll have several connectivity features with no problem.
Battery life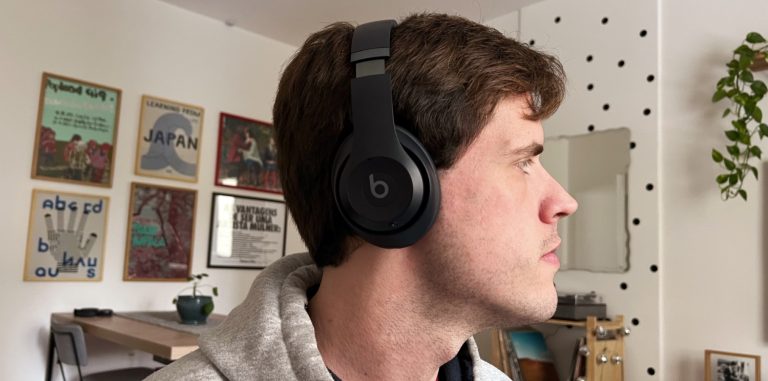 Beats Studio Pro delivers up to 40 hours of listening time without ANC or Transparency mode on. With these modes turned on, you get 24 hours of listening time. With the Fast Fuel technology, a 10-minute charge offers up to four hours of playback, while a full recharge takes 2 hours.
This is far beyond what AirPods Max offers, and it's in pair with other top headphones in the same price range. That said, whether you're casually listening to songs, catching a 12-hour flight, or enjoying your favorite podcast on your way home, you'll have plenty of juice to use these headphones.
In my testing, I could spend the whole week without charging it while using these headphones for two to three hours daily. Battery life won't be an issue. In addition, once you turn the device off, it keeps holding the charge, so you don't have to worry about dead headphones.
Is Beats Studio Pro better than AirPods Max?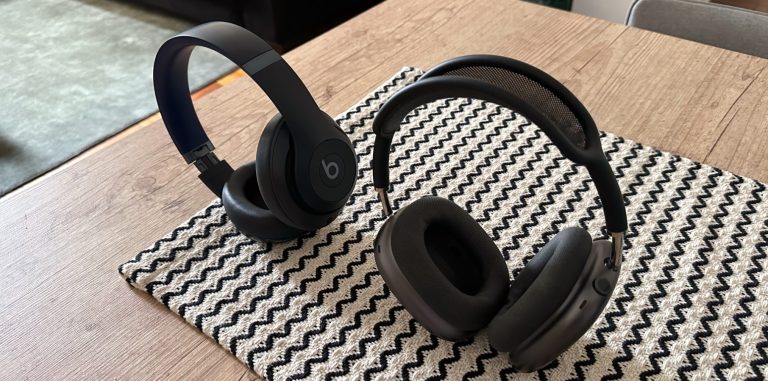 BGR already wrote about the differences between Beats Studio Pro and AirPods Max. Even though Beats Studio Pro offers a few new features that AirPods Max doesn't, it's important to note that these headphones don't compete.
AirPods Max still delivers better sound quality, premium materials, and Apple's magical features, but it doesn't mean the Beats Studio Pro is a bad option. For $200 less, it's impressive how close these Beats headphones come to matching AirPods Max.
Price and conclusion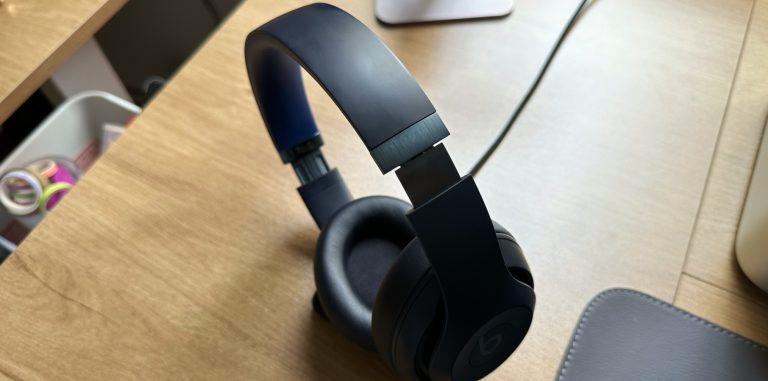 Beats Studio Pro headphones cost $349.99, the same price as its predecessor, the 2017 Beats Studio3 Wireless headphones. While these headphones are already a solid buying choice, they will become an even more enticing option as the months go by because Beats usually offers discounts through other retailers and, sometimes, even in its own store.
In addition, the Los Angeles company is known for partnerships and special editions. So, if you don't feel like buying new headphones right now, fresh colors or collabs could be coming in the next few months.
If you want Apple headphones with great ANC, long battery life, solid sound quality, and that you can enjoy with a wired or wireless connection, I highly recommend Beats Studio Pro.