visionOS is the announced operating system for Apple's first spatial computer, Vision Pro, unveiled during the WWDC 2023 keynote. While it was first rumored to be called xrOS – it was even called that way internally – Apple decided on this other name, probably for marketing purposes. Here's everything you need to know about it.
visionOS 1 features
As a first-generation operating system and device for mobile computing, it's hard to distinguish between features as visionOS builds the ground for Apple's first spatial computer and its future updates. Here are its top features, as Apple announced.
Apps live in "your space," and there's a new App Store
Vision Pro offers familiar apps such as Apple TV, Music, Mindfulness, Freeform, Safari, Photos, Mail, Messages, and Keynote. They are always synced with your iPhone, iPad, and Mac via iCloud.
These immersive apps can expand fully into your space, like during a Mindfulness session, where you can create a private moment of calm. With Environments, you can transform your surroundings with landscapes, letting apps grow beyond the dimensions of your room and create the perfect place to focus.
visionOS has a dedicated App Store featuring apps built for this new operating system, as well as compatible iPad and iPhone apps.
Immersive way to experience entertainment
One of the biggest selling points of Apple Vision Pro is an immersive way to experience entertainment. With Cinema Environment, you can enjoy shows and movies at the frame rate and aspect ratio the filmmaker intended with immersive Spatial Audio. It's possible to create a screen that feels 100 feet wide to watch Apple TV Plus, other streaming services, or even play 100 Apple Arcade games.
Apple Immersive Videos, for example, will offer 180-degree 3D 8K recordings captured with Spatial Audio
Spatial Videos and Photos
visionOS also brings a new way to visualize captured photos and videos. With the Apple Vision Pro, you can take spatial videos and photos, which offer content with impressive depth, just like if you could jump into the moment. You can find them on the Photos app and increase the size for a more immersive experience.
FaceTime and collaboration
FaceTime videos are life-size, and as new people join, the call simply expands in your room with visionOS. Within FaceTime, you can use apps to collaborate with colleagues on the same documents simultaneously.
For those wearing the Apple Vision Pro, the device creates a digital Persona that allows others to see you while you're wearing Apple's gadget in a "dynamic, natural representation of your face and hand movements." Users can even take advantage of SharePlay, so you continue to see everyone in large video tiles while sharing an app.
Mac integration with visionOS
The Mac will play an important role with visionOS and the Apple Vision Pro. These are two ways Mac computers will integrate with the new operating system:
Bring your Mac wirelessly into Vision Pro with Mac Virtual Display. You can place it anywhere in space and use Vision Pro as an enormous, private, portable 4K display
You can use the Magic Keyboard and Magic Trackpad as Bluetooth accessories of the Vision Pro.
First third-party apps to show visionOS potential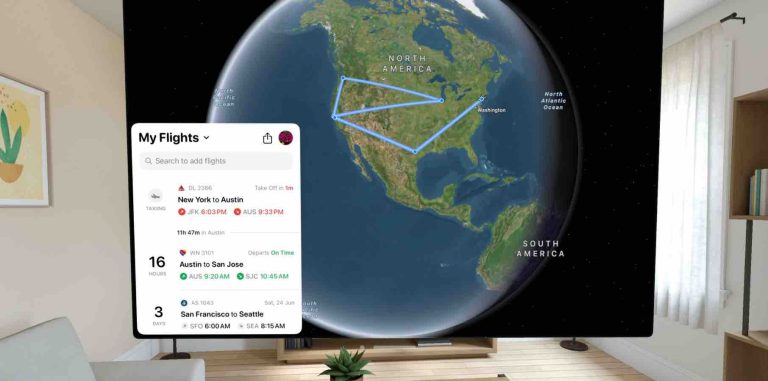 With the visionOS beta available, some developers are already showing the potential of their visionOS apps. Here are some of the third-party options that will eventually be available with the Apple Vision Pro:
The Task app: Developer Mustafa Yusuf said on Twitter he felt like a "god," as the first version of the Task App for Vision Pro got no errors as he built the first version for Vision Pro.
Flighty: As the name implies, Flighy lets you track flights on iPhone and iPad. The developers have already created a version of Vision Pro you can check it here.
Planny: Writing about Planny, developer Kevin Reutter said a lot of work is still needed. But this is the first version of the app for visionOS.
Mercury: If you want to see what a weather app would look like on the Vision Pro, the Mercury devs are here to help. Unlike the previous visionOS app screenshots, we have a video this time. It shows the Vision Pro apps are more than iPad/iPhone apps layered on top of the real world.
BGR's Chris Smith compiled a few other developers' apps for Apple Vision Pro, although he also believes eight other apps should be available with this platform once it's available.
Apple Vision Pro app strategy
Apple will take three approaches with visionOS apps:
Unaltered iPhone and iPad apps, which will run on Apple Vision Pro. This already works with iOS apps running on macOS with Apple Silicon. That said, developers and even Apple can release iPhone and iPad apps for this operating system without tweaking how they look;
Developers can choose to convert their iPad apps to run as native visionOS apps, requiring them to tweak the user's interface and bring a mixed-reality experience;
Finally, they can build from the ground up their own apps to work on Apple Vision Pro. While this is very beneficial for the final user, it takes a lot for developers to create applications that will be controlled using eye and hand.
How to download the visionOS beta?
On June 21, Apple released the first beta of visionOS. On its developer page, the company offers the SDK of this platform alongside some tips on how to create apps for Vision Pro. As expected, visionOS relies on SwifUI, RealityKit, ARKit, and Accessibility. Developers must use Xcode, Reality Composer Pro, and Unity to make the new apps come to life.
Since a Vision Pro spatial computer isn't available, registered developers can download the SDK of visionOS and work on its apps using Xcode and create all the designs with Figma. You can download the SDK file here.
Here's how to apply for an Apple Vision Pro Dev Kit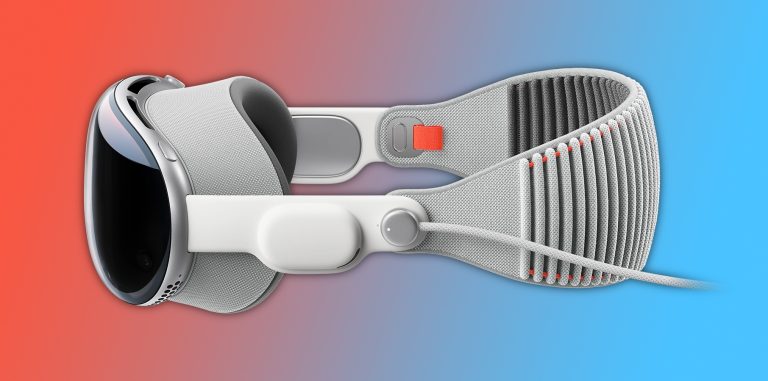 With Apple Vision Pro expected to be released in early 2024, developers can now apply for a dev kit for this spatial computer.
ave an innovative idea for an app or game for visionOS that requires building and testing on Vision Pro? Apply for a Vision Pro developer kit," says Apple. "This kit will help you deliver amazing spatial experiences by letting you quickly build, iterate, and test on Vision Pro."
Apple says it will loan a Vision Pro developer kit to help you prepare your app launch when the new App Store of this product is available.
You'll also receive:
Help setting up the device and onboarding.
Check-ins with Apple experts for UI design and development guidance and help to refine your app.
Two additional code-level support requests, so you can troubleshoot any issues with your code.
This Apple-owned development device needs to be returned upon request.
To apply, developers must submit a brief application for a Vision Pro developer kit. They will need to be the Account Holder in the Apple Developer Program, provide details about their team's development skills and existing apps, and agree to the terms and conditions. Applications will be reviewed, and priority will be given to applicants creating an app that takes advantage of visionOS features and capabilities.
Release date
visionOS will be available alongside Apple Vision Pro. The spatial computer is expected to hit the US market in early 2024, which means between January and April.
visionOS compatibility
visionOS will be compatible with the Apple Vision Pro, the company's first spatial computer. BGR will update the list as Apple announces new products over the years.