There's a lot of buzz around Ant-Man and the Wasp: Quantumania right now, as we're in the final weeks of Marvel's big press tour for the movie. It's the first movie of MCU Phase 5, and the first film where we'll see an evil variant of Kang (Jonathan Majors). He's the next Thanos-grade villain to fight the Avengers. We already know Kang's powers are too much for Ant-Man (Paul Rudd) and the Wasp (Evangeline Lilly) in Ant-Man and the Wasp: Quantumania. The multiverse will need a massive army of Avengers to deal with the villain.
But what are Kang's powers? Jonathan Majors explained how this villain is different from others, and also how he's similar to previous baddies. If you hate spoilers, you'll want to avoid what follows.
He Who Remains from Loki is essential to understand Kang in Ant-Man 3
We first saw Jonathan Majors playing a good version of Kang in Loki. He's called "He Who Remains" in that Disney Plus TV show. We learn he won the multiversal wars against really evil Kang variants. That's why he created and maintained the Sacred Timeline after the wars.
He wanted to stop the evil versions of himself from reappearing, even if that meant essentially stealing free will from all living beings in the timeline he maintained.
The second Sylvie (Sophia Di Martino) killed Kang, and the Sacred Timeline developed all those branches that He Who Remains would have destroyed. And that's how we ended up with the Kang in Ant-Man and the Wasp: Quantumania.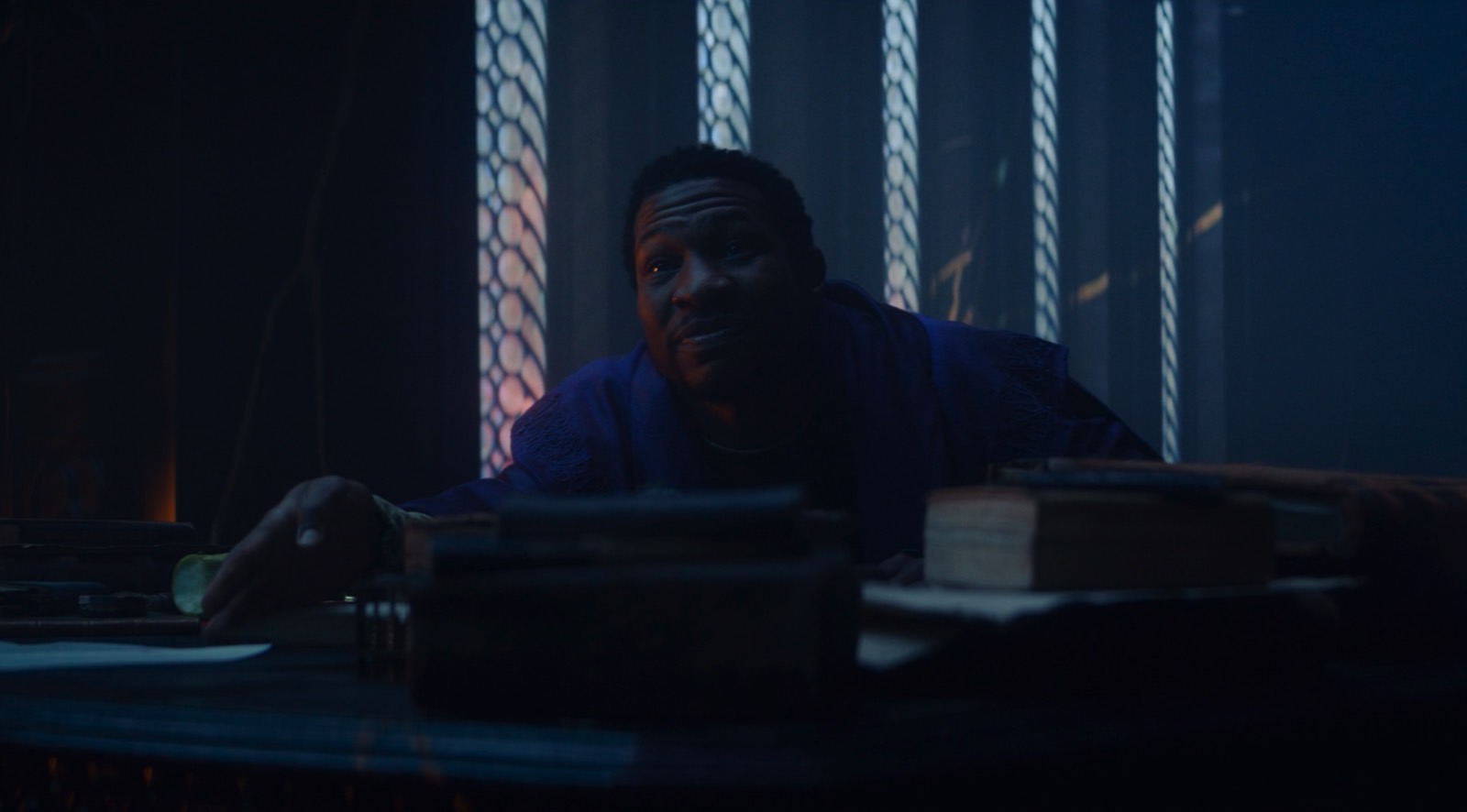 Loki is enough to reveal one of Kang's best powers, the ability to control time. Imagine what an evil variant would do with that capability at his disposal.
We already know a few big Quantumania spoilers about Kang from Marvel. The studio explained why the supervillain would appear in Quantumania. As powerful as Kang might be, he is stuck in the Quantum Realm. He needs help from Scott and his family to get back out there. That is, Kang needs Pym particles, which hopefully won't be a massive Quantumania plot hole.
The trailers also reveal how powerful Kang is, with Janet (Michelle Pfeiffer) saying he's the kind of person who could destroy existence as he rewrites timelines.
Jonathan Majors explains Kang's powers in Quantumania
The ability to manipulate time is easily one of Kang's best powers. But that only scratches the surface. And Jonathan Majors addressed his character's powers in an interview with Fandango during the Quantumania press tour.
Majors revealed the source of Kang's powers, and MCU fans will certainly love the teaser. That's because it's not what you expect:
"Where's that power come from… Well, I mean, here's the thing with villains… or with any character, but particularly with villains that, yes, there is the manifestation of the power, but the internal power is really the drive," Majors said.
He continued, "And I think with Kang, something I've found so interesting is that his pain, and suffering, and, discomfort and, frustration with society, and the world, that is so great in him that that friction has allowed him to make himself into the supervillain that you see."
It'll certainly be interesting to hear where that pain and suffering come from. But that heartache will turn Kang into one of the MCU's most prominent villains ever:
"It is that internal friction that gives him that power," Majors said. "Now, how it manifests, stay tuned. But yeah, his heartache is great and I think is so massive, he does live up to that title of being the biggest, baddest MCU villain that we've had."
While we wait to see Kang's powers on the big screen, you can watch Fandango's full interview with the Ant-Man 3 main cast members below.